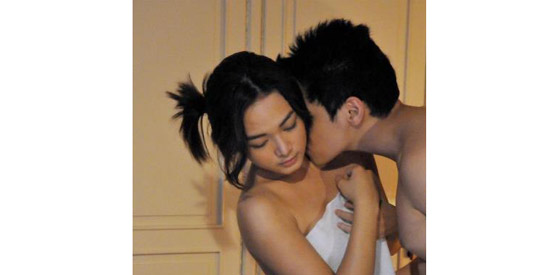 ---

Joel Lamangan's Menor de Edad is gutsy, and confidently so. This depiction of a young woman trying to escape the clutches of poverty is so brave and affecting that you'd thank Viva Films for starting 2013
with it.


Menor de Edad tells the story of Jennica (Meg Imperial), a 15-year-old high schooler who feels trapped in a poor community in San Juan. Brought up by an abusive mother and her lesbian live-in partner, Jennica has no one to confide to at home.


After being nearly raped by her ex-boyfriend, she tries to join a girl gang, whose members in turn encourage her to pursue a relationship with her kind teacher, Ariel Basco (Wendell Ramos), who volunteered to tutor her.


When the gang's initiation test asks her to have sex, Jennica forces herself on Ariel (Wendell) who pushes her away. Humiliated, she files rape charges against him. The ensuing legal battle gains mainstream media attention, and Jennica becomes a figure for rape victims. But something else more sinister is afoot, and Jennica's fate spirals further down the drain.


What makes Menor de Edad admirable is how much grit it dares to show its audience. Shot on site in a decrepit community, the movie uses the area more as a character than a setting. The cramped space feels like a living entity, and you'd feel why Jennica is trying to run away from it.


But what makes the film shine is its cast of young talents. Director Lamangan used local talents both as extras and supporting characters,
and this adds to the film's brazen feel.


Much praise must also be given to the lead actors, particularly Meg Imperial, who lends her Jennica the naivete needed to pull off the tough role. She's downright affecting, and it's easy to be swayed by her acting.


The supporting actors also give topnotch performances, particularly Ara Mina, who plays Meg's mother; Jaycee Parker, Ara's lesbian lover; and Wendell Ramos, Meg's teacher and alleged rapist.


All these would not be possible without the outstanding script penned by award-winning actress Raquel Villavicencio, who also appears in the movie as Meg's lawyer. Raquel's script does not romanticize poverty, and it does not treat it as a spectacle.


One hitch that I could identify is the subplot about involving a reporter (Chynna Ortaleza) who is making a documentary about the girl gang. There's definitely a message buried in this subplot, but it is hard to identify what it is.


Despite that, Menor de Edad is still a good movie that starts the 2013 movie landscape with a bang. Go see it.



ADVERTISEMENT - CONTINUE READING BELOW