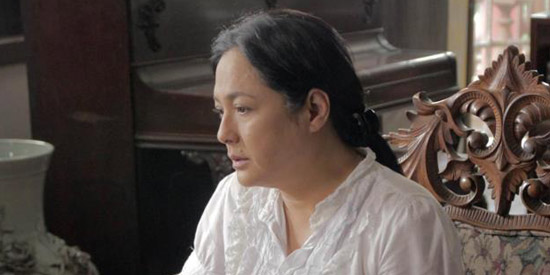 ---

PRESS STATEMENT FROM CINEMA ONE:


"Two Cinema One Originals films Mater Dolorosa (2012) and Big Boy (2011) make their international premiere at the 42nd edition of the International Film Festival Rotterdam (IFFR) at Rotterdam, Netherlands.


"The films directed by Adolf Alix Jr. and Shireen Seno will be presented at the twelve-day festival beginning January 23 until February 3, 2013 along with other feature films coming from 60 countries.


"Seno's Big Boy will be showcased at the "Bright Future" section where fresh filmmakers show their first or second feature films while Alix's Mater Dolorosa will be under the "Spectrum" section which shows recent feature length work by experienced filmmakers and artists who provide an essential contribution to international film culture. His film will also compete for IFFR's The Big Screen Award.

"Mater Dolorosa, Alix's latest feature film tells the story of Lourdes, portrayed by Gina Alajar, a crime family matriarch who runs several underground businesses including carnapping, gambling and drug smuggling with her children played by Carlo Aquino, Cogie Domingo, and Alessandra de Rossi. This is Alix's 21st feature film; he released Donsol, his first film in 2006. Gertjan Zuilhof, programmer of IFFR, noted that Alix's "level of craftsmanship is extremely high and his rapport with the actors shows great experience and self-assurance. His style in directing gives the film a classic appeal."

"Shot in Super 8mm film in rural Oriental Mindoro, Seno's Big Boy tells the story of a boy in 1950s, when the country was progressively picking itself up from the ravages of World War II. The boy was subjected by his parents to peculiar routines to mold him and grow into their desired or ideal poster boy for their home-based cod oil business.
ADVERTISEMENT - CONTINUE READING BELOW

"Shot in painfully intimate 8mm film, BIG BOY mimics the evasiveness of memory as it depicts the violence inherent in the Filipino home," Philbert Dee wrote in www.clickthecity.com.

"Mater Dolorosa and Big Boy will be screened five times each at selected cinemas in Netherlands during the 42nd International Film Festival Rotterdam. IFFR is one of the largest audience and industry driven film festivals in the world with a listed audience of 274,000 and more than 2,700 film professionals in 2012. It is approximately comparable in size to other major European festivals such as Cannes, Venice, Berlin, and Locarno."


Ed's Note: When content falls under "Press Statement," this means that the material is fully and directly from the company issuing the press release. The use of open-and-close quotation marks to envelope the entire text shows as much. This also means that PEP is not the author of the statement being read. PEP is simply providing the information for readers who may be interested.