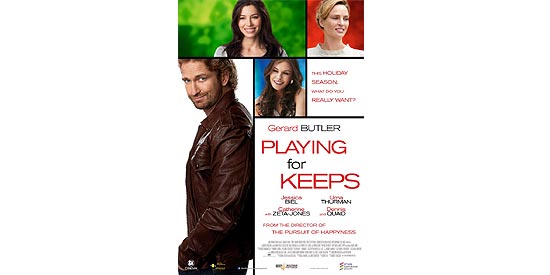 ---
February isn't just about chocolates and flowers. It's also the season for feel-good romantic movies—the kind that lovers enjoy watching while all snuggled up in a tight embrace.
So, even though Valentine's Day may be over, it's not too late to get lovey-dovey while watching Hollywood heartthrob Gerard Butler "playing the field" in his latest movie, Playing for Keeps.
PLAYING FOR KEEPS. Playing for Keeps is a romantic comedy about a charming former soccer star (Gerard Butler) who returns home to put his life back together.
George Dryer (Butler) is trying to rebuild his estranged relationship with his son, so he starts off by coaching his son's soccer team.
Despite his desperate efforts to be prim and proper, he can't help but get attracted to soccer moms who keep on throwing themselves at him.
Apart from its light plot, this feel-good movie is a must-see because of the star-studded cast comprised of ravishing bombshells Jessica Biel, Uma Thurman and Catherine Zeta-Jones.
THE PLOT. George Dryer (Gerard Butler). A world-renowned soccer pro in Europe, turned penniless in McLean, Virginia.
He's come back to this small suburban town to mend his relationship with his 9-year-old son, Lewis (Noah Lomax), whom he has seen occasionally in the five years since he broke up with his wife, Stacie (Jessica Biel).
Even though he's messed up so much in the past, George wants to make amends for the sake of their son and find a job so he can live nearby.
To rekindle a positive relationship with their son, Stacie convinces George to coach Lewis's soccer team.
While the idea sounded good on paper, what they didn't foresee was that George's coaching will gain so much attention from the moms of the other kids on the team.
ADVERTISEMENT - CONTINUE READING BELOW
First, there's Barb (Judy Greer), a divorcee who's constantly on the lookout for reassurance that she's still attractive.
Next, there's Denise (Catherine Zeta-Jones), a bored housewife and former newscaster who offers to help George land a lucrative job as a sportscaster.
Then there's the team's sponsor, wealthy Carl King (Dennis Quaid) who quickly befriends him in order to boast to his associates how close he is to the town's European sports celebrity.
Even Carl's wife, Patti (Uma Thurman),who has been faithful to her cheating husband all these years, throws herself at George because he is everything that Carl isn't.
On the soccer field, George might be in control of the ball and the kids he is coaching, but once the kids are on the field, the countless female distractions keep him from spending the quality time he insists on having with his son, Lewis.
How can George focus on being a good father to Lewis and possibly reuniting with Stacie, when all these others are fighting for his attention?
Will George be able to kick his way out of his dilemma?
"This movie seemed like an event movie; it couldn't just rely on Gerard Butler to carry this movie alone. Even with his broad shoulders, you needed star women to fill these amazing character roles that are so well-written and fun," says Producer Heidi Jo Markel.
THE A-TEAM CAST. They ended up recruiting Jessica Biel, Uma Thurman, Oscar winner Catherine Zeta-Jones, and comedienne Judy Greer for the key female parts and Dennis Quaid for the primary male supporting role.
All of them have good words for Director Gabriele Muccino and were happy to work with her.
Jessica Biel: "To play opposite Uma, Catherine, Gerry & Dennis, this cast is like a dream—to be a part of something like this with all these people I've admired for so long.
ADVERTISEMENT - CONTINUE READING BELOW
"It was all these different elements combined that made me feel excited about doing this."
Uma Thurman: "I'm a huge fan of Gabriele's work and I thought Playing for Keeps was a sweet family story—I don't always make a lot of those—and I was attracted to the comedy.
Catherine Zeta-Jones: "To work with Gabriele who is European coupled with the added bonus of the calibre of these actors who have been assembled in this particular piece that is charming, poignant, funny, well-written and lots of different layers to it—it was a slam-dunk for me to work on this!"
Judy Greer: "I've been wanting to work with Gabriele Muccino since I saw his Italian 'Last Kiss.'
"Then I fell in love with 'Pursuit Of Happyness' and 'Seven Pounds.' He tells these stories of redemption for the common man that I find interesting.
"I think his passion for these 'every man' characters is what makes his story-telling so beautiful and what elevates the scripts he chooses from being your run-of-the mill romantic comedy or drama."
Dennis Quaid: "I thought the script was funny and I knew the people involved. I knew Gerard Butler was doing it and I like his stuff.
"I knew Catherine was going to be in it, Uma was going to play my wife, and Jessie, too, was in the movie.
"It seemed like a really good cast so I thought it would be a good time and that's what I look for in a movie—a really good story or a really good time – or both."
Gerard Butler: "A lot of these actors play leading roles but yet they've been willing to do these ensemble roles because they are such fantastic roles and Gabriele is such a great director.
ADVERTISEMENT - CONTINUE READING BELOW
"It's been a major heist to get them all involved in the movie; we have the cream of the crop.
"I cannot imagine a better cast to do that with!"
Valentine's Day may be over, but lovers can always keep the romantic flame burning by watching a feel-good romantic comedy like Playing for Keeps.
It's now showing in all SM Cinemas nationwide.