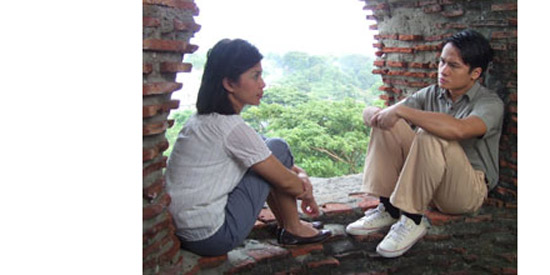 ---

Ping Medina, known for playing challenging character roles both in movie and television, revisits his character in the period film Iliw (Nostalgia).

SM Cinema and the Film Development Council of the Philippines is bringing Iliw back to the big screen this February 2013 through CinExclusives.

Ping was informed of the decision to include Iliw in the CinExclusives initiative just last week and he feels that "it is good na FDCP is working with independent filmmakers to bring alternative cinema to a wider audience."

With all the local movies released in 2012, Ping believes that 2013 is going to be an even better year, "if there is one thing that last year proved, especially with Star Cinema movies, is that the non-formulaic movies made it big. Definitely I'm looking forward to more fresh material this year."

When asked to describe his experience while doing Iliw, he recalls, "being in Ilocos, it is a very...if you go to the right places, it is a very romantic place. So just the experience of being there. Maganda talaga."


Iliw depicts the love story that prevented the Japanese from bombing the historical city of Vigan during World War II.


(CLICK HERE to learn more about the period film Iliw)


For those who missed Ping as he played Pablo in Iliw back in 2009, they can see him as he goes from having a close friendship to having unrequited love for Kaye Abad's character named Fidela.


Ping's character Pablo also chooses to stand firm beside Fidela as one of her only friends, even when Vigan's society has ostracized her for being with Japanese Colonel Takahashi (Hiroyuki Takashima).

Pablo also has to deal with peer pressure to join the guerillas who are in collusion with the Americans in bringing down the occupying Japanese. Pablo holds on to his belief that he won't meddle and be part of a war that isn't his to begin with. His character represents the opposing views during World War II Japanese-held Philippines, where some of our countrymen decided to fight with the Americans, while others decided that holding one's head down and hoping for the best was the best option.

Ping as Pablo strongly plays out his painful longing for and ultimate acceptance of Fidela's choice to be with Colonel Takahashi. It is endearing to see Pablo and Fidela as younger versions of themselves being carefree, pre-War, and later on, just as Pearl Harbor got hit, the image of the two of them in separate locations, doing the same thing, biking down a quiet country road.

As the film progresses, part of you wishes the good boy next door gets his girl, but you also realize that being friends are all Pablo and Fidela were meant to be. Ping displays vulnerability and strength of character and perhaps the movie could have exhausted the storyline of Pablo more versus choosing to delve on extended landscape shots.

Iliw, through beautiful imagery of Vigan's landmarks and attention to local cultural quirks, is a significant contribution to Philippine cinema. Thanks to the inclusion of characters like Pablo played by acting royalty Ping Medina, Iliw is made all the richer.

Ping, who can currently be seen on the GMA-7 produced primetime epic Indio, will also be seen in the upcoming mini-series Bayan Ko produced by GMA NewsTV.

He explains, "it's a first mini-series produced for the elections, to educate the voting public on good governance." Bayan Ko will also star Rocco Nacino, LJ Reyes, and Pen Medina among others and starts airing March 10 (Sunday) at 6:30pm on GMA NewsTV and every Sunday after for six weeks.


ON WORKING WITH HIS FATHER PEN MEDINA. The mini-series Bayan Ko marks the first TV project wherein Ping will be able to portray being a son to his real-life father, Pen Medina. Ping says about this experience: "it is fun, we have fun naman." Bayan Ko is also significant as it is the first drama produced by GMA NewsTV.

Ping is currently working on developing a script for TV based on his own concept. He reveals, "My dad plans to direct, I don't know if this will come into fruition this year but that is something to look forward to." Ever since, even before he got into acting, Ping shares he wanted to do writing, scriptwriting specifically and "I have been writing scripts and now I get that it is time, now is the time to write my own material."

Anything birthed out of the creation of one's imagination is bound to get criticized but Ping says, "I don't mind the critics as I don't really read reviews." He says that he would like to be identified as "a scriptwriter, my main goal is to capture a story and tell it in an exciting way...bottomline, good storytelling." To him, "story is king."

Ping encourages the movie-going public to catch Iliw if not for the first time, the second time, because " it is a beautiful love story, it is a glimpse of our nation's history."


ADVERTISEMENT - CONTINUE READING BELOW