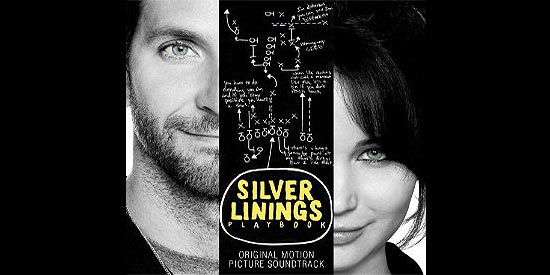 ---

Silver Linings Playbook is adapted from a 2008 novel of the same title written by Matthew Quick. Director David Russell gently bent the literary work for his own purposes.

In the book, Pat was hospitalized for years, which resulted in a potentially more alarming mental-health diagnosis than the guy in the movie who breezes out of a psychiatric facility.
In the movie version, viewers learn about the struggles of Pat (Bradley Cooper) who is attempting to hold on to his sanity as he tries to win back his wife Nikki (Brea Bree).
After his 8-month rehabilitation period, Pat's mother (played by Jacki Weaver) decides to take him out of the hospital and continue his medication under parental custody. Pat sees this as an opportunity to transform himself into the man that his estranged wife Nikki wants him to be.
However, the bipolar Pat has a tendency to flare up in several instances, making it difficult for his parents to control their son.
Director David Russell makes viewers feel the annoyance of his parents through unusual camera shots. One of the most hilarious scenes shows Pat waking up his parents at 4 am to talk lengthily about a book by Ernest Hemingway.
Pat would react violently to the song "My Cherie Amour" because it was his wedding song and it was the same song playing when he caught his wife having sex in the shower with another man.
One scene that is quite disturbing (yet oddly effective) is the scene where Pat is looking for his wedding video during the wee hours of the morning, so he asks for his mom's help.
ADVERTISEMENT - CONTINUE READING BELOW
His mom does not help him, Pat becomes impatient and starts yelling and hurting his mom. His dad (Robert de Niro) tries to intervene but ends up getting slapped and punched.
This scene effectively captures the dilemma of the family: Pat has lost the ability to control himself while his parents are trying their best to extend their love and understanding for their son who has a medical condition.
WHEN PAT MEETS TIFF. Everything changes when Pat meets Tiffany (Jennifer Lawrence) who experienced depression when her husband died and she eventually turned to sex addiction.
When they meet for the first time, Tiff asks Pat to walk her home and she invites him to come to her house and have sex. But the loyal Pat raises his hand to show his wedding ring.
The pursuit of happiness becomes literal for the characters as Pat is seen jogging every morning with Tiff tirelessly running after him.


As their friendship develops, the two find hope in each other's company.
Bradley Cooper has amazing onscreen chemistry with his partner, especially during their climactic ballroom dancing scene.

In a crucial moment of the movie, Bradley's character Pat is able to control his temper and calmly express himself while Jennifer's character Tiff learns to control her urges despite their intimacy while dancing.


Jennifer Lawrence proves her versatility as she shows her wacky side in Silver Linings Playbook. She previously appeared as the mysterious Mystique in X-Men: First Class and the heroine Katniss Everdeen in The Hunger Games.


During the 85th Academy Awards, Jennifer bagged the Oscar Best Actress trophy for her role as a sex addict while Bradley earned a Best Actor Oscar nomination for portraying a bipolar patient.


Director David Russell makes viewers feel and understand the instability of Pat and Tiff's emotional states. However, he does not resort to presenting them as caricatures. Through his lens, viewers feel empathy for two souls struggling to cope and find love anew.


The movie may be dragging in some parts but it makes up for it through numerous comic scenes and intense dramatic moments. This heartwarming dramedy imparts invaluable lessons about life, love and the process of healing.


As Bradley's character Pat puts it: "I don't want to stay in the bad place, where no one believes in silver linings or love or happy endings."

ADVERTISEMENT - CONTINUE READING BELOW
Silver Linings Playbook puts emphasis on having second chances in life. Despite one's medical or emotional condition, s/he still deserves to receive unconditional love.

In life, no matter how tough or bad it gets, there will always be a silver lining.