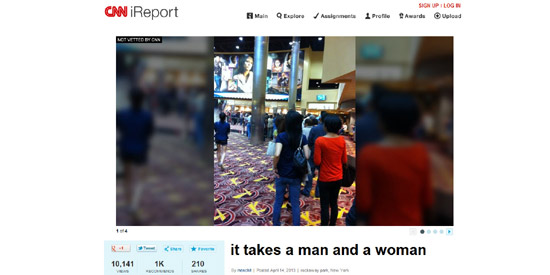 ---
The third installment of the John Lloyd Cruz-Sarah Geronimo movie has been featured on CNN iReport.

The news organization's website featured 4 photos of people lining up for screenings of It Takes a Man and a Woman in the United States.

This iReport posted by Menchit stated: "what is the magic? People falling in line fr CA, to NYC to Texas, Virginia, Canada etc, people driving 3-8 hrs just to watch this movie to venues where it is showing. So what is this movie really?"

In the comments section, Menchit also had this observation about this romantic comedy starring John Lloyd and Sarah. "What was so interesting about this? These lines were from different parts of USA.Theaters from CA, VA, TEXAS NYC,NJ etc and even Canada.Why the line? I guess people has to see why people are falling in line in a non-hollywood film.There must be something special about this movie."

A few hours after posting this iReport, Menchit gave an opinion about the Filipino movie that has been graded A by the Cinema Evaluation Board.

"Finally, I know why people were falling in line. Amazing to see a non-hollywood film with lines. With this movie, one will cry, laugh and fall in love all over again.So simple yet one will leave the theater with a smile.A movie for all ages."

Menchit's location is disclosed as Rockaway Park, New York.

CNN encouraged readers to select from one of three options regarding this iReport: 1) This belongs on CNN 2) Close, but needs some work 3) This is inappropriate.

According to the note, the feedback generated will help CNN producers decide what to do with this iReport.

As of 11:50 am of April 16 (Manila time), the said iReport has garnered 10,141 views, 1000 recommends and 210 shares.

According to CNN, their iReport assignments are "story ideas from CNN producers, based on topics in the news or stories that CNN expects it will be covering soon."

In the Philippines, It Takes a Man and a Woman grossed P267 million as of
April 9, according to Star Cinema. ABS-CBN's film production arm co-produced this movie with Viva Films.

(CLICK HERE to read related article)

Star Cinema's latest box-office figures reveal that ITAMAAW has already grossed over P330 million.


ADVERTISEMENT - CONTINUE READING BELOW