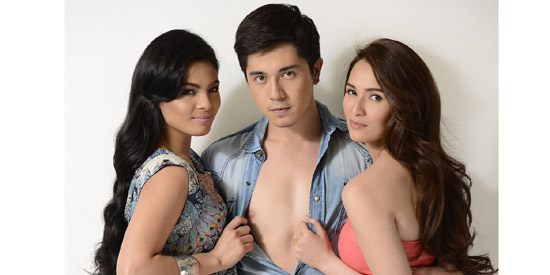 ---
The Bride and The Lover is entertaining. Although it is quite unsure of its tone, it is fresh enough not to miss.


Produced by Regal Films, directed by Joel Lamangan, and penned by Rody Vera, The Bride and the Lover tells the story of close friends involved in a relationship switcheroo.


Vivian Paredes (Lovi Poe), a real estate magnate, is getting married to car seller Phillip (Paulo Avelino). But Vivian decides to run away from the wedding after revealing to the public that Phillip is having an illicit affair with Sheila Montes (Jennylyn Mercado).


Devastated, the three go on a trip to clear their heads. Days later, they come back to their lives with changed perceptions. Sheila woos Phillip, who agrees to marry her. Vivian, on the other hand, becomes liberated, and unravels a plan to take revenge.


The story is not unique--it echoes the string of infidelity movies that topped the box office in the last months. Although, there's a different spin to it that makes things interesting.


What's good about The Bride and the Lover is how it uses camp elements to heighten the audience's interest.


Camp is not unique to this movie either, since one could argue that those infidelity movies take their cue from camp: from the zippy quotable dialogue to the outrageous fashion. What makes this different is how the camp elements are so subdued as to not intoxicate or overpower the viewer.


What doesn't work is when the movie introduces dramatic moments that only serve as filler. The greatest offender is the scene after the much-talked about big fight, where Vivian's mother, played by Carmi Martin, confronts her daughter about her behavior. The scene is unnecessary, since the movie could have ended on a high note after it ended on the fight scene.


Lovi Poe gives the best performance among the three lead stars. Although her virginal act in the early part of the movie is not that convincing, she gives the new Vivian enough simmering anger and sensuality to carry the movie through.


Jennylyn Mercado's performance is uneven. She gets her character's naïveté, but fails to grasp the more complex parts, like the cunningness needed to steal someone's man. She plays these parts like a long joke.


Paulo Avelino, while a proven actor, has nothing much to do in this film but to stand and wait for a woman to chase after him. His character should have been more defined.


Despite all these flaws, The Bride and the Lover is still an entertaining movie worth watching.
ADVERTISEMENT - CONTINUE READING BELOW