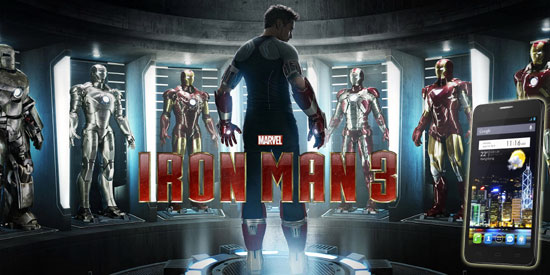 ---
Robert Downey Jr. reprises his role as billionaire, playboy, and philanthropist Tony Stark in Iron Man 3.
Set after the great battle in New York shown in The Avengers, Iron Man 3 depicts how Stark experiences post-traumatic stress disorder after his sacrifice that almost took his life.
Stark's carefree, playboy antics come to haunt him as he crosses paths anew with genius Aldrich Killian (portrayed by Guy Pearce).
In the past, Killian asked Stark to support his thinktank AIM (Advanced Idea Mechanics). However, Stark blows him off, prompting Killian to see revenge thirteen years later.
Rebecca Hall is a breath of fresh air as Maya Hansen, a previous love interest of Stark who also has a score to settle with the billionaire.
As Pepper Potts, Gwyneth Paltrow transforms into a femme fatale, complete with six-pack abs and killer moves that are sure to "scare the devil" out of viewers.
Iron Man 1 and 2's director Jon Favreau was also hilarious as Pepper's bodyguard Happy Hogan.
Directed by Shane Black with screenplay by Drew Pearce, Iron Man 3 has a more light-hearted tone and juvenile appeal, as seen in two main points:


First is the prominence of a little boy, Harley (played by Ty Simpkins), who becomes very helpful to Stark's plan of attack.
Secondly, the evil nature of the Mandarin is toned down for this movie, which could be a disappointment for avid comic book fans.


Nonetheless, Ben Kingsley offers a humorous portrayal of the Mandarin that is highly entertaining.
As in most superhero movies, the plot revolves around the protagonist's weakness, which in Iron Man's case is the fact that most of his power is merely derived from his armor suit.
ADVERTISEMENT - CONTINUE READING BELOW
However, the abundance of scenes showing Robert Downey Jr. without a suit plus sequences that depict him creating makeshift weapons, there is no doubt that Stark's real power lies in his ability to create.
The filmmakers wanted to underscore Stark's talent in engineering, which is why Iron Man had been created in the first place, hence the moniker, The Mechanic.


As Stark struggles with his anxiety attacks and his fear of losing Pepper, viewers will get to see the human side of the man behind the suit.

The highlight of the movie is the appearance of his army of Iron Man armors (around a dozen) in the climactic battle scene. Their arrival is impressive but you would wish that these armors were given longer exposure in the movie.
In terms of animation and special effects, Marvel Studios provides a visual spectacle, as expected.
The action scenes are very engaging and the Mark 42's defects in crucial moments will crack moviegoers up.
Over-all, Iron Man 3 is a movie you'd like to take your children with to watch and enjoy. But for comic book fans, they might be disappointed by the fact that the Mandarin is not as menacing as portrayed in the comic book series.


P.S. After the movie, stay behind to enjoy the extra scene that is shown at the end of the credits.

Featured in the movie was the Alcatel One Touch Idol which is available through Sun Cellular's Plan 600. For more details, check-out: https://www.facebook.com/photo.php?fbid=526140800765514&set=pb.177269478985983.-2207520000.1366885815.&type=3&theater
ADVERTISEMENT - CONTINUE READING BELOW