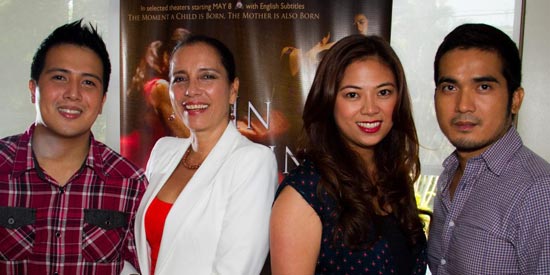 ---
In Nomine Matris (Sa Ngalan Ng Ina), which was part of the New Wave (or indie) section of Metro Manila Film Festival, will finally have a regular theatrical run in commercial theaters this week.
ADVERTISEMENT - CONTINUE READING BELOW

Starring Liza Diño, this indie film earned for her the New Wave Best Actress trophy in the 38th edition of the MMFF. The film also earned the Gender Sensitivity Award during the awards night held on December 2012.

In Nomine Matris will be shown starting this Wednesday, May 8, in the following theaters: SM Megamall, SM North EDSA, SM Marikina, SM South Mall, SM Fairview, SM Manila, Robinsons Galeria, Robinsons Metroeast, among others.
Produced by Hubo Productions from a script and direction by Will Fredo, this dramatic film features visually stimulating dance sequences choreographed by world-renowned Flamenco master dancer, Clara Ramona.
However, In Nomine Matris (Sa Ngalan Ng Ina) is not just about flamenco dance. It is also about the sacrifices that women make for their art, lives, growth. These choices may affect their lives, in the name of mothers everywhere.


GAWAD URIAN NOMINATIONS. Last week, the official nominees of the 36th Gawad Urian Awards were released to the media, and it was such a perfect timing that two from this film got the critics' nod for their individual nominations:
Liza Diño is nominated as Best Actress, while Clara Romana is nominated as Best Supporting in this prestigious award-giving body organized by the Manunuri ng Pelikulang Pilipino (composed of people from the academe and film critics in the Philippines).
Best Actress nominee Liza can't hide her excitement over the good news that day: "Salamat, salamat! Grabe, I'm still floating… Sobrang shocked talaga ako.
"To win in MMFF is already a blessing. I don't want to expect sa ibang award-giving bodies, 'coz ang daming magagaling na artista. None of us knew who were nominated. And then, nandoon pala ang name ko!
"Wow! This is Urian! To be nominated in Urian is already an honor in itself, 'coz the Manunuri is really well-respected and talagang their credibility as an award-giving body is irrefutable.
"So, happy na ako to be nominated especially alongside our superstar Ms. Nora Aunor. Wow, ibang klase. Para akong nasa alapaap ngayon!" exclaimed Liza, who just came from the United States to promote the film.


Aside from Liza and Nora, the other nominees of Gawad Urian Best Actress are: Jodi Sta. Maria (Aparisyon), Alessandra de Rossi (Baybayin), Assunta de Rossi (Baybayin), Ama Quiambao (Diablo), Gina Alajar (Mater Dolorosa), Olga Natividad (Mga Dayo), and Shamaine Centenera-Buencamino (Requieme)
Meanwhile, Clara Ramona, now based in Hong Kong, also arrived in the Philippines last week in time for the promo period of the film. She arrived in the country on the same day the Gawad Urian nominees were released.
"I am deeply honored and humbled with this recognition from Urian. I'm glad I'm able to receive the good news in person upon my arrival here, and not through Facebook since I'm already based now in Hong Kong," says the Flamenco master dancer.
Competing with Clara Ramona as Best Supporting Actress for Gawad Urian are: Annicka Dolonius (Ang Nawawala), Mylene Dizon (Aparisyon), Raquel Villavicencio (Aparisyon), Alessandra de Rossi (Mater Dolorosa), Joy Viado (MNL 143), and Alessandra de Rossi (Sta. Niña).



SYNOPSIS. Supported by the Embassy of Spain in the Philippines, Instituto Cervantes/SPCC, and Trinity Hearts, In Nomine Matris (Sa Ngalan Ng Ina) revolves around Mara (Liza Diño,) a young dance protégé who seeks to land the principal part of a dance company that is about to embark on a tour.
On her quest to land the coveted break, a series of events turned her sense of meaning upside down. She is then faced with a life changing decision. She turns to her mentor Mercedes (Clara Ramona) and her mother Ava (Tami Monsod) as she searches for answers in the beautifully loud and endlessly moving world she lives in.
Within this premise, director Will Fredo fuses the sensitivities of the Spanish culture into the Philippine modern setting through a highly tense mix of drama, dance, singing, and poetry.
Former GMA teen star and now dramatic actor Biboy Ramirez and Italy-trained opera singer Al Gatmaitan both played Mara's lovers in the film. The love triangle between the two half-brothers and Diño's character creates the tension in the story.
Director Will points out: "Kikiligin at maaawa ka sa pinagdaanan ng dalawang lalaki sa kamay ng character ni Liza, iisipin mo kung ano ang dapat mong pilliin--passion ba or true love?"
The movie is not as simple as it appears to be. It is not your typical Filipino love story. The filmmaker promises that a lot of people will be able to relate.
"Lahat naman tayo may mga passion sa buhay. Araw-araw, may mga choices tayong ginagawa, no matter what the consequence," adds the writer-director.
Ida Tiongson, the film's producer, says: "Not all independent movies get the opportunity to release in wide distribution. Honestly, it is a difficult task. We are encouraged though by the audience reaction and by the support of our partners."
Executive producer Greg Macaraeg states, "It is seldom we see an audience cheer and clap in between scenes, especially after each dance or performance. It feels like you're watching a live show, but it's on screen."
Medwin Garcia, one of the producers, further shares, "I hear the audience getting involved, invested with the characters. Nakakatuwang panoorin!"
The movie also stars Tami Monsod (theater actress and daughter of Winnie Monsod), Maradee De Guzman (Nepal's foremost Flamenco dancer), Flamenco dancer/openmic poet Jam Pérez, award-winning actor Bong Cabrera and actor-theater director Leo Rialp, TV actress Joan Palisoc, and a group of dancers from various background who trained for more than 3 months to dance Flamenco.
World jazz musician Bob Aves created the beautiful music score, a first in Philippine cinema wherein "Kundiman" and Flamenco rhythms were fused together.
Hubo Productions is an independent multi-media production company that is known for its core film ventures. The film group is headed by Will Fredo, Gregory Macaraeg, Ida Tiongson, Joan Manalang, Medwin Garcia, and George Sommerrock.