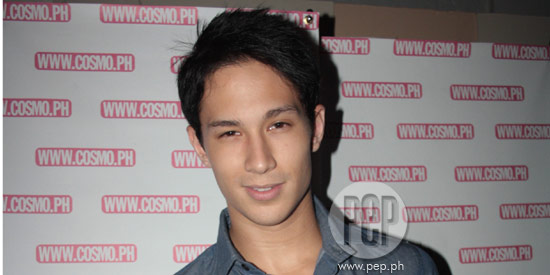 ---

Former GMA-7 talent turned ABS-CBN actor Ian Batherson feels grateful to be given the chance to work with Marian Rivera and Ai-Ai delas Alas.

The StarStruck alumnus is cast in the upcoming action-comedy film Kung Fu Divas.

Ian also reveals, without going into details as it's not allowed yet, that an upcoming teleserye he is set to appear in on the Kapamilya station has been postponed and moved to a later date.

When asked to describe his role in Kung Fu Divas, he explains: "I'm actually the crush of the main character of Marian, noon pa when she was bata pa and may mga eksena din kami where we are grown-ups na tapos I think kinda like a love interest character yun..."

Of working with Marian, Ian comments, "It's really inspiring and also parang it just makes me happy that I can work with somebody that high up in the industry, of course naman all the guys love her and it's an honor naman."

He continues: "It's a dream come true kasi she [Marian] is such an icon in Filipino showbiz, isang malaking honor sa buhay ko to work with her and hopefully in the years to come I can also work with others pa."

Ian is overwhelmed by the fact that he got to shoot a movie with Marian, who was named Sexiest Woman in the Philippines in 2008 by FHM even before she graced the cover of the men's magazine.

Ian blushed a bit when he admits, "I'm just really honored kasi sometimes you know like there are guys na, they are like, 'Oh my God si Marian Rivera.' Just to say that you worked with her is like you know, a really big honor."

What he is getting from the experience of shooting Kung Fu Divas is hope, "that it will continue naman, like I'll keep working with big names you know kasi, you learn from them, you learn from them on the set, how to act, how to carry yourself."

Marian, the Kapuso Primetime Queen, has earned Ian's lifelong respect. "It's just overall, a great experience na kaharap mo na si Marian Rivera or any other big star, kasi dati I used to watch you on TV and now they are in front of you, such a huge honor."

Did he get any tips from Marian or from Ai-Ai while working with them on Kung Fu Divas?

Ian shares, "I've learned a lot of tips from other stars kasi dati StarStruck, ang dami kong mga kaibigan na sobrang big names sa industry and I just learned always, always be on time no matter what. Tapos get enough sleep kasi if wala kang tulog or kulang sa tulog..."

He gets tips on the craft of acting from doing workshops, but the big practical life lessons he gets from his fellow stars, "pero as far as that, it's like a little handbook of what the big stars do to stay big, di ba, like parang when you meet people always be nice, remember their names, be courteous, ganoon."

Marian, who is contract-bound to GMA-7 for her TV projects, has no qualms working with the movie arm of ABS-CBN, Star Cinema. She's always said that she wants to focus beyond network politics, because what matters to her is the quality of the project.

Ian comments, "it's okay for the two of them to do it kasi it's under Star Cinema. It's kinda weird, to be honest, ganyan talaga sa industry, there's mga freelancer na workers sa movies."

He even mentions Dingdong Dantes, Marian's long-term boyfriend, as an example, "I think that's a great thing in a cool way kasi, di ba, Dingdong did One More Try and it was a beautiful movie, my God, I loved it so I think it's a good move, they [Star Cinema] make good movies naman."


MARIAN RIVERA AS A "SEX SYMBOL." What was it like to see two big stars of rival networks working together? "Magkaibang network sila, you have two different pegs, e: one is really bubbly, charismatic, very funny in a good way, a very entertaining comedian and then you have you know like a...," Ian pauses here, clearly trying to find the right words.

"Sex symbol...you have this like, what's the way to put it, you just have this, she's just one..." Ian tries to recover, while still smiling.

"She is very nice and she's very iba talaga ang dating, one is wacky but fun and then everybody loves her and then you have this sexy star that's very you know, she can act, she's beautiful, she can dance, she's so talented.

Ian commends the fact that Marian and Ai-Ai were able to work on one project even though they come from rival networks. "I think it's great they can work together for this project and hopefully more to come."

When asked to try and phrase his whole experience of being on Kung Fu Divas in a Twitter-like statement (a mere 140 characters), Ian understandably goes for more, "my experience shooting Kung Fu Divas was like an enthralling experience, growth-wise kasi ang dami ko natutunan through the process of how gaano kabilis ang take or location set changes kasi ito ang pinaka first movie ko na malaki, e."

He has appeared in Boy Pick-Up: The Movie, Sisid, and You To Me Are Everything. He says of this break given to him, "Kasi yung mga cameo lang, eto part talaga, so it's a big honor and parang I've learned from my experience, this is my very first movie, you have to be proud of yourself, na I finally I have a role in a movie kasi if it's something you wanted for the longest time tapos you get it, be happy and be thankful."

Finally concluding on his Twitter-like statement, Ian says, "It's a very unforgettable experience kasi it was my very first movie."


MOVING ON UP. How has he grown from the experience of working on Kung Fu Divas? Ian recalls, "Just the process of being on set, iba talaga yun kasi I still have little experience, I'm like a model then reality personality versus aktor, kailangan ko pa ayusin ang Tagalog ko."

He has been told, and even during this short chat, that his use of Tagalog is becoming more natural. He points out, "Sabi naman ng iba, I hear people say sometimes, 'Hey okay ah, hindi ka naman ganyan kagaling mag Tagalog pero ngayon medyo diretso.' I'm like 'Salamat' [but] there is so much more to improve on."

Approaching the mid-line mark of 2013, Ian hopes to continue on this upward growth process, "I want to improve on my craft, the acting process, there is so much to learn and also not being late, but being on time, maintaining my body..."



ADVERTISEMENT - CONTINUE READING BELOW