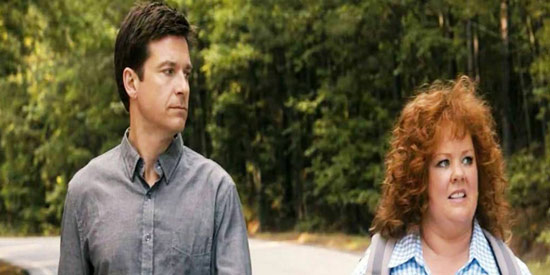 ---

A lot of details in Identity Thief are contrary to the rules of logic. But for some reason, it's fun to watch the movie unfold until it reaches its predictable end.

In the movie, Melissa McCarthy—the sink-pooping bridesmaid in the movie Bridesmaids—plays Diana, a "sociopath-with-a-conscience." She was able to get the credit card details and personal info of a diligent accountant named Sandy Patterson (played by Jason Bateman) so she is able to live comfortably while borrowing someone else's identity.

Written by Craig Mazin, who also wrote the Scary Movie and Hangover franchises, Identity Thief borrows from and is reminiscent of a recent road trip and odd couple comedy movie starring Robert Downey Jr. and a very offensive Zach Galifianakis, Due Date. Only this time, it is a woman who is being brazenly obnoxious, sexually aggressive, kicking butt and having her butt kicked – and it's funny. Jason Bateman, as a straight man who refuses to break the rules, serves as an amusing contrast to McCarthy's over-the-top ludicrousness.

Melissa McCarthy helped make the movie's thin plot watchable thanks to her readiness to haul herself in front of a moving car, bang her head or make fun of herself just to get some laughs.

Eric Stonestreet, who also stars in the TV series Modern Family, is hilarious and unforgettable in the movie as Big Chuck.

Identity Thief struggles to stretch a flimsy story by adding layers upon layers of incredulous situations one after another. The film could still stand even without the subplot involving two gangsters—played by rapper T.I. and Genesis Rodriguez, a godfather-like convict and a bounty hunter—who both want McCarthy's character dead. The removal of the subplot could have also made the movie shorter than its 111-minute running time.

Identity Thief used formulaic scenarios to propel the story forward. What saved the movie from being tedious was the entertaining dynamics between Bateman and McCarthy. But it is McCarthy who literally runs the show despite the predictability of the situations she is put in.

It is difficult to believe McCarthy's character can develop a conscience overnight even with her blatant sociopathic tendencies. Despite the change of heart Diana goes through, it only appeared as a superficial tool to make her character sympathetic and give the movie a happy ending.

Identity Thief seems to be a rehash of sure-fire comedies that has already been released before. The story of a road trip between an unlikely pair has been seen as far back as 1987 in the John Hughes movie Planes, Trains and Automobiles. Also, McCarthy seems to be the female version of Due Date's Zach Galifianakis.


If you're a fan of McCarthy and want to see her strut her funny stuff onscreen, Identity Thief is a satisfying movie. If you want to see a funny road trip movie that is similar to other funny road trip movies involving an uptight man and a free-wheeling partner, Identity Thief is a must-see.
ADVERTISEMENT - CONTINUE READING BELOW