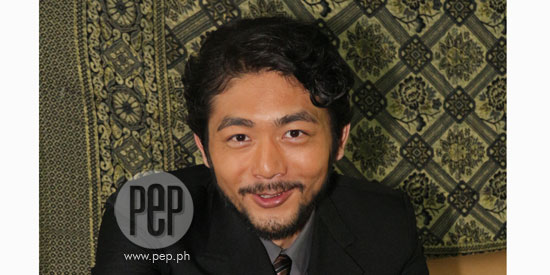 ---
Hollywood-based Japanese actor Yuki Matsuzaki personally auditioned for his role in the 2013 Cinemalaya entry Instant Mommy.
Yuki starred in several Hollywood films such as The Last Samurai (2003), Letters From Iwo Jima (2006), The Pink Panther 2 (2009), and Pirates of the Caribbean: On Stranger Tides (2011).
He told PEP.ph (Philippine Entertainment Portal) last May 16 on the set of Instant Mommy in Sampaloc, Manila, how he knew about the said project.
He recalled, "I saw an article on the internet that said Chris Martinez was looking for a Japanese actor for his next project which is Instant Mommy.
"The description was a Japanese businessman in his forties. And that's how I found out about the project."
EUGENE IS THE REASON. Why would a Hollywood actor be interested to do an independent film here in the Philippines?


It turns out that the main reason why Yuki accepted this project is to work with Filipina actress Eugene Domingo.
"I saw her performance in Babae sa Septik Tank and she was amazing in it!" Yuki exclaimed.
"Absolutely amazing, and I really wanted to play the role in a movie with her. So, that was probably the biggest reason.
"Second reason was I always worked in Hollywood, mainly Hollywood and Europe.
"I've never worked in Asia, so, I wanted to work in Asia. And, of course, the Philippines is in Asia, so, that was my second reason."
Aside from these reasons, the Japanese actor believes that this film, "will be a great opportunity to make the bond between Japan and the Philippines much stronger than what it was before, I mean, what it is now.
"Actually, you know what, that's probably [a] much bigger reason than the reason I've said before because I always consider about bonding different countries together. And I think the Philippines and Japan could have a much, much stronger bond.
ADVERTISEMENT - CONTINUE READING BELOW
"I'm hoping one day the Philippines can be considered by Japanese as almost like Hawaii, like when you have vacation, a family vacation [they'll say], 'Let's go to the Philippines because it's a beautiful country!' I'm hoping that will happen one day."
LEARNING TAGALOG. In the film, Yuki plays the role of Kaeru San, a 40-something Japanese businessman who is the fiancé of a Filipina named Betchay (Eugene Domingo).
The role is a bit hard for Yuki considering he's only 31 years old.
But what is the biggest challenge for him? It is learning the Filipino language. "It's very hard," he admits.
It's interesting to note that when this Japanese actor learned that he was accepted in the movie, he immediately bought a Japanese-Filipino dictionary.
The difficulty of learning the language didn't stop him from pushing through with the project.
He explains, "I'm Japanese and English wasn't my mother language, mother tongue and I learned it.
"So, learning new language to me, it comes much easier than a lot of other Japanese people. And I enjoy it.
"I enjoy learning new languages. So, that didn't actually scare me. I was more excited to learn Tagalog."
And as if to show-off how much he improved: "Ako is me, right? Ako makaintindi ng Tagalog, konti lang. Konting-konti.Very little."
It took two weeks for Yuki to learn the Filipino language, which is needed for him to understand the script.
"The script was written in Tagalog and the only way was to actually learn the language," he said while showing to us his Filipino dictionary filled with notes and highlighted text.
"So, I bought a dictionary. First, I started with learning the grammar. So, I studied the grammar, how the Tagalog grammar works.
ADVERTISEMENT - CONTINUE READING BELOW
"And once I get that down, I was sort of able to start reading the script. I think it took me 143 hours to read the script.
"I really didn't want to be the only actor on the set who doesn't know the script. So, I was really glad that I was able to read the script. It's a very good script."
Now that he's learning the Filipino language, will we expect him to do more films with other Filipino actors and actresses?
"I would love to say, 'Send me the script,'" he immediately said.
"But it takes 100 hours to read it. So, that will be tough.
"In this one, I don't have that much of Tagalog lines even though I studied it, so, maybe in the future, I may get involved in a project where I have more Tagalog lines than this one."