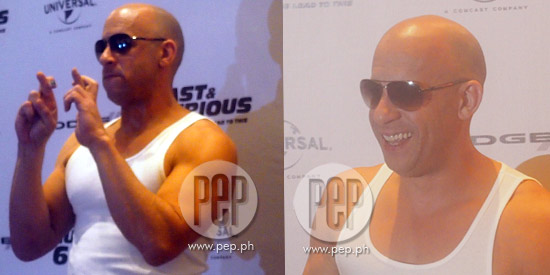 ---
Vin Diesel was in a playful mood when he entered the ballroom of Fairmont Hotel in Makati City to meet with members of the Asian press.

Wearing a white sando that emphasized his well-developed biceps, the Hollywood actor clapped his hands to enliven the group of reporters who waited for him last May 16.

Vin Diesel was particularly happy to fulfil his lifelong dream of visiting the Philippines.


WHY CHOOSE THE PHILIPPINES? A journalist from Jakarta, Indonesia asked Vin Diesel why he chose to hold the premiere of Fast and Furious 6 in Manila.

The jampacked premiere was held last May 14 at the Mall of Asia with Vin Diesel, Michelle Rodriguez, Luke Evans, and Gina Carano in attendance. Fast & Furious 6 is scheduled to open in Philippine cinemas tomorrow, May 24. (Read: PEP's review of Fast and Furious 6)

In response, the American actor said, "Maybe because the Philippines is incredible."

This prompted Pinoys to cheer and even Michelle Rodriguez (who was seated beside him) clapped her hands to show her agreement.

"Maybe because I've wanted to go see the Philippines my whole life," he admitted.

"I wouldn't have traded this trip to the Philippines for anything.

"The people here are so wonderful. They don't even realize it. People of the Philippines don't realize that they almost start out with this kind of warmth and this welcoming energy that you don't see everywhere."

He then shared his observations about Filipinos. "I noticed it from Manny [Pacquiao] sending us signed boxing gloves to the street vendor who does things with a warm smile and lots of love."

Vin Diesel believes that the Philippines is "a special place." In fact, he plans to suggest to producers to consider shooting movies in the Philippines.

"I'm loving it so much that I know that when I go back to L.A. and I'm in a story meeting, I'm going to say, 'What about the Philippines?'"

Photos of him riding a jeepney went viral on social networking sites recently. When asked about this experience, Vin Diesel said: "I love riding the jeepney.

"You have to understand that I love public transportation but the public transportation I grew up with were New York City subways. Coming from a dirty subway to a jeepney in a tropical island is a big upgrade."

Do they have plans of shooting the action flick in Asia?

"We have envisioned scenes in Asia," revealed the action star and co-producer.

"There's this one scene that won't probably come until Fast and Furious 8. What would a race at the Great Wall of China be like?

"That would be a huge action sequence and you guys are the first to know that. A car chase sequence on the Great Wall of China is what we discussed.

"All the locations in the saga have come from somebody saying, 'Hey, why don't you shoot in Rio? Hey, could you come down to the Dominican Republic? Why don't you do one in Europe? Why don't you come down to Spain? Why don't you come down to London?' All the locations in our movie started from somebody requesting the saga to go to their home country."



MICHELLE RODRIGUEZ RETURNS. In the fourth instalment of Fast and Furious, Michelle's character, Letty Ortiz, got caught in an explosion. However in this sixth instalment, Dominic Toretto (played by Vin Diesel) will learn that his ex-girlfriend managed to survive (albeit with amnesia).

Vin Diesel explained: "Once Tokyo Drift happened, the studio thought they weren't going to make another Fast & Furious. So when they put together the story for Fast & Furious 4, they didn't mind being reckless and they attempted to take out some core characters, which obviously Letty represents.

"But that's not how we work in Hollywood."

Suddenly, Vin Diesel impersonated Michelle as he pretended to talk to someone on the phone: "I told them I'm not going to do this movie if they're going to kill me. It's very simple. But I'm not going to go and do this character that I love and I've had for so long that I invested in and have them kill this character!"

As co-producer, Vin Diesel put his foot down and insisted that they retain Michelle in the franchise. He recalled telling Michelle, "I promise you that your character will not die. Trust me, your character is a very important part of this saga.

"If there wasn't Letty's return, there wouldn't be a Fast and Furious 5 or Fast 6.

"She became the deal point. She became the leverage.

"They had to see things correctly."

While Vin Diesel was impersonating her, Michelle kept laughing and she confirmed that she really did say those words to her co-star.



HOW MANY MORE INSTALLMENTS WILL BE MADE? The first Fast & Furious film was seen in 2001 and to date, the franchise has earned over $1.5 billion at the global box office.

How many more instalments of the franchise can moviegoers expect?

"I do see this saga as two trilogies. One to three and four to six were envisioned as a trilogy. Fast 6 ends the second trilogy.
ADVERTISEMENT - CONTINUE READING BELOW
"Furthermore, 6 and 7, at one point, were to be shot at the same time. The reason for that is because there is an economy of scale if we shoot two movies at the same time.

"Because of some locations, we ended up taking a hiatus but we do start shooting Fast 7 in August in LA.
"We will be making Fast 7, 8 and 9. Then it will be up to the public and their appreciation of the movie to see us through."

He then teased that he and Michelle might do a bed scene in the next instalment, which will also feature Jason Statham.

"I'm about the purity of the work, the quality of the film. If I didn't think we could do another good one, a great one...if I didn't think there was more room to grow, then we'd stop. It might not just be action. Seven may be sexier. You might finally get to see Michelle and I naked in a bed together."

Michelle laughed out loud as Vin Diesel continued: "I'm just that kind of person who wants to reach higher."



WHY NOT DIRECT FAST AND FURIOUS 7? In 1995, Vin Diesel experienced directing a short film titled Multi-Facial. This project actually caught the attention of Steven Spielberg who gave the actor a break and cast him as a soldier in Saving Private Ryan.

When asked why he himself didn't direct Fast & Furious 7, Vin Diesel explained: "I feel like that as producer, I already do so much that it would have felt weird trying to direct. If I direct, I take a year and a half out of the schedule."