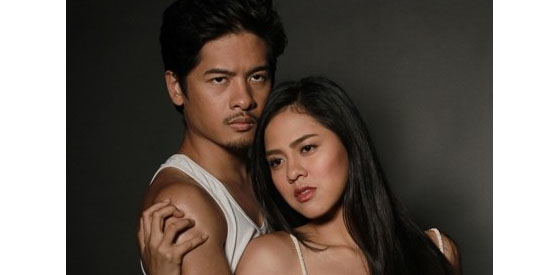 ---
Rising stars Mara Lopez and Alex Medina take on their biggest and most daring roles in the sexy thriller Palitan directed by Ato Bautista.
Palitan is currently being screened at SM Centerpoint.
In the film, Alex and Mara play the married couple Nestor and Luisa.
At the behest of his boss Ramiro (played by Mon Confiado), who owns an electronics shop, Nestor agrees to secretly shoot footage of Luisa taking a bath in order to repay an enormous loan. This leads to more complications not just for Nestor but also for Luisa.
Mara says her character is far from her real-life personality, "Luisa is my complete opposite."
Hence, the daughter of beauty queen-turned actress Maria Isabel Lopez had to ask her father (a Japanese) for permission before accepting the project.
Mara says, "I understood my father's apprehension. The role required me to do torrid kissing and even some pumping scenes. As a dad, he just didn't want his daughter to be too exposed."
The challenge on the part of Alex was performing at par with his co-stars and living up to the reputation established by his famous father, character actor Pen Medina.
Alex admits, "It was tough working on this film. I felt pressured most of the time because I had to measure up to Mon Confiado's energy and focus.
"The character demanded so much from me."
In the end, Alex did not let the pressure get to him and followed director Ato's instructions.
"My father always tells me , we're only as good as our last movie. I just trusted my director. I gave him what he demanded."
The risks and preparfation of Alex and Matra paid off. They won Best Actor and Best Actress for Palitan in the Cinema One Originals Film Festival 2012.
This Cinema One entry is being screened at SM Centerpoint, Sta. Mesa.
ADVERTISEMENT - CONTINUE READING BELOW
Palitan is rated R-16 without cuts by the Movie and Television Review and Classification Board (MTRCB).