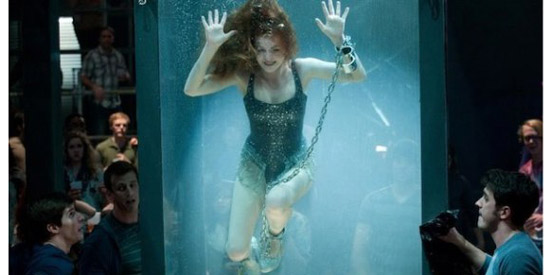 ---
Now You See Me is a mind-boggling flick that boasts a strong ensemble cast: Jesse Eisenberg of Social Network fame, Mark Ruffalo (who recently played the Hulk in last year's blockbuster hit Avengers), Woody Harrelson (who will be reprising his role as Haymitch Abernathy in this year's second installment of the Hunger Games trilogy), and acclaimed actor Morgan Freeman, to name a few. The stellar cast is enough to catch any moviegoer's attention, but it turns out, there's more to the film than meets the eye.
The movie introduces us to four magicians with distinct tricks up their sleeve. There's the cocky and confident street illusionist, J Daniel Atlas (played by Jesse Eisenberg); his former assistant turned escape artist Henley Reeves (played by Isla Fisher); the mentalist Merrit McKinney, (played by Woody Harrelson), who has an uncanny ability to read other people's minds; and the street magician slash pickpocket Jack Wilder (played by Dave Franco, James Franco's younger brother).
ADVERTISEMENT - CONTINUE READING BELOW
Collectively, they call themselves "The Four Horsemen"—an elite group of magicians formed by an unknown identity to answer a "higher calling." Together, the Four Horsemen irreverently pull Robin Hood-esque missions (such as pulling bank heists) as part of their act. They soon catch the attention of the FBI, which assigns a dubious officer (brilliantly played by Mark Ruffalo) and a seemingly suspicious French officer from the Interpol (played by Melanie Laurent) in charge of placing the Four Horsemen behind bars.
Throw in a former magician who's raking in millions by calling magic all smokes and mirrors into the mix, and you have a thrilling circus of characters—all driven by their ulterior motives—trapped in a cat-and-mouse chase.
But the beauty of the movie lies in its homage to magic itself. It features a bevy of illusions, but it's always one step ahead of the audience. It seems that each scene transitions into one fantastic act after another, whether it is a jaw-dropping magic trick, a cliffhanger that will have audiences at the edge of their seats, and a series of chases for a good dose of adrenaline rush.
ADVERTISEMENT - CONTINUE READING BELOW
Moviegoers are prodded to question every act (How did they do that?), every scene (Why would they leave him there?), and even every character (Who is actually pulling the strings in the background?).

Interestingly enough, just when the moviegoer thinks s/he has everything figured out, the movie pulls another trick up its sleeve. It gives the audience a backstage pass into the world of magic and showmanship, through the eyes of the "magic debunker," who is used to explain the logic behind every magic trick pulled by the Four Horsemen.
While the movie is a thrilling ride in itself, it doesn't leave much room for character development, as the magic acts take the center stage instead. It also features several cheesy moments that provide contrast to the action-packed scenes, which comprise the majority of the film. However, a bit of sentimentality might not be for everyone, especially if they're perceived to slow the movie down.


There's a bit of cussing involved, but parents generally don't need to worry about adult themes in this movie, which is rated as PG-13 by the Movie and Television Review and Classification Board.
ADVERTISEMENT - CONTINUE READING BELOW
To sum up, the film was a great show in itself—from the moment the cards flip from the illusionist's hand, up to the Four Horsemen's big finale. Brace yourself for two hours of magic and action in this fun-filled flick!
Now You See Me is currently being screened in Philippine cinemas nationwide.