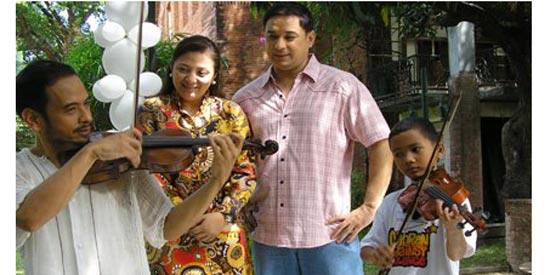 ---

The independent film Boses about the friendship of a boy made mute by unbearable circumstances and a violinist recovering from a painful past has grossed over a million pesos since it opened at SM cinemas nationwide on July 31, Wednesday.



Boses boasts of the dramatic experience provided by Cherry Pie Picache, Ricky Davao and Meryll Soriano, and real-life violinists Coke Bolipata and Julian Duque, the "electrifying music" provided by these two, as critic Rosalinda Orosa put it. The indie film packed in audiences in several SM theaters in Metro Manila—particularly SM San Lazaro and SM North. In these venues students cheered and chanted "Onyok," which is Julian Duque's name in the film, when they saw him onstage as part of its first day tour.


There are continuous screenings in provinces such as Batangas, Baguio, Iloilo, Cebu, Davao, Pampanga, among others.



The film scored another feat when it was chosen by the United Nations Children's Fund (UNICEF) to be part of the latter's newest End Violence Against Children campaign. Moviegoers who watch Boses in SM cinemas will also see the Invisible video featuring UNICEF ambassador Liam Neeson; the heartbreaking video that urges people to speak out and respond to the issue of child protection is appended to the Boses main picture.



Director-Producer Ellen Marfil, Tammy Dinopol of Origin8 Media (producer and distributor of the indie hit Zombadings) Ruby Paurom of Rubycomm-K.Austria attribute the success of Boses to the goodwill generated by the film in its five year existence, the overwhelming support of a network of partners from production to distribution of child-based organizations, government agencies, NGOs, church organizations, media and other concerned groups, leaders and personalities in various fields. The endorsements from these groups was also complemented by promotions, pre-selling , direct marketing, and outright sponsorship of screenings.



Marfil also credits the strong online presence and the new promotional touch brought on by Origin 8 as main distributor, the road tours in different provinces organized by educators, gender advocates, youth groups, doctors, even the military, as well as SM's support given the film as an exclusive.



"'Film as a community endeavour' has been the team's rallying cry and we are thankful that there is strong community support for the message of the film Boses which is for child protection," says Marfil.



For her part, Dinopol says, "The first day take is most humble, compared to mainstream income, but added that the movie is on course to make a record for an indie film." There are also feelers for partnership to use film as information drive for various concerns by various organizations, all the way to October, which is children's month.



"There are SM cinemas that have performed very well but there are also branches that fared poorly," admits Marfil, "Therefore, we continue to request from those who have seen, and been touched, delighted and even helped by the film, to spread the word. Go out and vote for child-relevant films to win at the malls."



Boses is rated Parental Guidance by the Movie and Television Review and Classification Board; children 13 years old and below can watch as long as accompanied by a parent or guardian. The film is written by Froilan Medina and Rody Vera, and directed by Ellen Ongkeko-Marfil.
ADVERTISEMENT - CONTINUE READING BELOW