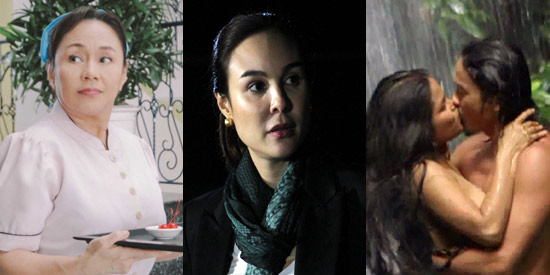 ---
Vilma Santos, Gretchen Barretto, Eugene Domingo and some of the biggest names in the entertainment industry are part of this year's Cinemalaya Philippine Independent Film Festival.
The 9th edition of Cinemalaya is scheduled to take place from July 26 to August 4, 2013.
A total of 122 entries were submitted for the New Breed category but they were trimmed down to ten finalists. These are: Babagwa (The Spider's Lair) by Jason Paul Laxamana; David F by Emmanuel "Manny" Palo; Debosyon by Alvin Yapan; Instant Mommy by Leo Abaya; Nuwebe by Joseph Israel Laban; Purok 7 by Carlo Obispo; Quick Change by Eduardo Roy Jr; Rekorder by Mikhail Red; The Diplomat Hotel by Christopher Ad. Castillo; and Transit by Hannah Espia.
For the Directors Showcase category, 18 scripts were submitted but only five entries will compete in this year's film festival. These are: Amor y Muerte (Love and Death) by Ces Evangelista; Ekstra (The Bit Player) by Jeffrey Jeturian; Porno by Adolfo Alix, Jr.; Sana Dati by Jerrold Tarog; and The Liars by Gil Portes.
ADVERTISEMENT - CONTINUE READING BELOW
The selected finalists in the New Breed and Directors Showcase categories each received a seed grant of P500,000 to finance the production of their films.
The ten finalists in the Short Film Category are: Bakaw by Ron Segismundo, Katapusang Labok by Aiess Athina Alonso, Missing by Zig Madamba Dulay, Onang by Jann Eric Tiglao, Para kay Ama by Relyn Tan, Pukpok by Joaquin Adrian Pantaleon, Sa Wakas by Ma. Veronica Santiago, Taya by Philip Adrian Bontayam, The Houseband's Wife by Paulo O'Hara, and Tutob by Kissza Mari Campano.
In this year's edition, Mel Chionglo serves as the monitoring head, Chris Millado is the Cinemalaya festival director while Laurice Guillen remains the competition director.
NEW BREED CATEGORY. Here are the 10 films competing in the New Breed section of the 9th Cinemalaya:
Babagwa (The Spider's Lair)
Written and directed by: Jason Paul Laxamana
Cast: Alex Vincent Medina, Joey Paras, Alma Concepcion, and introducing Kiko Matos
ADVERTISEMENT - CONTINUE READING BELOW
Babagwa (international title: The Spider's Lair) is about the web of lies that people create in order to trick unsuspecting victims. An Internet scammer named Greg (Alex Medina) uses a fake Facebook account to trick people into depositing money into his bank account.
Assuming the persona of a fictional guy named Bam (played by Kiko Matos), Greg flirts with a filthy rich woman whom he meets online. In time, Greg falls in love with Daisy (played by Alma Concepcion). Will Greg push through with his scam or will he admit his true feelings for Daisy?
Writer-director Jason Paul Laxamana says that he got the idea for the movie when one of his friends became the victim of an online scam. He explains that "babagwa" is the Kapampangan word for spider since the characters are seemingly caught in the web of the situation. "Alex has a moral dilemma kung susunod siya sa feelings niya or kung ipapakilala niya ang tunay niyang pagkatao kay Daisy," says Direk Jason. The cast members speak mainly in Kapampangan since the film is set in Angeles, Pampanga.
ADVERTISEMENT - CONTINUE READING BELOW
David F.
Directed by: Emmanuel "Manny" Palo
Written by: Liza Magtoto and Emmanuel "Manny" Palo
Cast: Quester Hannah (American theater actor), Sid Lucero, Art Acuña, Eula Valdes, Rocky Salumbides, Jess Mendoza, Mariella Castillo, Mitch Valdez, Dax Martin, and Will Devaughn
David F. weaves three stories that take a look at the situation of African-Americans in the Philippines: from soldiers in the Philippine-American War (1899-1902) to the modern-day Amboys in the former Clark Airfield.
This three-part movie hinges upon David Fagen (played by Quester Hannah), an African-American soldier who lived during the 1900s. The first segment is set in 1901, when David Fagen shifted his loyalties from the Americans to Filipinos during the Philippine-American War. Director Manny Palo explains, "Lumipat siya sa side ni Emilio Aguinaldo kasi nakakaranas silang discrimination and they were still treated as slaves."
Sid Lucero and Art Acuña are cast as two Filipinos who will do anything to get the $600 reward money for capturing Fagen while Eula Valdes plays the Filipina who married Fagen.
ADVERTISEMENT - CONTINUE READING BELOW
Another thread of the film takes a look at the life of a Filipina during the Japanese occupation whose son turns out to be black-skinned. This segment stars Rocky Salumbides as a guerrilla fighting against the Japanese.
Set in Angeles, Pampanga, the final segment depicts the situation of children of Filipinas and American soldiers who used to be reside in the former military base. Dax Martin plays the gay impersonator trying to find his African-American soldier father who abandoned them. Mitch Valdez is cast as a prostitute in this segment while Will Devaughn plays a Fil-Am whose life changes because of his father.
Debosyon
Written and directed by: Alvin Yapan
Cast: Paulo Avelino and Mara Lopez
Paulo Avelino had to do a lot of physical scenes for Debosyon. He endured long hours underneath the scorching sun to shoot the procession scene wherein he climbed up the andas, the silver dome used to protect the image of Ina, Our Lady of Peñafrancia.
ADVERTISEMENT - CONTINUE READING BELOW
He was strapped in a harness so he could shoot a scene wherein he falls off a tree. Paulo also ran repeatedly through a forest while barefoot!
His character Mando is a Bicolano devotee of Ina, the virgin of Peñafrancia. Mando is a farmer who is praying that his rice fields will be spared from pests. When he is injured, he is nursed back to health by a mysterious lady named Salome (played by Mara Lopez) who lives at the foot of Mount Mayon. Mara has a daring scene in the film wherein she goes nude while taking a bath in the waterfalls.
Mando invites Salome to come with him to the plains, but she refuses, saying a secret prohibits her from leaving the forest.
Writer-director Alvin Yapan was born and raised in Pili, Camarines Sur. While studying in Ateneo de Naga, he observed the religious fervor that sweeps the province. "Each September, humihinto ang lahat para sa pista ng Peñafrancia. Gusto ko ipakita kung kalalim ang devotion ng mga Bicolano para kay Ina. Gusto ko rin macapture ang energy na yun sa pelikula na ito."
ADVERTISEMENT - CONTINUE READING BELOW
Around 100 extras were cast in the scene that recreates the procession held every September in honor of Ina.
According to Direk Alvin, he made Debosyon as his way of helping raise funds for the Peñafrancia Shrine in Naga, which badly needs repairs.
Instant Mommy
Written and directed by: Leo Abaya
Cast: Eugene Domingo, Rico J. Puno, Luis Alandy, Archie Alemania, Shamaine Buencamino-Centenera, Tuesday Vargas, Matt Evans, Alchris Galura, and Yuki Matsuzaki (Japanese actor)
Eugene Domingo had to learn Japanese for her role in the light comedy-drama Instant Mommy. She is cast as Bechayda, a wardrobe mistress in TV commercials, who pretends to be pregnant to keep her Japanese fiancé. The comedienne even shot a birthing scene for a crucial sequence in the movie.
Hollywood-based actor Yuki Matsuzaki plays Kaeru San, a 40-something Japanese businessman who is the love interest of Bechayda. He was previously seen in period films such as The Last Samurai (2003) and Letters From Iwo Jima (2006).
ADVERTISEMENT - CONTINUE READING BELOW
Instant Mommy also stars Luis Alandy as the ex-boyfriend of Eugene's character and Rico J. Puno as the father of Eugene's character.
Nuwebe
Written and directed by: Joseph Israel Laban
Cast: Nadine Samonte, Jake Cuenca, Anita Linda, Manny Castañeda, Mikael Liwag, and Barbara Miguel
Director Joseph Israel Laban got the idea for his movie after doing a documentary for GMA News TV's Front Row. He served as the managing producer of the said project, which featured the youngest mother in the Philippines who got pregnant at the tender age of nine and gave birth when she was ten years old.
GMA-7 child star Barbara Miguel is cast as Krista, the young girl who was raped by her own father. She even shot a birthing scene for this movie.
Jake Cuenca is cast as her abusive father named Moises while Nadine Samonte plays Dolores, the mother who is torn between her love for her child and her love for her husband.
ADVERTISEMENT - CONTINUE READING BELOW
Moises is incarcerated when a rape case is filed against him. Dolores initially could not believe that her pre-teen daughter is conceiving and that her husband abused their own daughter.
In fact, the parents brought the young girl to a folk healer named Loleng (played by Anita Linda). Direk Joseph Laban explains, "Lumapit sina Jake Cuenca at Nadine Samonte kay Anita Linda kasi si Nadine hindi naniniwala na buntis ang anak niya. Akala niya minamaligno lang kaya pinatingnan nila kay Loleng."
Purok 7
Written and directed by: Carlo Obispo
Cast: Arnold Reyes, Angeli Bayani, Julian Trono, Migs Cuaderno, Krystel Valentino, Jean Judith Javier, Carlon Matobato, Olive Nieto, Karen Haniel, Max Celada, Aaron Ching, and Sheenly Gener
Purok 7 is a countryside dramedy (drama-comedy) that follows 14-year-old Diana and her younger brother who live by themselves after their mother went abroad and their father lived with another woman.
Shot in Tarlac, the film features the lighter side of country lifestyle as the main characters take advantage of the fun and thrills of the town festival to take hold of their sweet childhood.
ADVERTISEMENT - CONTINUE READING BELOW
Krystel Valentino and Migs Cuaderno portray the siblings whose lives change drastically because of the choice of their father (played by Arnold Reyes).
Carlo Obispo based the characters of his film on actual people he grew up with in Purok Siyete in Tarlac. "Maraming events dito na based sa personal experiences ko and based on people close to me," says the writer-director.
Quick Change
Written and directed by: Eduardo Roy Jr.
Cast: Mimi Juareza, Migs Cuaderno, Jun Jun Quintana, Francine Garcia, Felipe Martinez, Natasha Yumi
Eduardo Roy Jr. got the idea for his film while attending the wake of a transgender who died because of a collagen procedure gone wrong.
The lead character Dorina is a transvestite (played by Mimi Juareza) who has a flourishing career running an illegal cosmetic surgery business. She is a mother figure to Hero, her eight-year-old nephew (played by Migs Cuaderno).
She gets an eye-opener about the dangers of this trade when she visits Mamu (played by Felipe Martinez) who is incarcerated for killing a transgender because of an illegal cosmetic procedure.
ADVERTISEMENT - CONTINUE READING BELOW
Dorina becomes upset when she finds out that her boyfriend (played by Jun Jun Quintana) falls in love with another tranny who happens to be a fellow performer in the Amazing Theater Philippines.
Rekorder
Directed by: Mikhail Red
Written by: Mikhail Red and Ian Victoriano
Cast: Ronnie Quizon, Suzette Ranillo, Earl Ignacio, Mike Lloren, Joe Gruta, and Belinda Mariano
Mikhail Red, the son of veteran filmmaker Raymond Red, incorporates different forms of the digital medium and "found footage" for his full-length entry titled Rekorder. It features shifting perspectives from the handheld video camera of the main character to cell phone video from bystanders, to laptop webcam shots, to the various internet viral videos that will be shown as part of the film's story, and even shots from security surveillance.
Ronnie Quizon is the lead character who makes a living by illegally recording movies in present day Manila. He routinely smuggles a digital camcorder into cinemahouses as a movie pirate. One night, he records something else and he gets into trouble when the footage goes viral. He becomes the target of a cat-and-mouse chase in Manila that ends with a climactic scene.
ADVERTISEMENT - CONTINUE READING BELOW
Ronnie's character is a cameraman-turned-movie pirate who seeks redemption. His job is in jeopardy because more and more people are downloading movies from the Internet instead of buying fake DVDs. Earl Ignacio is cast as his employer.
Belinda Mariano, one of the stars of kiddie gag show Goin' Bulilit, is cast as the daughter of Ronnie Quizon's character.
The Diplomat Hotel
Written and directed by Christopher Ad. Castillo
Cast: Gretchen Barretto, Joel Torre, Art Acuña, Mon Confiado, Nico Antonio, Sarah Gaugler
Gretchen Barretto portrays a disgraced reporter in The Diplomat Hotel, which is set in the infamous haunted hotel of the same name in Baguio.
Writer-director Christopher Ad. Castillo says his film tackles the "horror of the human psyche."
Direk Chris, the son of the late filmmaker Celso Ad. Castillo, says that Gretchen had to shoot a lot of difficult scenes for this movie. Her character wants to do a documentary on the faith healer-cum-cult leader (played by Joel Torre) who used to own the hotel.
ADVERTISEMENT - CONTINUE READING BELOW
The director also points out that his film also happens to be a commentary about mass media. He points out that in this industry, "people are quickly dispensable."
When PEP.ph asked if they had actual encounters with ghosts or supernatural beings while shooting, Direk Chris narrated: "We had a rule on the set not to talk about anything that would happen out of the ordinary while the shoot was ongoing. But as soon as we were done, crew members told me of some unexplainable things that happened to them which they could not explain.
"One of our drivers saw a little boy standing outside and looking at the hotel at 2 am. There were no kids on the set and the area is sealed off and gates locked at night but one of the legends is that of kids walking around the hotel grounds.
"Our soundman heard someone sniffing him over the shoulder as he crouched inside an empty room but he could not move or say anything since we were in the middle of a take.
ADVERTISEMENT - CONTINUE READING BELOW
"My assistant director talked to a production assistant at 4 a.m. but that production assistant was not even on the set at that time.
"Sarah Gaugler [who is cast as a makeup artist in the film] said she saw some shadows on the wall when she was all alone by herself preparing for her scene but there were no elements of direction or people as to where those shadows would come from.
"Personally I also saw a shadow enter a room and I looked closely to see if someone would come out but no one did."
Direk Chris says that there are limited prosthetics and special effects used in the film but there are violent moments that will be shown onscreen. He assures, however, that his movie is a horror film that "tells you there is evil in this world and that evil is all consuming and will draw blood—lots of blood."
ADVERTISEMENT - CONTINUE READING BELOW
Transit
Directed by: Hannah Espia
Written by: Hannah Espia and Gian Abrahan
Cast: Jasmine Curtis Smith, Mercedes Cabral, Irma Adlawan, Ping Medina, and Marc Justine Alvarez
Writer-director Hannah Espia reveals that she got the idea for Transit after talking to an OFW who was bringing home his child from Israel. In 2009, the Israeli government enacted a law that would deport the children of migrant workers if they did not fulfill certain criteria. Both Israeli and migrant workers rallied against the law that would separate parents from their children.
The film depicts the inter-connected lives of OFWs who struggle to prevent their children from being deported to the Philippines.
Lead star Jasmine Curtis Smith spent several days in Israel to shoot the film Transit. She had to be fluent in Hebrew since her character Yael was raised in Israel. Irma Adlawan portrays her mother Susan, an OFW who has been working in Israel for more than 10 years.
ADVERTISEMENT - CONTINUE READING BELOW
Ping Medina is cast as Moises, a single dad working as a caregiver in Herzliya, Israel. He decides to hide his son Joshua (Marc Justine Alvarez) from immigration police by making him stay inside the house.
One of the highlights of the movie is the recreation of a Bar Mitzvah, a Jewish rite of passage to adulthood.
DIRECTOR'S SHOWCASE CATEGORY. Here are the entries competing in the Directors Showcase category of the 9th Cinemalaya:
Amor y Muerte (Love and Death)
Directed by: Ces Evangelista
Written by: Jerry Gracio
Cast: Althea Vega, Markki Stroem, Adrian Sebastian, Ama Quiambao, Kuya Manzano
Set in the late 16th century, Amor y Muerte (Spanish for Love and Death) is an erotic period drama starring Markki Stroem and Althea Vega.
Markki, who gained fame as a singer in Pilipinas Got Talent, is cast as Diego de Saavedra, a young Spanish officer. His character is smitten by the beauty of Amor Salonga (Althea) that he takes her to be his wife.
ADVERTISEMENT - CONTINUE READING BELOW
Amor is a sensuous young woman. She makes noises while making love, has no qualms about giving and receiving pleasure, reflecting the carefree attitude of the native woman who has yet to be tainted by Christian notions about sin and pleasure, guilt and sex.
When Amor and Diego have sex, she makes loud noises that are heard all over their poblacion. The town friar, Fray Santiago (played by Kuya Manzano), is so scandalized that he tells Diego to silence his wife.
As a result, Diego forbids Amor from moaning and even slaps her to keep her quiet. He covers Amor's mouth with a pillow during intercourse, to prevent her from making noises, which almost chokes the woman to death.
In time, Amor becomes indifferent to sex until her passion is reignited when she engages in an extramarital affair with Apitong (played by Adrian Sebastian).
Althea shot a lot of love scenes for this sexy drama movie. She shot her love scene with Markki Stroem for 47 minutes while she shot her love scene with Adrian Sebastian for 36 minutes.
ADVERTISEMENT - CONTINUE READING BELOW
Amor and Apitong even shot one of their lovemaking scenes while bathing at a waterfall. The illicit affair between the two natives results in a bloody and explosive ending for Amor y Muerte.
Ekstra (The Bit Player)
Directed by: Jeffrey Jeturian
Written by: Jeffrey Jeturian, Antoinette Jadaone, and Zig Dulay
Cast: Vilma Santos-Recto, Marlon Rivera and Vincent de Jesus with the special participation of Piolo Pascual, Cherie Gil, Cherry Pie Picache, Richard Yap, and Marian Rivera
Ekstra (The Bit Player) is a socio-realist drama-comedy film, which follows a seemingly usual day in the life of Loida Malabanan (Vilma Santos-Recto) as she embarks on yet another shooting day of a soap opera as an extra. As the shoot goes on, we get a glimpse of the truth in the ruling system of the production as well as the exploitation on the marginalized laborers like her.
Batangas Governor Vilma Santos insisted that she should do her physical scenes herself. Zig Dulay, one of the writers, revealed: "Challenging yung mga ginawa niya [Ate Vi], to the point na na-deglamorized siya. May eksena na kailangan siyang sampalin. Totoong siya yung nasampal…ayaw niyang magpa-double kasi gusto raw niya ma-try talaga."
ADVERTISEMENT - CONTINUE READING BELOW
Some of the biggest names in showbiz agreed to be part of this Cinemalaya entry. Marian Rivera is paired with Piolo Pascual in a fictional teleserye. Cherie Gil portrays the kontrabida who beats up Loida's character and even tortures her by burning her skin using lighted cigarettes. Richard Yap also has a cameo role as the star of another teleserye where Loida serves as a bit player.
According to Direk Jeffrey Jeturian, they shot the film with Ate Vi for twelve days in a span of two months.
Porno
Directed by: Adolfo Alix Jr.
Written by: Ralston Jover
Cast: Angel Aquino, Carlo Aquino, and Yul Servo
Angel Aquino agreed to play a transgender for the movie Porno, which tackles the pornography industry of the Philippines.
Her character named Alessandra underwent a sex operation in the past. Even though she gained a new body, she can still feel the stigma of her past identity.
ADVERTISEMENT - CONTINUE READING BELOW
Director Adolfo Alix Jr. shows the inter-connected lives of three people who are trying to find "the ultimate joy in their empty lives." His entry has three segments featuring three persons who are all addicted to pornography.
Carlo Aquino is cast as Alecks, a teenager who works in the porn industry. Carlo says about his character: "Sa Recto, may mga motels, di ba? May mga nilalagay daw sila na mga hidden cameras doon. Tapos, yung mga ibini-video doon, idina-dub ko—yun yung role ko."
Meanwhile, Yul Servo is cast as Xander, an assassin who loves watching porn.
Sana Dati
Written and directed by: Jerrold Tarog
Cast: Lovi Poe, Paulo Avelino, TJ Trinidad, Benjamin Alves
Sana Dati is a love story about bittersweet compromises and real- life decisions.
Lovi Poe stars in this film as Andrea Gonzaga, a woman who has accepted her fate by agreeing to marry a man whom she does not love. But a few hours before her wedding to TJ Trinidad's character, someone arrives to remind her of the true love she once had and lost.
ADVERTISEMENT - CONTINUE READING BELOW
Andrea is interviewed by a videographer named Dennis (Paulo Avelino) for their wedding videos. As they spend time together, Andrea is strangely reminded of the one person she truly loved but nobody in her family knows about: a man named Andrew Cesario (Benjamin Alves).
This film is the third part of Jerrold Tarog's "camera trilogy" after Confessional (2007) and Mangatyanan (2009).
The Liars
Directed by Gil Portes
Written by Senedy Que
Cast: Alessandra de Rossi, Arnold Reyes, Sue Prado, Cris Villanueva, Benjie Felipe, John Michael
The Liars is the story of a journalist (played by Alessandra de Rossi) whose expose of the truth results in life-changing consequences to a baseball team of poor boys from Smokey Mountain.
It is told from the point of view of Dante (played by John Michael), whose family and identity were taken away from him in the town's quest for the Little League World Series title. On the other hand, journalist Eloisa Avelino (Alessandra) is torn between exposing the truth and covering up to protect the country's honor.
ADVERTISEMENT - CONTINUE READING BELOW
When Eloisa publishes her investigation about the over-aged and non-resident players, the team is immediately stripped of their championship title. Their instant fame and promising future vanishes, leaving a team of innocent boys to suffer the consequences of personal shame and national disgrace that will haunt them for the rest of their lives.
The Liars is inspired by a real-life sports scandal that took place in 1992. A baseball team from Zamboanga was crowned the champion of the 46th Little League World Series. However, Filipino journalists revealed the team had used ineligible players who did not meet either age or residency requirements. As a result, the team was stripped of its title.
Direk Gil Portes says his movie is a fictional story loosely based on the said sports scandal. He says about his film: "Ang utak dito ay ang coach [played by Arnold Reyes] and the manager [played by Cris Villanueva]. They want mature players…better players kaya kumuha sila ng mga players na mas matanda. Ang requirement kasi between 10-12 years old pero itong mga players na ito, mga 14 years old na ito. They want to win at all cost."
ADVERTISEMENT - CONTINUE READING BELOW