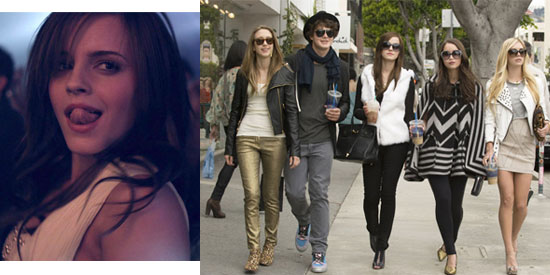 ---
Based on actual events, The Bling Ring revolves around a group of teenagers obsessed with their favorite Hollywood stars. They are so obsessed that they go around Beverly Hills to rob posh celebrity homes.

They're notoriously known as "The Bling Ring," as they victimized primarily A-list fashion icons.

Leading the pack is Rebecca (brilliantly played by Katie Chang), the group's savvy (and perhaps over-confident) ringleader who seems to perfectly convince everyone that there's nothing wrong with what they're doing, and more importantly, that they could get away with it.

She's accompanied by Mark (Israel Broussard), the fidgety and initially unwilling accomplice, who claims to have been immensely blinded by Rebecca's charm that he'd go as far as break in a house for her. They're eventually joined by their common friend Chloe (Claire Julien), model wannabe Nicki (Emma Watson), and her BFF Sam (Taissa Farmiga).

Emma Watson is scene-stealer in the movie, as she has the Valley Girl role down pat—a sharp departure from the down-to-earth bookworm Hermione, her character in the Harry Potter franchise that skyrocketed her to fame.
ADVERTISEMENT - CONTINUE READING BELOW
The Bling Ring's obsession is not an isolated case. It's something that we can all relate to: we share a fascination with celebrity gossip, we turn to Hollywood fashion inspiration, and we have to admit, there's a tiny part of us that's yearning to experience extravagant celebrity lifestyles. We understand where these teens were coming from, but they actually dared to illegally cross the line between fantasy and reality.
And that's when the first warning bells ring. While it's easy to grasp the intentions of the group tagged by the American media as "The Bling Ring," they hardly make a sympathetic bunch.

For starters, they're a group of privileged teens living in affluent neighborhoods. They're bored, vain, and reckless. Burglary presented an opportunity for a quick fix, an adrenaline rush that will give them more stuff than they actually need. Early in the movie, we see Nicki's mom (played by Leslie Mann) freely giving her daughters Adderall—a prescription drug prescribed for patients with Attention Deficit Hyperactivity Disorder (ADHD)—while the rest of the group's parents hardly seem to be around to properly supervise their children. It's no wonder these kids don't have a moral compass.
ADVERTISEMENT - CONTINUE READING BELOW
The burglaries are nowhere near Ocean's Eleven proportions. In fact, they're just brazen break-ins.
It's hard to feel sorry for a group of reckless teenagers, and it's interesting to note that the movie doesn't lend a sympathizing ear to them, either. They lived briefly in a celebrity fantasy, but the film doesn't glamorize their lifestyles. They get giddy at the sight of Louboutins and Chanels, but all that moviegoers see is a group of teenagers taking shoes and bags that aren't theirs. Everyone's on the outside looking in, tsk-tsk-tsking and shaking their heads as the teens raid one house to another.
Detachment is a common theme that runs in most movies directed by Sofia Coppola. It figures prominently in Lost in Translation, The Virgin Suicides, Marie Antoinette, and Somewhere, and the pervading feeling of disconnect is evident in The Bling Ring as well. You see this in the adolescents' relationship with their family (or lack thereof), and even the teens themselves seem to have shallow associations within the group—they're only linked by their common love for fashion, parties, and burglary.
ADVERTISEMENT - CONTINUE READING BELOW
Onscreen, Coppola portrays this sense of disconnect by using sudden scene cuts, long and awkward silences, and several moments of introspection where the audience isn't given a clue as to what the character thinks.

The movie flicks back and forth from interviews with several characters: one moment we see Nicki pouring her heart out in an interview, next we see Mark sharing his story with a psychiatrist. There are times when Mark would narrate the story, but the film generally gives a third-person perspective of the events as they happened. This could be jarring for some audiences—especially those who are are unfamiliar with Coppola's style—and the sudden perspective changes might be frustrating for those who just want the story to move forward. Distancing the audience by using the said techniques further emphasize the idea of disconnect, but then again, it might not be everyone's cup of tea.
ADVERTISEMENT - CONTINUE READING BELOW
Coppola compensates for the dull scenes by interspersing lots of bass-pounding beats and snappy montages of parties and the Bling Ring's "shopping sprees" (their term for breaking into a celebrity's house). But at one point, everything becomes routine. The parties get repetitive and morph into monotony. The glitz and glamor slowly fade into gray, turning everything into white noise that occupies most of the character's lives.

Coppola's previous works tend to linger more on the disconcerting silence of detachment that torture the protagonists, but in The Bling Ring, the lines between silence and white noise get blurred.
The movie is unapologetic in portraying the superficial culture that the Bling Ring lives in—even the script is as shallow as the teens themselves. There aren't much quotable quotes to be found here, given that it primarily focuses on adolescent lingo. It's peppered with repetitive lines of "Oh my god," "How do I look?" and "Your butt looks awesome in that." They would have been funny if they weren't delivered with such deadpan seriousness.
ADVERTISEMENT - CONTINUE READING BELOW
The Bling Ring is currently being screened in Philippine cinemas.


Ed's Note: The "PEP Review" section carries the views of individual reviewers, and does not necessarily reflect the views of the PEP editorial staff.