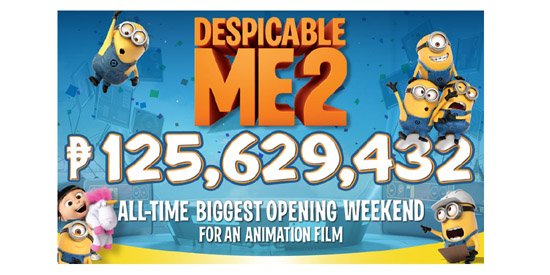 ---
United International Pictures and Solar Entertainment Corp.'s Despicable Me 2 blasted onto Philippine screens one week ahead of its release in the United States. According to a statement provided by the said companies, Despicable Me 2 kickstarted 2013 by reigstering the year's highest single day box office sales for an animation movie and posting the 2nd biggest all-time opening for an animated movie.
Despicable Me 2's biggest opening weekend release for an animated movie of all time with over Php120M box office sales and dominated the market on over 190 screens nationwide!

Weekend Top 10 screens (in rounded figures): 1. Php6,600,000 (SM North EDSA), 2. Php5,380,000 (SM Mall of Asia), 3. Php4,990,000 (SM Megamall), 4. Php3,750,000 (Glorietta 4), 5. Php3,640,000 (TriNoma), 6. Php3,630,000 (Powerplant), 7. Php3,440,000 (SM Cebu), 8. Php3,020,000 (SM Southmall), 9. Php2,970,000 (Gateway), 10. Php2,870,000 (Eastwood).
Overseas, the 3D toon has grossed $94.4 million through Friday in 45 international territories. The film opened No. 1 in 35 of the 38 new markets where it was released. The new worldwide cumulative easily passed $200 million Saturday on its way to a projected $300 million through Sunday Territory highlights/records: biggest opening ever for an animated film in Indonesia, Mexico, South Africa, Trinidad and Vietnam; highest opening day ever for all films in South Africa; Universal's biggest opening day ever in Brazil, Hungary, Mexico and South Africa.
Despicable Me 2 is released and distributed by Universal Pictures/United Intl. Pictures through Solar Entertainment Corp. It is currently being screened in Philippine cinemas.