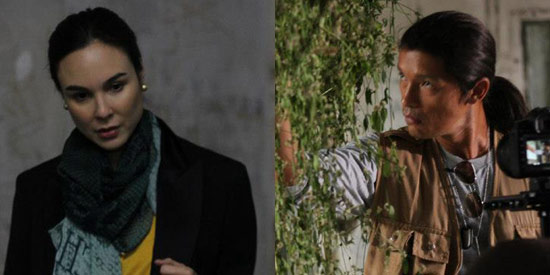 ---
Art Acuña feels grateful to have had the chance to work with Gretchen Barretto in the psychological horror film The Diplomat Hotel.

They previously worked together on ABS-CBN now defunct soap opera Princess and I. According to Art, this working experience helped him develop rapport with Gretchen who is making her debut in the independent filmmaking scene.

Art was one of the stars who graced the grand press conference of the 9th Cinemalaya Philippine Independent Film Festival at the Cultural Center of the Philippines. His previous Cinemalaya entry, Posas (2012), earned for him the Best Supporting Actor plum at the 36th Gawad Urian.

(View photos: Cinemalaya 2013 follows the theme Cinesthesia: Synergy of the Senses)


Aside from appearing in The Diplomat Hotel, Art is also part of another Cinemalaya entry titled David F, wherein he plays a bounty hunter who wants to get the reward money for capturing an African-American soldier.

In the 9th edition of Cinemalaya, there are 10 films competing in the New Breed category (including The Diplomat Hotel) and 5 films competing in the Directors Showcase category.

The Diplomat Hotel is about a reporter (played by Gretchen Barretto) who is tasked to make a documentary about the infamous haunted hotel in Baguio called the Diplomat Hotel. She is joined by her crew led by Art Acuña, who is cast as her cameraman.

To learn more about this year's entries, read: PEP Guide to Cinemalaya


Tell us something about your movie The Diplomat Hotel?
Art: "Ms. Gretchen plays the lead as a newscaster na nagka trauma sya saka yung team niya at kasama ako doon sa team niya. I'm the cameraman and for a while hindi kami nagtrabaho because of that trauma, especially her. She underwent psychological problems, maski ako nagkaroon din psychological problem pero hindi n'yo makikita yun sa film.
ADVERTISEMENT - CONTINUE READING BELOW
"And then magkakasama kami ulit. We're given a very little job compare doon sa big jobs namin before. At eto nga yung i-cover yung Diplomat Hotel…a haunted place in Baguio. In the course of that, things start would happen to us. I will call it a horrific psychological thriller. It's not a horror movie but it's a horrific movie. It's very much a suspense movie. Very interesting thing kasi lahat ng baggage namin because of a psychological thing…lalabas yun."


How would you describe your character in The Diplomat Hotel?
Art: "Yes, I find it a very grey character. He's not really a bad guy but he's got flaws. He's got parang…Wow! Parang what kind of person can do that and be capable of doing good things."


How different is this character from other roles that you played in the past?
Art: "It's one of the grayish characters I've ever played. May mga layers akong nahanap na…at least the script left it open for me to actually show and you can't deliver it like that...it really comes out."


How was it like working with Gretchen Barretto?
Art: "You know what? I want everybody to see it because she's terrific, she is a terrific actress. She's very soulful. Yung resources nung taong yun…yung mga binubunot niya from within…HAYOP!
"I first worked with Gretchen Barreto in Princess and I and from there, we realized …you know what pag nasa eksena kami…very organic yung exchanges namin. Of course, we know our lines and everything but anything can happen and it's very natural and it always serves the script. So ang ganda ng batuhan namin ni Gretchen, dinala namin yung comfort level na yun sa The Diplomat Hotel film na ito. And we have really good scenes together and I'm honored working with her."


In a separate interview with the director of The Diplomat Hotel, Christopher Ad. Castillo told PEP.ph (Philippine Entertainment Portal) that he was also glad that he was able to work with Gretchen even though she initially turned down the role.


How did you convince Gretchen Barretto to be part of this film?
ADVERTISEMENT - CONTINUE READING BELOW
Direk Chris: "She first turned down the role without reading the script because she was afraid to shoot at The Diplomat Hotel itself and I don't blame her. The legend is very horrific and who knows what would happen there. It popped into my mind as well especially since I have experience with the place.
"But she finally read the script one morning and by the afternoon she asked for Tony Boy Cojuangco's blessing to do the film and by that night, she contacted my producer Atty Joji Alonso for a meeting.

"So like the way it should be, she jumped on board based on my screenplay and I am grateful for that."


What is the most difficult scene that Gretchen had to do for this film? How would you assess Gretchen's performance in this movie?
Direk Chris: "The screenplay was very dark and very violent at moments but the film became darker and more violent as my actors interpreted their roles. This was never a film that would make excuses or bring everything to you hand wrapped in a single pleasant box. This is a film which tells you there is evil in this world and that evil is all consuming and will draw blood. Lots of blood.
"Gretchen who is a wonderful actress herself is surrounded by the three of the greatest actors of our cinema namely Art Acuña, Mon Confiado, and Joel Torre, And everyone came in with guns blazing so as an actor, you really could not help but get caught up and really give it all when you know that you're working with the best.
ADVERTISEMENT - CONTINUE READING BELOW
"Gretchen is amazing in the film and I hope she gets her due credits. It was not a very easy role for her to do or for anyone for that matter. She had to channel a lot of her own personal life into the the character and I know that it was very hard for her to do since you are reliving moments in your life that you would rather forget.
"I always gave her time to get herself ready and sometimes I would feel for her knowing that I was putting her in a dark place. After her emotional scenes, it would take her awhile to calm down as she was still inside her own life. It was a draining process but she soldiered on for me and our film."


Did you experience actual encounters with ghosts or supernatural beings while shooting in the Diplomat Hotel? Did any of the cast or crew encounter supernatural events while filming?

Direk Chris: "We had a rule on the set not to talk about anything that would happen out of the ordinary while the shoot was ongoing. But as soon as we were done, crew members told me of some unexplainable things that happened to them which they could not explain.

"One of our drivers saw a little boy standing outside and looking at the hotel at 2 am. There were no kids on the set and the area is sealed off and gates locked at night but one of the legends is that of kids walking around the hotel grounds.
ADVERTISEMENT - CONTINUE READING BELOW
"Our soundman heard someone sniffing him over the shoulder as he crouched inside an empty room but he could not move or say anything since we were in the middle of a take.
"My assistant director talked to a production assistant at 4 a.m. but that production assistant was not even on the set at that time.
"Sarah Gaugler [who is cast as a makeup artist in the film] said she saw some shadows on the wall when she was all alone by herself preparing for her scene but there were no elements of direction or people as to where those shadows would come from.
"Personally, I also saw a shadow enter a room and I looked closely to see if someone would come out but no one did."


What inspired you to make a movie about the infamous haunted hotel in Baguio?

Direk Chris: "I was an actor then for my father [the late Celso Ad. Castillo who helmed the 1987 movie Mga Lihim ng Kalapati] and the scene was outside by the front door of The Diplomat Hotel and it was just me walking around. When all the lights were set up and everyone was ready, my father yelled "action" and all the lights went out. So my father sent someone to guard the generator just in case someone was fooling around. So we did a second take and the same thing happened. We did a third and still the lights went out, So the security guard came by and told us to pray at the grotto in the back and ask for permission to shoot. So my father herded everyone there and we prayed, and the shot went on without a hitch after that.
ADVERTISEMENT - CONTINUE READING BELOW
"Right there and then, I knew I was going to do a film about The Diplomat Hotel."