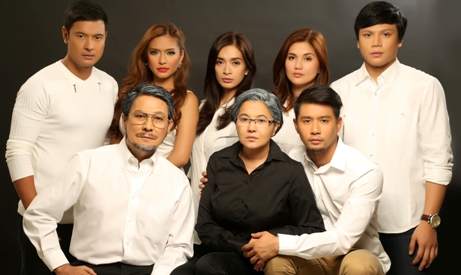 ---
It must have taken a great deal of courage for director Joel Lamangan and scriptwriter Ricky Lee to tackle the real-life, ongoing crusade of Edita Burgos, mother of abducted activist Jonas Burgos.


Direk Lamangan and Ricky Lee narrate a mother's harrowing loss and her activism in seeking justice and exposing the truth about desaparecidos (disappeared persons allegedly held captive and/or killed by the military).


Burgos humanizes its highly political theme by engaging the audience in the fervent search for Jonas by his family. This advocacy film turns into drama that resonates with people's social and political realities.
Burgos is a masterful mix of the family's public profile as activists and each member's suffering since they started seeking justice. Jonas Burgos, an agriculturist, was abducted on April 28, 2007.


At the heart of the pursuit to surface Jonas is Edita, the gentle-mannered widow of the late WE Forum editor and publisher, Joe Burgos (played by Tirso Cruz III). The film revolves around Edita's heartbreaking and inspiring journey as a dedicated wife and mother to a willful activist, driven by her feelings of loss and hope.
Mainly through her point of view, the audience empathizes with the grieving of families over the forced disappearance of their loved one, as well as their agony in yearning for their return one day.
"Hanggang kailan ba ang tama na? Mas mabuti pa ang namatayan…" is one of Edita's painful lines in Burgos.


The film's strength lies in its screenplay which, prior to being written, faced the daunting facts of the six-year-old case. The disappearance of Jonas is known to the public, hence the challenge in writing a script that would take the audience into a more intimate and comprehensive experience of the story. Masterfully, Ricky Lee constructs a non-chronological sequence of events, (dis)arranged to build up emotional tension.


When the film begins, Edita faces the hounding inquiries of the media soon after her son is reported missing. The scene that follows depicts the filthy Quiapo underpass at night. Edita combs the streets, hoping to find Jonas who was reportedly spotted in the area.


Such gripping scenes intertwine with Edita's dialogues, her memories of Jonas in flashback—his voracious appetite, his striking resemblance to his feisty father, his kindness or "lambing"—would echo Edita's longing for her son. Her monologue would recall that fateful day when her son was abducted in broad daylight at a crowded Ever Gotesco Mall. In spite of Jonas' call for help—"Tulong! Aktibista ako! Hindi ako mamamatay!"—bystanders just gaped, fear overshadowing their sense of humanity.


From a terrifying scene, Edita would turn to memories of family life with Jonas—one of the film's endearing touches—for instance, their "council" meeting wherein everybody gets to express their opinions before they all arrive at a decision. The detail adds character to the kind of children Edita and Joe brought up. The Burgos siblings (played by Kerbie Zamora, Dimples Romana, Bangs Garcia and Allen Dizon) were raised to be politically aware and socially active, which explains the headstrong Jonas' decision to champion the cause of oppressed farmers.


Lorna Tolentino effectively evokes empathy with her subtle but compelling portrayal of Edita Burgos. The actress shines in bringing life to the subdued but resilient heroine of the biopic, making her audience feel that a mother's love is indeed so powerful that it can fight for a cause, if not, change things.


Rocco Nacino is the apt choice to play Jonas. The actor makes impact in Burgos despite his limited exposure compared to Lorna's. How Jonas is described by Edita and his wife Mhe Ann (Ina Feleo)—charismatic, kind, loving—is convincingly portrayed by Rocco whose eyes spoke in each scene he was in.
ADVERTISEMENT - CONTINUE READING BELOW
The cast portraying family members—Kerbie Zamora, Allen Dizon, Dimples Romana, Bangs Garcia, and Tirso Cruz III —all convey the significance of the Burgos family.


There are a few excessive scenes, like the barrage of unnecessary questions by the press whenever Edita appears in a press conference. Burgos was most moving when it let the raw intention of the production take over.


Burgos will be screened on August 3 at the Cultural Center of the Philippines (CCP) as the closing film of the 9th edition of Cinemalaya. On August 26, there will be screenings at the Karapatan office to raise funds for the Free Jonas Burgos Movement.


Ed's Note: The "PEP Review" section carries the views of individual reviewers, and does not necessarily reflect the views of the PEP editorial staff.