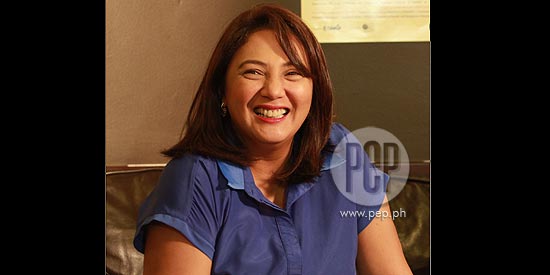 ---
After five years, the award-winning independent film Boses will finally get its commercial run starting July 31.

Cherry Pie Picache feels grateful to be part of Boses, which also stars Ricky Davao and Meryll Soriano.

"Actually if there's really one thing that we are really, really grateful for and I am speaking in behalf of Direk Ellen [Marfil] who really made this vision come true," said Cherry Pie.
BOSES. Boses is about a young boy named Onyok (played by Julian Duque) whose voice was silenced by violence and abuse. With the help of a similarly wounded mentor, a violinist named Ariel (played by Coke Bolipata), the child is able to express his emotions and reveal nuances of his soul through the non-verbal medium of music. Both mentor and protege find their voice through the redemptive and healing power of music.

"After five years when it was first shown in Cinemelaya, ngayon finally it's going to be given a chance to be shown mainstream," says Cherry Pie who played the role of Amanda in the film.

She continued, "It will be shown in SM cinemas. We know very well, especially sa industry, for an independent film mahirap i-achieve 'to.

"So with all the endorsements of the different groups and the help of different groups, nabuhay yung ganoong pagkakataon. So we're really just so thankful."
ADVERTISEMENT - CONTINUE READING BELOW
COMMERCIAL RUN STARTING JULY 31. Although Boses has been shown five years ago, it continues to inspire a lot of people because the movie has been touring around the country. The film is being used by different organizations that have the goal of eradicating child abuse.


The Department of Education said in its Advisory No. 141, S. 2013, "The film, as it has been used in various schools and communities in the Philippines, can be utilized as a powerful advocacy tool in the Campaign for Children Against Violence."

The Catholic Bishops Conference of the Philippines—through its Episcopal Commission on Youth—has also circulated a letter enjoining all the youth and those who work among the youth to "watch and support Boses."

Despite these endorsements, Cherry Pie admits that it's difficult to compete with foreign films. "You know it's very difficult, with the impact of the foreign movie and major networks alam naman natin na there's very little venue for independent films and independent filmmakers.


"So para mabigyan ng pagkakataon ang SM at ang production team ng Boses, this is going to be simultaneously shown nationwide on July 31. So it's going to be shown in the key cities like Cebu, Davao, Iloilo."

She also shared the struggle in financing and promoting the film. "Mahirap, maraming trabaho and it needed help from different groups which was mentioned earlier gaya ng DepEd, the endorsement of [Manila Archbishop Luis Antonio] Cardinal Tagle, of UP-PGH and other organizations para masuportahan yung ganoong pagpapalabas kasi hindi rin mura in the first place.

"What's good about it is when it was first shown in Cinemalaya in 2008 'til now it has been touring in different schools, organization, and different communities.

"So it has been touring, so doon naisip ni Direk Ellen na, bakit nga hindi ipalabas mainstream para mas marami tayong makapanood nito."
ADVERTISEMENT - CONTINUE READING BELOW
INTERNATIONAL SCREENINGS. Direk Ellen Marfil as well as lead stars Coke Bolipata and Julian Duque have been touring abroad for screenings of Boses.

Cherry Pie shared that aside from being screened in countries abroad, there have been private screenings in schools here and abroad. "It's been touring for the past five years and it have been showing in the different cinemas nanalo na siya ng different awards so hindi humhinto yung pagbuo.

"Buti na lang nabigyan ng pagkakataon and the whole group is thankful for that na mapapakita siya mainstream."

She pointed out what makes Boses a unique film. "You know we don't normally watch films about instruments, especially violin.

"It's an enlightenment na makakita yung ibang viewers ng ibang genre ng music at the same time the film talks about love, about healing about a better future especially for the abused children, or in any way that you are abused.
ADVERTISEMENT - CONTINUE READING BELOW
"Just what Direk [Ellen] was saying a while ago, this film shows that there's a positive path in whatever pain or suffering that you go through, there's a positive path that you can always take. There's always healing and love and you can encounter it in different persons, with different expressions. Sa Boses, nangyari [through] music.
"So very enlightening, very positive yung movie."
CAMEO IN CINEMALAYA ENTRY EKSTRA. Cherry Pie has been an avid supporter of indie films. However, due to her busy work schedule she failed to make an entry for the 9th edition of the Cinemalaya Philippine Independent Film Festival.

"Unfortunately I wasn't able to do anything for this year, hopefully next year. Kasi I just finished a soap [Ina, Kapatid,Anak] so medyo pili," Cherry Pie told the press when she was asked why she didn't have any entry this year.

But she revealed that she did a cameo role for Vilma Santos' film, Ekstra.

(To learn more about the Cinemalaya 2013 entries, read: PEP Guide to Cinemalaya 2013)

Cherry Pie feels happy that established stars such as Ate Vi are starting to appear in independent films.

"You know that has been the hope before. Kasi ngayon talaga, hindi naman sa bumubuhay, pero 'di ba, [the movie industry] is becoming more alive, colorful because of these independent films and the range of the films that we've been getting.

"So katulad nitong Boses nabubuksan lahat ng tao, ang mga Filipino audience, a lot more and it's very, very good news for all of us, di ba?

"That the likes of Ms. Vilma Santos are trying this.

"That was what I was discussing with Ate Vi, 'Pie ganito pala yung process' you know for actors, of course, I can only speak as an actor.

"Sabi ko, 'Napakasarap nung journey nung gagawa ng hindi ka tali, hindi nalilimitahan ganyan,' so parang she's very happy, she's very excited na ganito pala.

"Parang she was saying na all the years that she has been working iba na naman 'to parang ganyan.

"So it's good news I think for everybody. The mainstream [films] can continually do what they're doing and they're doing their very best at magaling sila doon.

"Ang independent film ganun din magagaling din yung mga nagpo-produce so mas masaya para sa lahat so gawin natin 'to parang ganun."

When asked to rate Ate Vi's performance in Ekstra, Cherry Pie instantly answered, "Perfect! Ang galing! Okay!"
ADVERTISEMENT - CONTINUE READING BELOW
CHERRY PIE THE PRODUCER? Many stars have ventured into producing, directing and writing films. Does Cherry Pie have plans to produce her own film soon?

She said enthusiastically that filmmaking is now accessible to everybody. "You know especially now, it's also nice that making films now sounds convenient, it's cheaper with all the digital things that are coming out.

"So I guess this is a venue for everybody, tapos mas marami 'yong pwedeng gumawa, why not?

"If we come across with an interesting story and there are group of people… 'Di ba, kasi ang filmmaking naman is a group of people, a collaboration of different people, writers, actors, cinematographers so we come together to make this a good creation.

"So kung ganun, why not?

"So sa July 31 suportahan n'yo po yung Boses.

After being part of the hit primetime series Ina, Kapatid, Anak what's next for Cherry Pie? The actress said with a smile: "What is next for me? I am still praying for a project that I am hoping that will push through and hopefully, of course, there will be a next [project] with ABS-CBN."
ADVERTISEMENT - CONTINUE READING BELOW