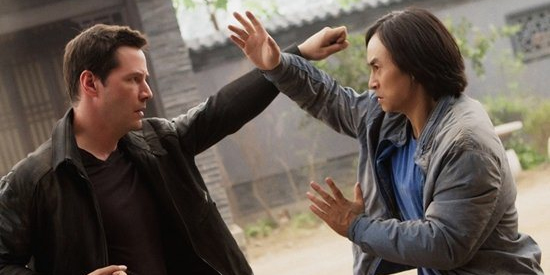 ---
After enjoying a wave of CGI-driven action flicks these past months, moviegoers now have the option to watch a movie that will satisfy their thirst for classic hand-to-hand combat and martial arts.
"No referees, no rules. Pure fighting, man-to-man," says a line from Man of Tai Chi, the directorial debut of Hollywood star Keanu Reeves.
Aiming to revive the use of martial arts in the mainstream scene, this movie is quite a treat for its action sequences alone.
Yuen Woo-ping—of Kill Bill, Charlie's Angels, and The Matrix fame—choreographed all 18 fight scenes, which pits Tai Chi techniques against other forms of mixed martial arts (MMA).
The thrill of seeing a frail-looking Tai Chi practitioner face bigger, scarier opponents is the core strength of the film; and it is smoothly rendered by stuntman-turned-actor Tiger Chen (also known as Tiger Hu Chen).
Playing a fictional version of himself (also named Tiger in the movie), the lead actor is an innocent Tai Chi student lured into the dangerous and deadly world of underground fighting. Tiger uses his excellent combat skills to convey the character's emotions. What he may lack in acting, he ultimately makes up for with his fighting.
ADVERTISEMENT - CONTINUE READING BELOW
As the story progresses, his intensity and techniques also develop; and that puts viewers on the edge of their seats, waiting to see what Tiger can and will do next as a fighter.
(Trivia: If you've seen The Matrix Reloaded, you might recall Tiger as one of the men whom Neo (Keanu Reeves) fought in the grand staircase after he found the key maker. Tiger trained Keanu during the years of making the blockbuster trilogy, and he's basically the reason why Neo can boastfully say "I know Kung Fu.")
KEANU REEVES THE DIRECTOR. While Man of Tai Chi is not the best martial arts film you'll ever see, it is not the worst one either.
As a director, Keanu Reeves shows promise with his organized treatment of the material.
While the story is quite predictable, he did well in hyping up the fight scenes, giving them a solid, in-your-face attitude.
ADVERTISEMENT - CONTINUE READING BELOW
However, there were instances where Reeves seemed to have held back with his shots, leaving them on the safe side.
(Read: Keanu Reeves talks about his directorial debut, Man of Tai Chi)
While watching the movie, this writer can't help but wonder: Could Keanu have done better if he just focused on being the director?
There seems to be so much more that he could've explored as a director, but Keanu is also seen in this movie as the controlling villain, Donaka Mark.
(*SPOILER ALERT: Keanu gets to kick ass in the movie, too, and that's something to enjoy).
For years, critics have lashed at the 48-year-old star's performances on screen—calling him stiff or wooden—but that "flaw" seems to work to his advantage now that he's depicting a ruthless, stone-hearted character.
But like his directorial work, there seems to be a lack of edginess and fierceness—perhaps, again, a result of his preoccupation. If Keanu does pursue directing as a career, he'd consider focusing on just directing, instead of juggling roles behind the scenes and in front of the cameras.
ADVERTISEMENT - CONTINUE READING BELOW
Overall, Man of Tai Chi delivers something unique at a time when audiences might are bombarded with movies filled with fake guns-and-bomb-explosions.
Aside from Tiger and Keanu, the movie also stars Asian film favorites, such as Karen Mok, who plays a police investigator out to stop Donaka's wicked schemes; and Indonesian star Iko Uwais of The Raid: Redemption fame, who plays one of Tiger's opponents.