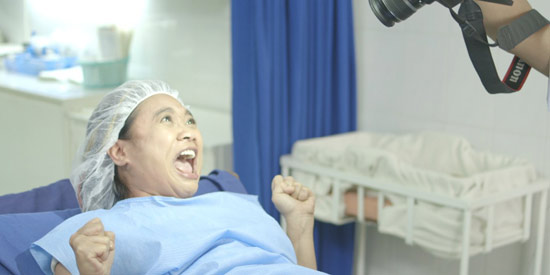 ---
Instant Mommy introduces us to Bechayda (played by Eugene Domingo), a wardrobe assistant who's committed to her Japanese fiancé, Kaoru (played by Japanese actor Yuki Matsuzaki).

The family breadwinner, she supports both her father and brother by taking various projects and working long hours. Good thing her income is augmented by Kaoru's financial support, who becomes more involved with her upon learning that Bechay is pregnant with their child. This comes as a big relief for Bechay, as she dreams of nothing more than to give her family a better life. With a little help from Kaoru, she sets out to buy a decent house for her family. She looks forward to the future: her family finally getting the good life they deserve, while she starts a new life with Kaoru and their baby.
But things aren't always what they seem. Everything falls apart when Bechay suffers a miscarriage. In one swift moment, her dreams, her boyfriend, and the promise of a better life all vanish into thin air.

Kaoru, who seems so eager to separate from his Japanese wife, conveniently fails to contact Bechay throughout her entire ordeal. The child—her only link to Kaoru—is gone, and the life she has dreamed of is slipping away from her fingers. Bechay's emotionally scarred, but she feels she has to move on because her family depends on her. As such, she decides to take an unusual course of action. Things are back to normal except for one thing: Bechay has become an instant mommy.
ADVERTISEMENT - CONTINUE READING BELOW
Deception is a prevalent theme in the movie. Bechay's right smack in the middle of an industry that thrives in false promises. An entire sequence is devoted to a behind-the-scenes look at how a TV commercial is produced. The model's hair is depicted as gracefully swaying to whichever direction the model turns. But in reality, there's a man behind her, dressed in a chroma-key suit, who's actually making the model's hair move for the camera.
The fact that Bechay proceeds to fake her pregnancy was a grand sham in itself, and she enlists the help of several unlikely allies to make it all happen, lying to them every step of the way.
All the lies pile up, and they culminate into a grand fiasco that ends with a cop-out, which seems to be a way for the writer to sidestep troublesome plot development and resolution.
ADVERTISEMENT - CONTINUE READING BELOW
The movie also features several rough cuts that establish discontinuity, emphasizing the disconnect between one scene and another. This might be a device for the filmmakers to further push the concept of deception further, although it might not be for everyone.
While Bechayda is the center of attention as the protagonist, the supporting characters weren't as equally fleshed out as the main character, as they only serve as the foil to the lead. Still, Rico J. Puno (who played Bechayda's father) and Nicco Manalo (who is cast as Bechayda's younger brother) all gave superb and realistic performances. Luis Alandy gives a rather intense performance as the spurned ex-boyfriend of Bechayda. Jojit Lorenzo stands out for his spot-on portrayal of a wannabe director.
Eugene Domingo is a brilliant actress, and she plays the role of Bechayda with ease. She shifts easily between the comic and dramatic moments of the film. Look out for the very suprising act that the comedienne did for this movie as she talked online with her Japanese fiancé.

Yuki Matsuzaki, on the other hand, perfectly complemented Eugene's character. If he looks familiar, you probably saw him in the Hollywood movie Letters from Iwo Jima (2006).

Overall, Instant Mommy is an entertaining and hilarious romp through the lies we tell themselves, but it ultimately tells us that truth easily trumps the most elaborate of scams.


Written and directed by Leo Abaya, Instant Mommy is one of the entries competing in the 2013 Cinemalaya Philippine Independent Film Festival.
ADVERTISEMENT - CONTINUE READING BELOW
The 9th edition of Cinemalaya will run until August 4, 2013. Entries are being screened at the Cultural Center of the Philippines, Greenbelt 3, Trinoma, and Alabang Town Center.

Ed's Note: The "PEP Review" section carries the views of individual reviewers, and does not necessarily reflect the views of the PEP editorial staff.