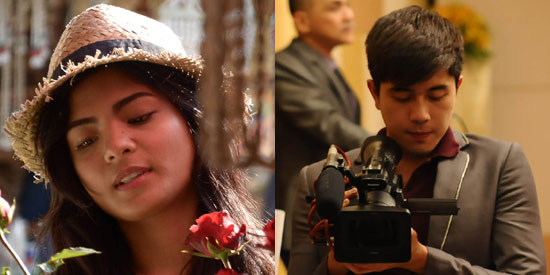 ---
Directed by Jerrold Tarog and considered the third film in his "camera" trilogy, Sana Dati again uses the device as an integral part in the film.

The first installment Confessional (2007) extensively used a video camera while the second installment Mangatyanan (2009) featured a photographer.

This time, Sana Dati focuses on a videographer named Dennis (portrayed by Paulo Avelino) tasked to document the wedding of a young bride named Andrea (played by Lovi Poe). The moneyed groom is portrayed by TJ Trinidad. Unbeknownst to the groom and the bride, the videographer is a remnant of Andrea's unresolved past.
The film similarly starts with the past. Memories of the main characters intersperse continuously and constantly with the present, at times intrusively so.
As Lovi Poe's character prepares unenthusiastically for her wedding, she is also trying to grapple with her doubts and emotions that are as alive, if not more, than her current reality.
The entire movie shows her struggle between moving on from her feelings of what-could-have-been and her thoughts of what her life could be with a man whom she is uncertain if she really loves.
Sana Dati is a visually stunning romance drama with hints of light humor. Its expertly photographed scenes evoke emotion and convey information at an unhurried pace.
Lovi Poe is exquisite as the confused grief-stricken bride. Being a regular in the indie movie scene, she is now proficient in displaying intense emotions in a subdued manner. Her listlessness in the first part of the film, her eventual confusion and sorrow can be felt to as far back as the last row in the theater.
Paulo Avelino seems to have reached a level of maturity in his emotive performance as a mourning brother trying to resolve his own issues by dealing with it in the present.
ADVERTISEMENT - CONTINUE READING BELOW
TJ Trinidad, the dashing groom, is effective in his portrayal as a man seeking a new life by looking into the future and marking it with a wedding to a woman he has yet to figure out.
Past, present and the possibilities of the future collide with each other all throughout the movie—making scenes appear seemingly scattered and confusing.

Just in case the audience didn't get the filmmaker's purpose, the reason for the apparent confusion is appropriately explained almost like a Physics lecture via the term "singularity." However, the movie felt more like a representation of Albert Einstein's Theory of Relativity. Though the film was approximately 90 minutes in length, it felt like two hours.
There are moments when the audience seemed to literally be part of the movie as wedding guests. The feelings of impatience and frustration loom as everyone is forced to wait until the main characters are done indulging in their pain and memories.
Details are provided almost like teasers. One is allowed a peek of a critical information here, a hint of an explosive data there, only to be pulled back again and denied. This pattern goes on throughout the film until curiosities are satisfied and every gap is filled in the end. Though intellectually impressive, it is manipulative in its attempt to tug at heartstrings—a technique that bears resemblance to those used in mainstream romantic films.
Sana Dati is technically excellent in form. With "every hair in place" and all its i's dotted, the film is a visual masterwork.


(To learn about this year's entries, read: PEP Guide to Cinemalaya 2013)

The 9th edition of Cinemalaya will run until August 4, 2013. Entries are being screened at the Cultural Center of the Philippines, Greenbelt 3, Trinoma, and Alabang Town Center.


UPDATE: Sana Dati will be screened in cinemas nationwide starting September 25, 2013.
ADVERTISEMENT - CONTINUE READING BELOW

Ed's Note: The "PEP Review" section carries the views of individual reviewers, and does not necessarily reflect the views of the PEP editorial staff.