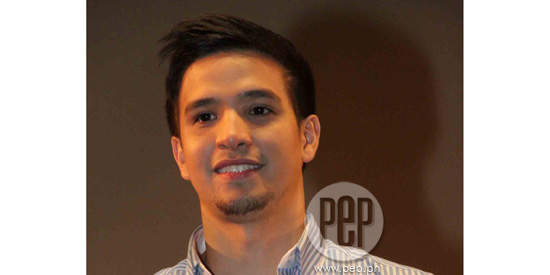 ---
Amor y Muerte, one of the highly anticipated entries of Cinemalaya 2013, is getting talked about precisely because there is a lot to see and talk about.

One of those who probably gained more than enough exposure from every angle is actor Markki Stroem.

Born Marcello Angelo Stroem, this Filipino-Norwegian finalist from ABS-CBN's Pilipinas Got Talent Season 1, has been catching a lot of eyes lately with the amount of skin he exposed in Amor y Muerte.

Amor y Muerte (Spanish for Love and Death) is directed by Cesar Evangelista and is competing in the Directors Showcase category of Cinemalaya 2013. It features Tagalogs or Indios who lived in 16th century Philippines during the initial stages of Spanish occupation. Through the eyes of a Tagala, played by Althea Vega, the struggle to maintain whatever Pilipino identity is shown. The film depicts the choices each one made to survive and adapt to colonial rule amidst the rise of Christendom in the country.

Markki is cast as the Spanish soldier married to Amor (played by Althea Vega). In the film's opening sequences, moviegoers immediately see Markki in the buff. He goes from passionately making love to his wife to the real version of himself as a Spanish soldier. In these scenes, his whole backside, side angles and near-frontal poses are included.

While this is certainly not Markki's first daring role (he played a gay character in Cinema One Originals' Slumber Party), it is certainly the one where people are saying he seems the most confident, even though he showed a lot of skin for this project.

We caught up with Markki after the July 31 gala screening of Amor y Muerte at the Cultural Center of the Philippines Main Theater. Deluged by screaming girls and guys outside the hall, all clamoring to get up close with the hunky actor, PEP.ph was able to interview the Pilipinas Got Talent Season 1 alumnus.

He shares, "Second time ko na eto [to watch Amor y Muerte], pero unang beses yung nakita ko from start to end kasi nalate ako the first time, galing ako SIR event noon, dumating ako halfway noon..."

How did he feel seeing himself in the movie, especially in the scenes with a lot of skin exposure?

"Well, I grew up...galing ako sa Europe, e, normal yun sa amin. Sa Europe, very, it's no malice, kapag art, kapag movie, kapag film, art talaga."

Is he afraid that young kids who are part of his fans will start seeing him differently after learning how exposed he got in this role?

Very candidly, Markki says, "Di naman ako wholesome, baka sa Pilipinas Got Talent, pero pagkatapos nun, may ginawa na akong baklang movie, di ba? I think pagkatapos nun nawala na yung wholesome-wholesome sa [image] ko."

"And, of course, yung mga music videos ko, hindi sila, they are not wholesome, they are very dark din, so at the end of the day, kailangan din gumawa ng ganito para ma-extend ang acting capabilities natin, ng ibang tao."


PRIVATE PARTS. Did he expect that his private parts would be briefly seen in the movie? The actor sat cross-legged on bed after he tried to unsuccessfully woo Althea's character into making love.

Markki says with a laugh, "ahhhhh, no comment na lang.

"Andoon na siya, di ba, anong magagawa ko? Di naman pwedeng awayin, di ba, andoon na," he says while shrugging his shoulders and pointing at the CCP Main Theater where the movie had just been shown.

What made him say yes to this movie? "Maganda yung script, nung first time na binasa ko yung script, so sabi ko why not try something different. Para din maresearch ko yung mga buhay ng nga tao ng dating panahon."

Did he enjoy finally seeing the movie in full?

"Sa kabuoan, actually kasi, hindi ko nakita yung mga scenes ni Apitong dati, e. Dahil nung binasa ko yung script, drama kasi yung script. So yung treatment niya [referring to Adrian Sebastian], comedy. Yung ang napansin ko.

"Sabi ko, wow, kung nalaman ko na comedy yung gagawin niya doon, I would have done a similar thing.

"Pero hindi rin naman, kasi yung character ko, soldier siya, stiff siya, e. So hindi naman pwede ano di ba, that's why she cheated on me di ba kasi medyo stiff ako, Kastila, boring," Markki explains while straightening his shoulders and recreating his Diego pose from the movie.

He adds that the reason Althea's Amor character strayed is because of that stiffness in Diego, "so naghanap siya ng Pinoy to ease her senses. And so I liked his scenes, yung treatment niya sa scenes na yun, para din mawala din yung bigat ng movie kasi medyo mabigat din yung movie, specially towards the end. Yung scenes niya, it eased the tension at times." Apitong was played well by Adrian Sebastian, whose character acted as a polar opposite, a foil to Markki's Diego.

So Markki didn't feel uncomfortable with the amount of skin and body parts exposure?

"Hindi, di ba dati gumawa ako ng ganyan...pero gusto ko kasi gumawa ng iba-ibang klaseng characters, e. Uhm, dito inimbibe ko talaga yung pagiging Kastila, pagiging in the sense sa time na yun, especially sa time na yun, kapag sinabi mo Spaniard, ano yun, there's always a hint of something strikto, so yan ang ang ginawa ko dito, na parang stiff.

"Yung hindi sila nagmomove diba, yan ang iniisip ng mga tao."

Going a bit into the technical side, Markki explains, "that's where I based my...kasi we can't do a primary analysis, we based it on secondary resources, so you can only tell about what the archetypes of a Spanish conquistador is, e, 'yan ang ginawa ko."

Does this mean he is willing to pursue roles like Diego in Amor y Muerte?

'Siguro baka hindi muna, sabi ko last year, magtatake muna ako ng break sa gay roles para maiba naman ang, para di ako matype-cast, di ba?"

"Baka in a few years, I'll wait muna, gusto ko din ma-explore yung iba't-ibang klase ng characters ng human psyche and parang passion ko to study the psychology of people."

He believes that branching out and trying different things every time, "in a sense, pwede mo rin i-imbibe yung iba't-ibang klase ng characters sa sarili mo and sa mga gawain mo as a person."

What is the biggest lesson that Markki learned while working on Amor y Muerte, especially in his appreciation of Philippine culture and history?

"Dahil half-European, half-Filipino ako, nung nakita ko yung mga naranasan ng mga Pilipino in that day and age, you can tell why, initially during the time, kasi niresearch din namin yung mga babaylan, during that time they were really open to sexual acts, parang free din talaga."

Not wanting to be miscontrued, he explains, "not in the sense na animals, kasi intelligent animals ang mga tao sa time na yun...they were people of a time where they could do whatever they want to, wala silang inhibitions, free sila. In a sense, I took from that the fact that the Europeans instilled on the Filipinos a sense of structure and a sense of stiffness to how they are.

"And the Filipinos—or the natives—were also able to influence kung paano yung mga Kastila na bumalik sa European area of their openness to life. Because the Europeans ngayon, they are very open in that aspect."

He reflects, "It's kinda like a cycle, it starts off with an openness and a freedom and then they need to put structure, and then it goes back to a sense of freedom, that's where we are now."

Considering that cyclical nature of things, is he happy with the way the movie ended on a note that could still be seen as open-ended?

"It's up to the people's perception, however they feel about how this particular movie could end, and I think that, uhm, some people would think it's poetic justice for the Filipina who killed the Spaniard in such a gruesome manner."

Lightening the mood, he adds, "but then again, we showed the sex, so why not show the killing, di ba, kasi it's up to the perceptions of people who watched and what they take from it."


UPCOMING PROJECTS. After being seen in the erotic period drama Amor y Muerte, Markki will be seen in the comedy film and the Metro Manila Film Fest entry 10,000 Hours.


"Actually yung next, Raketeros, and then pagkapatapos nun may play ako called Carrie, this is also fairly dark, [produced by] Atlantis. Yung character ko naman doon, I will take the daughter of the devil to prom, so medyo dark talaga. May MMFF din entry ako, ako yung anak ni Robin Padilla na drug addict."

(Read: Amor y Muerte lead actor Markki Stroem admits, "Medyo open ako sa nudity...")

Is he trying out the world outside of television for good? "It's not a conscious decision, wherever projects take you, you go. And ngayon, ang mga pumapasok na projects ay pelikula, so of course I'm very thankful for that. And of course, theater.

"Kasi hino-hone ko ang craft ko ngayon. Para sa future, kapag magkaroon na ako ng break sa TV, I will have the experience under my belt na puwede ko ipakita, ipakitang gilas in a sense sa mga tao all over the Philippines sa television, what I have learned through the indie film process, mainstream film process and through theater."


ON AMA QUIMBAO. Amor y Muerte will forever be marked as Amabelle Quiambao's swan song. She passed away last July 5, days before her last movie project was shown to the public.

Markki shares some of his thoughts on the woman he learned to call Tita Ama.

"I was the first one who visited her in the hospital. She helped me so much in the process of creating the movie. She is the reason I did the movie.

"She was one of my teachers, one of my mentors, and I will forever remember what she had instilled in me. It's like a passing of one generation to the next generation to the next generation. And I love how she is as an actress, how she is able to not..."

Grasping for words and clearly still affected by her death, Markki admits, "you know with some actresses or actors, they tend to keep their acting prowess to themselves, that they will just show their acting prowess.

"But for Ama Quiambao, she was someone who gave information, who told people about what she has learned, she was a teacher and that is what makes her brilliant."
ADVERTISEMENT - CONTINUE READING BELOW