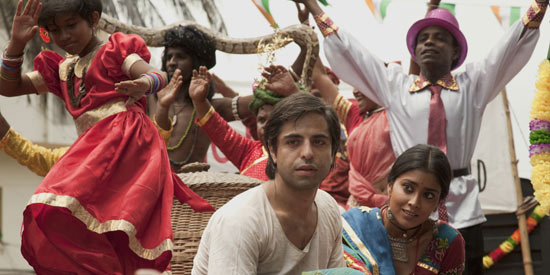 ---

Deepa Mehta's movie version of Midnight's Children is pretty but lacks focus. The movie could be commended for being a faithful adaptation of Salman Rushdie's award-winning 1980 novel, but it eventually fails because of the denseness of the material.

Midnight's Children tells the story of Saleem Sinai (Satya Bhabha), a young man born at the stroke midnight on August 15, 1947 when India gained independence. This coincidence gives him extraordinary power to preside over other children who have similar gifts. When he fails to unite his peers, he loses his power, and his hold over his own fate.

The plot summary above barely describes the movie's two-and-a-half hour long story. There is a clichéd story of baby-switching framed in the rich-versus-poor plot Filipino teleseryes are fond of. There's a half-baked love story between Saleem and powerful witch Parvati (Shahana Goswami).

There's also an absurd depiction of a nation torn apart by war. It presents a satirical image of Indira Gandhi in power. She is depicted as a power hungry leader who believes killing all Midnight's Children will let her stay in power. As a result, protests arise all over India.

In truth, Saleem's tale is only an allegorical retelling of India's tumultuous history after independence. The plot's elements do no more than depict the country's struggle from being a British territory, to a land finally divided into different territories.

It is this complication that makes Midnight's Children almost indigestible. Is the meeting of gifted kids a real occurrence, an imagination of Saleem, or just a placeholder for India's shattered territories? Is Saleem's parenthood predicament meant to stir up drama, or is it done to show the poverty gap?

And is watching the plot closely worth it when one plot point disappears and is forgotten a few scenes later?

What makes the film tolerable is its beautiful cinematography and set design. Even the scenes of poverty in the Indian slums look sun-kissed, like they deserve to be in a tourist's postcard.

The movie's characters are also made up of good people, so it is not hard to root for them and want to see how their stories are going to turn out. Of the three, Satya Bhabha's Saleem is the most relatable, even though the actor seems a little miscast for the role.

The movie's topnotch visuals and good characterization makes it easy to slog through the movie's long runtime, even if the story does not make a lot of sense.


Ed's Note: The "PEP Review" section carries the views of individual reviewers, and does not necessarily reflect the views of the PEP editorial staff.
ADVERTISEMENT - CONTINUE READING BELOW