Joel Lamangan's latest oeuvre Lihis has been getting a lot of buzz lately. It might have been talked about because of its graphic depiction of homosexuality, but the film goes beyond its perceived shock value, as it tries to tackle various aspects of social inequality and oppression.

Set in the 1970s, Lihis is about two young male NPA warriors find themselves entangled in a web of frustrations, despair, and victory as they struggle to fight for their love in the middle of war against despotism and dictatorship. Lihis is a story of a fight for freedom and against bigotry.


The movie introduces us to a bevy of characters. There's Ada (played by Isabelle Daza), a teacher and a graduate student who is investigating a town-wide massacre during the Marcos era. As she attempts to probe deeper into the case, the audience is afforded a flashback into the past, and we come to learn that Ada's parents are both communists: Ka Felix (Joem Bascon who eventually goes by the alias, Ka Domeng) and Ka Jasmine (played by Lovi Poe).

To complicate things further, Ka Felix (Joem) also harbors feelings for his fellow comrade, Ka Jimmy (played by Jake Cuenca). This forbidden love between two members of the NPA lies at the heart of the story of Lihis.

The conservative Ka Felix is initially bothered about his homosexuality, and he decides to pursue a relationship with a woman instead (the fact that the movement does not openly approve of their relationship further fuels Felix's desire to lead a "normal" life as well).

However, it seems that true love does trump all odds: may it be the military, the society, or even the underground movement itself.

Despite having a daughter of his own, Ka Felix soon reconciles with the real love of his life: Ka Jimmy.
The movie uniquely pits the two lovers a bigger backdrop of oppression that we are all too familiar with: the Martial Law era.

Ka Felix and Ka Jimmy are already marginalized in their group because of their homosexuality, but they're also fighting a bigger war against social injustice. The setting heightens their persecution further, but they're not just frightened bystanders waiting in the sidelines for change to happen—by joining the communist movement, they're seen as staunch idealists who are ready to fight and die for their cause. They're passionate about their beliefs, and this passion rings true in their relationship as well, as exemplified by their sizzling love scenes.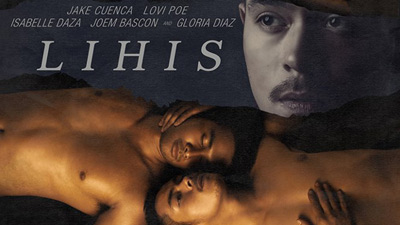 Jake Cuenca—the impassioned and idealistic Ka Jimmy—steals the spotlight as the more aggressive lover who goes against all odds just to be with his beloved. It is refreshing to see the actor in a new light, as he has been typecasted in alpha male characters for a long time.

Though his eyes alone, Jake has the ability to express all the longing and love that he has for Joem's character. One particularly moving scene was his pensive moment in front of the house of Joem. With his eyes brimming with tears, Jake bares all the yearning in his soul.

Joem Bascon convincingly portrayed the torn Ka Felix and viewers can feel his internal struggle as he straddles between choosing Lovi or Jake. Joem is also well suited to portray the sensitive poet.

Lovi Poe shined as the determined Ka Jasmine, who will stop at nothing just so she could get what she wants. During a climatic scene towards the end of the movie, Lovi releases all the pent up frustration she has towards her husband and his paramour.

Lihis may have a remarkable premise, but it also has its fair share of shortcomings as well. Despite grounding itself on the love story between two men, the movie touches on so many issues that may confuse the audience. What was the focus of the film? What message is it trying to convey? These questions may easily get lost in the web of topics that it attempts to explore. Attempting to confront so many issues also left little room for further character development. In addition, the movie also zips back and forth from past to present, which may further confuse the audience.


Their social setting opens a Pandora's box of questions for dialogue. What exactly has changed since the Martial Law era? Did the movement's idealisms translate into reality? Was the cause worth it? Why is injustice still rampant until now? Why is it so hard for us to treat the marginalized equally?
Having that said, Lihis is well worth watching, primarily because it opens so many avenues for discourse. It is a political love story—there is an obvious power struggle between the characters and in the setting that they were depicted in.

Depicting an unconventional romance was a bold move in itself—the fact that Lihis attempts to dig deeper into more societal issues is even more admirable.

Joel Lamangan's Lihis received an "B" rating from the Cinema Evaluation Board.
It is currently being screened in SM Cinemas nationwide.

For screening schedules, CLICK HERE.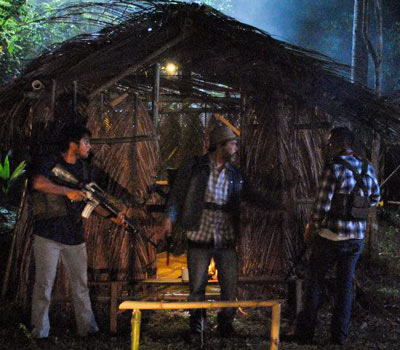 NPA rebels Joem Bascon (left) and Jake Cuenca (right) have an intense argument that prompts Benjie Felipe to calm them down

Ed's Note: The "PEP Review" section carries the views of individual reviewers, and does not necessarily reflect the views of the PEP editorial staff.