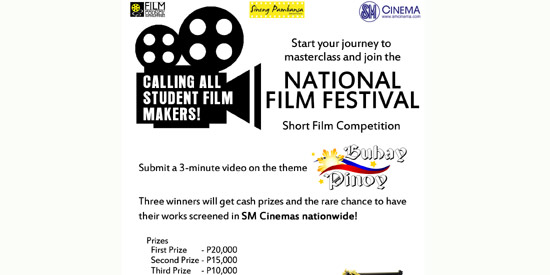 ---

The Film Development Council of the Philippines and SM Cinema invite all Filipino college students to join the 2013 National Film Festival-Short Film Competition. Entrants need to submit an original short film not exceeding three minutes in length on this year's theme, "Buhay Pinoy," and upload it on Youtube.

Cash prizes will be awarded to the winners (P20,000 for the first prize; P15,000 for the second prize; and P10,000 for the third prize). The winning entries will also be shown before every film in all SM Cinema branches nationwide during the 2013 National Film Festival week from September 11 to 17, 2013.

Deadline for submission of entries is on August 26, 2013. For the full mechanics and entry form, you may visit http://bit.ly/nffshortfilms.

More information and updates will also be released via Facebook (https://www.facebook.com/SMCinema), Twitter (https://twitter.com/sm_cinema), and Instagram (http://instagram.com/sm_cinema).