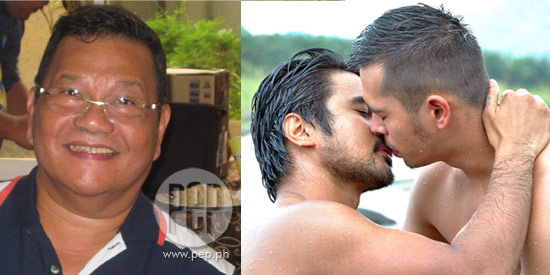 ---

Director Joel Lamangan is quick to point out that his latest film Lihis was conceptualized long before Brokeback Mountain (2005) and way before GMA-7's gay-themed series My Husband's Lover, which started airing this 2013.

In an interview with Direk Joel after the screening of Lihis at the Bantayog ng mga Bayani, he revealed that he and renowned writer Ricky Lee have been thinking about this project as early as 2000.

"Hindi totoo na gaya ito sa Brokeback Mountain. It is totally different. Bago pa magawa ang Brokeback Mountain, gawa na ang script nito.

"Pine-peddle namin sa mga producers but they were so afraid to tackle issues like this."

Brokeback Mountain, starring the late Heath Ledger and Jake Gyllenhaal, depicts two married men who have sexual relations.

The Kapuso Network aired My Husband's Lover on June 10, 2013. It depicts the plight of a married man (played by Tom Rodriguez) who is torn between his wife (played by Carla Abellana) and his ex-boyfriend (played by Dennis Trillo).

What is his reaction to those saying that his movie Lihis copied its concept from My Husband's Lover?

"Hindi totoo 'yan. Wala pa ang My Husband's Lover, gawa na ang script nito. Hindi kami nakiki-ride on. Nauna na ito sa My Husband's Lover.

"This movie is totally different. It is about people who are being erased in history. It is more than just a gay story."

Direk Joel's Lihis is his entry to the Sineng Pambansa National Film Festival All Masters Edition. Lihis is one of the entries that will be shown in SM Cinemas during the film fest organized by the Film Development Council of the Philippines and will take place from September 11-17, 2013.



HOMOSEXUALS IN THE MOVEMENT. Lihis is about two men who are fighting for the country's redemption against the dictatorial regime of Ferdinand Marcos.

Jake Cuenca and Joem Bascon portray two activists who choose to go to the hills and fight not only for the country they love but also for their own personal love for each other.

In the film, Jake brings life to Cesar, the aggressive lover of Joem's character named Ador. Joem's character eventually marries Ka Jasmine (portrayed by Lovi Poe) and he becomes a father to their daughter.

Being an activist himself, Direk Joel has witnessed how homosexuals were marginalized in the underground movement despite their contribution to the cause.

In fact, Direk Joel said that homosexuals were not recognized at the time when he was still active in the movement. "Time ko yun, mga 1970s."

He says some of these gay people who died while fighting for their cause did not admit to their true identity because society frowned upon homosexuality at that time.

"Bawal kasi noon, hindi lang sa movement, pati sa lipunan, bawal sa pamilya. So they were not free but they were fighting for freedom."

He pointed out: "Merong mga bakla fighting against the dictatorship na namatay pero there was no mention that they were gay.

"There was no mention of them and they were not recognized as heroes. They were bakla na heroes."

Is this film dedicated to these gay heroes?

"I would just like to say to them that there are heroes like them in the struggle and that they should not be forgotten."



ON LOVE SCENES OF JAKE AND JOEM. Direk Joel commended lead actors Jake and Joem for their professionalism in shooting the sex scenes required in Lihis.

Did Jake and Joem have difficulty shooting their sex scenes?

"Hindi naman, they were so professional," said Direk Joel. "They knew what to do and they knew what to expect. I told them so.

"I asked them, 'do you accept this role...ganito, ganito..."

One of the most talked about part of the trailer of Lihis was the scene that depicted Jake and Joem having sex on top of a rock near a small stream.

How long did it take them to shoot that particular sex scene?

"One half day, yung sa batis. Mahirap kasi kapag may tubig," he explained.

As for the sex scene shot by Jake and Joem inside a house, Direk Joel recalled: "Madali lang yun kasi isang posisyon. Ang mahirap yung na-shoot nung gabi pati sa batis."

He also pointed out: "Sila talaga yun. Walang double dun kasi wala namang pinakitang genitalia. Sila talaga yun."

Did Jake and Joem have hesitations about shooting their intimate scenes?

"They were ready for that. They were very good actors. When they accepted the role, they were ready for that."



ON ISABELLE DAZA. The daughter of Ms. Gloria Diaz, Isabelle Daza, is cast as Ada, the grownup daughter of Jake and Lovi's characters.

Playing supporting roles are Raquel Villavicencio (as the mother of Jake Cuenca's character) and Ms. Gloria (the older version of Lovi's character).

Direk Joel commented that Isabelle Daza, the daughter of Gloria Diaz, looked amazing onscreen even though she only had minimal makeup and looked deglamorized for the role.

How did he help the newbie actress as she starred in her first movie?

"She's a very intelligent actress. She understands the conflict of the character.

"Nakita ko na, merong [potential] ang batang ito. She had difficulty with the language dahil sa Tagalog but later on, na-overcome niya yun."

Did the first-time movie actress have difficulty shooting her crying scenes? "Hindi. Surprisingly, she can cry so easily."

He praised Isabelle by saying, "She was very good, she was at par with all the others."




ADVERTISEMENT - CONTINUE READING BELOW
SHARE THIS STORY Lihis" data-url="https://www.pep.ph/guide/movies/12450/joel-lamangan-says-jake-cuenca-and-joem-bascon-were-professional-while-shooting-sex-scenes-for-lihis" data-desc="Direk Joel Lamangan says it took them half a day to shoot the much talked about sex scene of Jake Cuenca and Joem Bascon in Lihis." data-image="https://contents.pep.ph/images2/guide/f8650f424.jpg"> Lihis" data-url="https://www.pep.ph/guide/movies/12450/joel-lamangan-says-jake-cuenca-and-joem-bascon-were-professional-while-shooting-sex-scenes-for-lihis" data-desc="Direk Joel Lamangan says it took them half a day to shoot the much talked about sex scene of Jake Cuenca and Joem Bascon in Lihis." data-image="https://contents.pep.ph/images2/guide/f8650f424.jpg"> Lihis" data-url="https://www.pep.ph/guide/movies/12450/joel-lamangan-says-jake-cuenca-and-joem-bascon-were-professional-while-shooting-sex-scenes-for-lihis" data-desc="Direk Joel Lamangan says it took them half a day to shoot the much talked about sex scene of Jake Cuenca and Joem Bascon in Lihis." data-image="https://contents.pep.ph/images2/guide/f8650f424.jpg">
SHARE THIS STORY
Lihis" data-url="https://www.pep.ph/guide/movies/12450/joel-lamangan-says-jake-cuenca-and-joem-bascon-were-professional-while-shooting-sex-scenes-for-lihis" data-desc="Direk Joel Lamangan says it took them half a day to shoot the much talked about sex scene of Jake Cuenca and Joem Bascon in Lihis." data-image="https://contents.pep.ph/images2/guide/f8650f424.jpg"> Lihis" data-url="https://www.pep.ph/guide/movies/12450/joel-lamangan-says-jake-cuenca-and-joem-bascon-were-professional-while-shooting-sex-scenes-for-lihis" data-desc="Direk Joel Lamangan says it took them half a day to shoot the much talked about sex scene of Jake Cuenca and Joem Bascon in Lihis." data-image="https://contents.pep.ph/images2/guide/f8650f424.jpg"> Lihis" data-url="https://www.pep.ph/guide/movies/12450/joel-lamangan-says-jake-cuenca-and-joem-bascon-were-professional-while-shooting-sex-scenes-for-lihis" data-desc="Direk Joel Lamangan says it took them half a day to shoot the much talked about sex scene of Jake Cuenca and Joem Bascon in Lihis." data-image="https://contents.pep.ph/images2/guide/f8650f424.jpg"> Lihis" data-url="https://www.pep.ph/guide/movies/12450/joel-lamangan-says-jake-cuenca-and-joem-bascon-were-professional-while-shooting-sex-scenes-for-lihis" data-desc="Direk Joel Lamangan says it took them half a day to shoot the much talked about sex scene of Jake Cuenca and Joem Bascon in Lihis." data-image="https://contents.pep.ph/images2/guide/f8650f424.jpg">