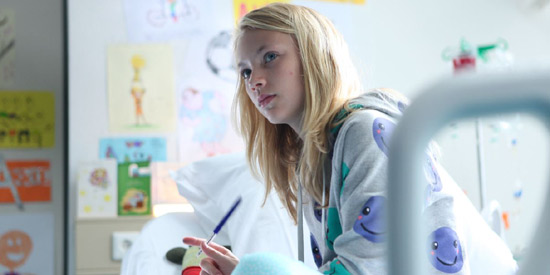 ---


Now on its 16th year, Cine Europa offers 21 indie films which will be shown at Shangri-la Cineplex from September 4 to 15, 2013.


Cine Europa 2013 will also be presented in five provinces including Cinematheque Baguio City (September 17 to 22), Cinematheque Iloilo City (September 23-29), Ayala Center Cebu City (October 4 to 6), Liceo de Cagayan University (October 10 to 13) and Cinematheque Davao City (October 15-20).
SCREENINGS. In its 16th year of bridging the gap between Filipinos and Europeans through cinema, Cine Europa offers 21 foreign films that will be shown at Shangri-la Cineplex from September 4 to 15, 2013.
"European film festivals are very much about offering outstanding cinematic entertainment to an enthusiastic Filipino audience. But they are also perhaps the most vivid illustration of the many distinct cinematic traditions that have come out of Europe, and the even greater variety of national and regional cultures that keep it alive and kicking," said Julian Vassalo, political counsellor at the EU Delegation to the Philippines during Cine Europa's media launch last Tuesday, August 27.
ADVERTISEMENT - CONTINUE READING BELOW
This year's set of entries include The Horse on the Balcony (Austria), With a Wolf's Gait (Belgium), Footsteps in the Sand (Bulgaria), Divided We Fall (Czech Republic), A Royal Affair (Denmark), Beloved (France), Barbara (Germany), Almanya (Germany), The Guide (Greece), Made in Hungaria (Hungary), Mid-August Lunch (Italy), The Son's Room (Italy), Cool Kids Don't Cry (Netherlands), The Kautokenio Rebellion (Norway), Fantom Father (Romania), Broken Promise (Slovakia) Frozen Silence (Spain) Beyond (Sweden), Operation Libertad (Switzerland), Project NIM, (United Kingdom.), and Dreams of Life (United Kingdom).



REVIEW. One of the films included in this year's lineup is Cool Kids Don't Cry, a coming-of-age movie from the Netherlands that was shown to select media outfits (including PEP.ph) during the August 27 event.


Based on the best-selling children's novel by Jacques Vriens, Cool Kids Don't Crytells the story of Akkie (played by Hanna Obbeek), a spirited young girl who excels at playing soccer. But her classmate Joep (played by Nils Verkooijen) is totally against her being part of the soccer team since he believes it to be an all-male sport.
ADVERTISEMENT - CONTINUE READING BELOW
This causes a lot of petty fights between them since Akkie always stands up to Joep's bullying. At one point, the feisty girl even engages the bully in a brawl outside school, which could have hurt them badly if not for their teacher's timely interference.
Amidst their intense football rivalry, things start to change when Akkie is diagnosed with leukemia. The strong-willed eight-grader remains optimistic that she will soon be cured after her hospital treatment. Not even the knowledge of her terminal illness can diminish her passion for soccer.
Is her strong will enough to cure her and allow her to play anew with the soccer team?
Cine Europa's Dutch entry Cool Kids Don't Cry is a great pick if you're having a movie date with your family. Kids will easily identify with the carefree characters of Akkie and Joep, whose lives revolved around school. All they think about is making friends and joining extracurricular activities like soccer. That is typical of any kid their age, whether you're Dutch or Filipino, for that matter.
ADVERTISEMENT - CONTINUE READING BELOW
Although the film provides a simple plot, it also appeals to adults who might enjoy reminiscing about their first brush with love as Akkie and Joep eventually develop romantic feelings for each other. As the lead characters experience their first brush with puppy love, moviegoers will be able to witness how the bitter rivals transition to becoming more than friends.
One of their cute scenes together is when Joep exerted effort to look for Akkie's missing necklace after their brawl. Even though he is a class bully, he doesn't seem as tough as he plays out to be when he did this gentlemanly gesture. And yet, he initially refuses Akkie's offer of friendship for he is obviously confused by his sudden concern for her well-being.
As the movie progresses, Cool Kids Don't Cry draws audiences to empathize with Akkie's fight against leukemia. Despite her serious illness, she remains an inspiration to her classmates with her cheerfulness and passion for soccer. Even when she was bedridden in a hospital, she still thinks of the best game play for her soccer team.
ADVERTISEMENT - CONTINUE READING BELOW
It is interesting to note though how this Dutch film portrayed its advocacy against discrimination of all types. The emphasis on gender quality is reflected by the way Akkie's character excelled in a male-dominated sport such as soccer. Later in the movie, she also encourages her female best friend Elize to improve her potential as a striker.
Respect for difference of opinions and beliefs is also stressed in the film. As it is, the Netherlands is said to be one of the most secular countries in Western Europe. This is reflected in the scene wherein Akkie's classmates expressed their worry for her deteriorating health but the class adviser didn't automatically tell her class to pray to God, just as one of the students suggested. Instead, the teacher allows her students (who represented a variety of religions such as Islam, Hinduism, Christianity, and even a non-believer of God) to share their thoughts without imposing anyone's personal beliefs.
ADVERTISEMENT - CONTINUE READING BELOW
Cool Kids Don't Cry is showing on September 7 (1 p.m.) and September 11 (7:30 p.m.) at Shangri-La Plaza, Cinema 2.