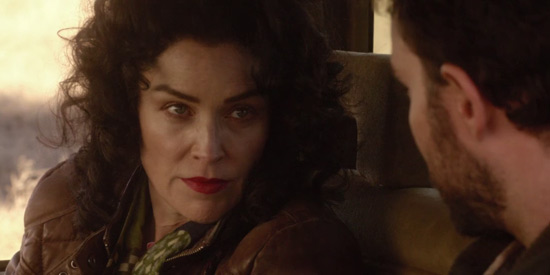 ---
Sharon Stone stars in Border Run (originally titled The Mule), a thriller based on true events. Stone plays dedicated television reporter Sofie Talbert, a tough right-wing journalist who vehemently opposes illegal immigration. However, her own conservative beliefs are pushed to the limits when her brother suddenly goes missing.

Sofie's brother, Aaron Talbert (Billy Zane), is a relief-worker who helps illegal immigrants cross the Mexico-U.S. border. Sofie takes matters into her own hands and journeys to Mexico where she becomes embroiled in a deadly underworld of immigrants, smugglers, drug pushers and murderers. Sofie sees for herself the brutal hardships that people face in their attempts to cross the border.
The support characters include: Roberto (Manolo Cardona), Aaron's co-worker who offers to help Sofie find Aaron; Javier (Miguel Rodarte), a coyote (smuggler of people) who helps Sofie as well; Juanita (Giovanna Zacarias), a hard-as-nails coyote who threatens to kill Aaron; and desperate immigrants Maria (Olga Segura), Rafael (Rosemberg Salgado) and Luz (Shelem Oteo).
ADVERTISEMENT - CONTINUE READING BELOW
Directed by Gabriela Tagliavini, with a screenplay written by Don Fiebiger and Amy Kolquist, Border Run tackles important issues such as human trafficking, exploitation and drug smuggling. It aims to put a face on illegal immigrants who sacrifice everything to cross the border and achieve the elusive American dream.
The movie is successful in getting its message across. It shows that even though illegal immigrants break the law, human smugglers take advantage of their desperation and exploit those dreaming of a better life.
For a thriller, Border Run does not keep you on the edge of your seat, but it does not drag either. Towards the end, there are still a few twists and turns that may surprise some viewers.
The movie is well made. However, Border Run lacks heart. Based on true events, it tries to reveal a grim reality that may be foreign to most people. You get the point, but these might not necessarily arouse feelings of empathy towards the protagonists.
ADVERTISEMENT - CONTINUE READING BELOW
The characters seem functional and two-dimensional. They deliver the film's message, but they don't seem like complex human beings. You don't know much about Sofie aside from the fact that she is a workaholic with conservative views. You don't know why Juanita and the bad guys are so cruel. The film tackles complex issues, but the characters are simplistically drawn.
The acting is all right. Sharon Stone portrays Sofie well even though she has a tendency to overact sometimes. Also, the black wig she wears is very distracting. Billy Zane also did well as Sharon's brother in the movie, but he has a tendency to be a bit theatrical.
Border Run is supposed to be fast-paced and action-packed, but the smooth camera movement does not suit the film. Using hand-held camera shots would have added more tension. Also, the dramatic use of light and shadows could have added to the mood of the film.
ADVERTISEMENT - CONTINUE READING BELOW
Perhaps Border Run might have been better as a documentary. In that way, the real-life accounts of illegal immigrants crossing the border might have been more emotional and authentic. Border Run tries to show a grisly underworld, but you don't feel the grit.


Ed's Note: The "PEP Review" section carries the views of individual reviewers, and does not necessarily reflect the views of the PEP editorial staff.