---
Lauriana is the story of a woman who falls in love but the relationship rapidly descends into a dysfunctional one, with her at the receiving end of repeated physical violence. However, it is also a coming-of-age tale with regards to Carding, a ten-year-old orphan who finds himself somehow entangled in the abusive affair.

This is Mel Chionglo's entry to the Sineng Pambansa National Film Festival All Masters Edition organized by the Film Development Council of the Philippines (FDCP).

The movie is set in Quezon during the 1950s. Bangs Garcia plays the title character, Lauriana, a dancer in a barrio "baylehan" (dance floor in an open space). Allen Dizon plays Capt. Samuel Corazon of the Philippine Constabulary. He is assigned to a small barrio in order to catch suspected members of the Hukbalahap guerrilla group and falls wildly in love with Lauriana. Adrian Cabido plays the orphan Carding, who is an important character in the lovers' lives.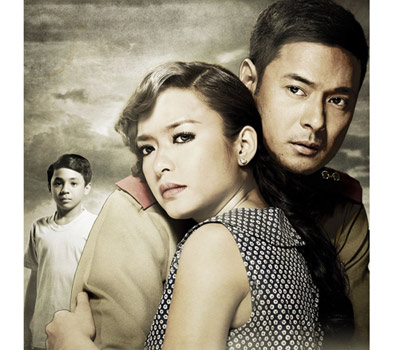 Young actor Adrian Cabido (leftmost) gives a compelling performance in Lauriana. He joins Allen Dizon and Bangs Garcia in this domestic drama.
ADVERTISEMENT - CONTINUE READING BELOW


Based on a true story as recollected by Direk Mel, the characters—as written by Ricky Lee—are well-formed.

Lauriana is motivated by intense love as well as aspirations for a better life that is perceived to lie far away: in Manila. Samuel is scarred by a traumatic childhood event and is crazy for Lauriana. Carding is easily impressionable and finds new parents in the persons of Lauriana and Samuel. He sees Samuel as a father figure and is initiated into manhood, so to speak, by the PC—so much so that he seriously aspires to become a soldier himself. He has a profound admiration for Lauriana, who becomes his constant companion.

Although I understand the need to hammer the point of the extent of abuse and violence, I feel that there are too many such scenes to the point of overkill, in a manner of speaking. Each of the scenes of abuse are heavily punctuated with screams and punches and slaps—sometimes, it made me look away.

This is not to say that the scenes were all violent all the time since Bangs and Allen show nuances in feelings of the characters, so caught up as they are in their own intense waves of emotions. And we empathize with Lauriana, who, despite the bouts of abuse, stays with the man that she intensely loves and who, in his own twisted way, loves her too.
ADVERTISEMENT - CONTINUE READING BELOW
Bangs is a revelation as the title character. She exudes the right amounts of sexiness and innocence, passion and desperation.

Child actor Adrian Cabido turns in a very inspired performance. His joys and pains are very well played out across his innocent face.

Victor Basa's acting as the grownup Carding leaves much to be desired here. At times, it seems like he just has a perpetually perturbed expression on his face. It was disconcerting, considering that the young Carding makes us feel his pain and isolation.

Angeli Bayani shines as the caring and compassionate aunt of Carding. Her sincere performance makes us want to be her wards as well.

The much-talked-about sex scene is just the right balance of sensual and tasteful. The sequence leads, slowly and fluidly, from mere playful kissing to full-on sex; it takes the couple from the kitchen to the bedroom in the small barrio hut.

Though the surrogate father-son relationship between Samuel and Carding is well-established, there are some awkward moments, most notably when the two touch heads in what always turns out to be a weird hug.

There are lulls in some scenes at times, as if one cast member has missed his cue or another has forgotten the next line.

Mel Chionglo uses film techniques such as foreshadowing, parallelism, and persistence of vision well. The veteran director shows that he is truly a master of the craft.

Director of Photography Nap Jamir presents a film that is visually pleasurable. It would be easy to light the scenes to make them look nostalgic…but Jamir makes the waters and coconut tree-covered Quezon terrain look lush and seemingly within reach. The sex scenes, aside from being well-directed, also look flawless thanks to the cinematography.

Props also go out to Production Designer Edgar Littaua for his attention to detail, differentiating the look of the Huk-infested countryside from the politically-tumultuous Manila.

Mel Chionglo's Lauriana received an "A" rating from the Cinema Evaluation Board.

It is currently being screened in SM Cinemas nationwide.


For screening schedules, CLICK HERE.



Ed's Note: The "PEP Review" section carries the views of individual reviewers, and does not necessarily reflect the views of the PEP editorial staff.



ADVERTISEMENT - CONTINUE READING BELOW