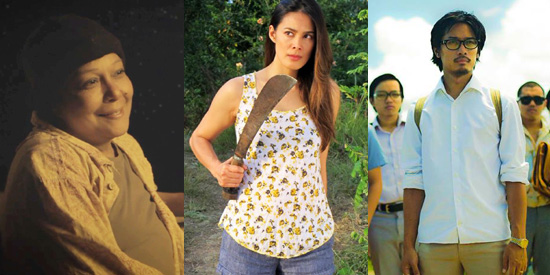 ---
The 1st Cine Filipino Film Festival offers a whole new level of creativity and talents from different parts of the Philippines. Its tagline goes: "Stories worth watching. Movies worth celebrating."


With its theme "Kwento ang Hari," this year's CineFilipino offers original Pinoy films that caters to the modern Filipino generation.
The pioneer batch of CineFilipino filmmakers are showcasing their obra maestras until September 24, representing different genres to be appreciated by local audiences. The September 17 kick-off event at Resorts World's Newport Cinema was graced by the top bosses of its partners: TV5's CEO Noel Lorenzana, Unitel's President Ms. Madonna Tarrayo as well as Resorts World Manila's President Mr. Kingson Sia.
Starting the event was a speech from Ms. Esther Santos, president of the PLDT-Smart Foundation, who was very proud to open this very memorable event.
"PLDT Smart foundation is very happy to be part of the Cine Filipino film Festival."
"Seeing the filmmakers, the 8 winning filmmakers, and the films that we have just seen clips of, it made [us] really, make us very proud like real parents to have the end of the journey, actually it's just the beginning because we'll just start showing it to the public."
CineFilipino festival director Mr. Vincent Nebrida then shared the challenges of the aspiring filmmakers, all of whom received a budget of P1.5 million each.
"With the grant of 1.5 million each to 8 selected screenplays, filmmakers this time realized that with this amount of seed money, there was now the possibility of taking a film to completion without necessarily planning to seek out more investors.
"A total of 146 entries that weren't just synopsis or sequence treatments but full scripts in themselves.
"It really was tough for the selection committee to come up with the 8 finalists and, of course, the 10 finalists for the shorts."
ADVERTISEMENT - CONTINUE READING BELOW
The festival director also pointed out that the digital age has provided plenty of opportunities for new filmmakers.
"I think these are opportune days of Philippine stories… It's evident that this year—2013—is a banner year of Philippine cinema," declared Mr. Nebrida.
"The one constant that bound everyone was the unwavering passion and tenacity to bring all these stories to life.
"The need to tell these stories is what compelled everyone, first of all, to write the scripts and then face the task of producing these films and orchestrating all the elements in time for the film festival."
"A compending story, life-like performances, vivid images and the ability to touch one's soul—these remain the foremost elements that made for an enriching and magical movie experience."



THE MAGIC EIGHT. To celebrate their success, the finalists of the 8 full-length films, as well as the short films, came to the event to share their experiences and thank everyone who supported them in their endeavors.
Ron Bryant—writer and director of Bingoleras, a comedy of 6 women and a priest interconnected through Bingo—told the audience:
"Puro girls yung bida. Very challenging for me na ganon kalaki yung cast… Feeling ko yung buong 9 months ng production, parang anytime pwedeng hindi mabuo yung pelikula."
The film stars actresses Max Eigenmann, Charee Pineda, Liza Diño, Mercedes Cabral, and Eula Valdes.
Mes De Guzman, the director of Ang Kwento ni Mabuti, talks about his hometown in his film that features superstar Ms. Nora Aunor.
"Ang parang vocation ko is to highlight stories from the province. Karamihan ng ginagawa ko ngayon na stories from my home province: Nueva Vizcaya... Karamihan kasi ng kwento sa kanayunan ay hindi naman naku-kwento sa pelikula."
Ato Bautista recalls his memorable experience while filming Mga Alaala ng Tag-Ulan, which tells the story of a young boy falling in love.
ADVERTISEMENT - CONTINUE READING BELOW
"Ang best memory ko dito sa Mga Alaala ng Tag-Ulan, masaya kaming lahat kasi we all collaborated with each other, nagtulungan kami. Walang nag-diva, walang kahit ano. We're filmmakers making a film and we're enjoying it no matter how hard it was."
Ang Huling Cha-Cha ni Anita, was the fruit of hard work of writer/director Sigrid Andrea Bernardo.
"8 years na rin 'to, at palagi ko 'tong pinipitch sa iba't ibang film festivals dito sa bansa."
The Guerilla is a Poet is an interesting piece of Filipino history by siblings Sari and Kiri Dalena since it depicts the life of Jose Maria Sison, the founding chairperson of the re-established Communist Party of the Philippines.

Sari explains: "Maganda rin na na-merge namin yung documentary and dramatization… Nasa panahon po tayo ngayon na we can learn from the past of what happened."
Janice Perez expressed happiness over the fact that her three-year project, The Muses, finally hits the big screen.
"It's very overwhelming and surreal to even if I just saw the trailer, it's just so weird to see that after all those years… To finally see it playing on the big screen it's just beyond awesome."
The sole suspense/thriller film, Puti, has come a long way and its director Miguel Alcazaren says he can't be thankful enough.
"It's a long time coming and I'm very grateful to PLDT-Smart and Studio 5 for the opportunity.

"[Puti] is a very personal film...it's not autobiographical. It's about a painter who gets into a car accident and becomes color blind and he struggles to recover."
Randolph Longjas, director of the comedy Ang Turke­y Man ay Pabo Rin, reveals that it was his first time to direct a film but was pleased with the outcome, nonetheless.
ADVERTISEMENT - CONTINUE READING BELOW
"Nakakatuwa po kasi it's my first time ever kahit sa anong pamamaaraan [ng directing], music video, shorts, wala po akong experience sa ganon."


WALLS OF HELL. Capping of the opening ceremony was the 1964 film Walls of Hell by the late Gerry de Leon and Eddie Romero and stars Fernando Poe, Jr. It is touted as the only Filipino film that features these three pillars of the movie industry. Historian Teddy Co explained the significance of this particular movie:
"The Walls of Hell is the collaboration between the three of them and it's very interesting because the three of them have something in common: all of them are national artists for film."
Liberty Ilagan, daughter of National Artist Gerry de Leon, represented their family in honor of his late father.
"We are very much honored na ang napili nila para umpisahan ang festival na ito ay Wlls of Hell."
"It's very historical. You will see how beautiful Manila was before."
The eight full-length films are:
Ang Kwento ni Mabuti by Mes de Guzman
Cast: Nora Aunor, Ama Quiambao, Mara Lopez, Sue Prado and Arnold Reyes
Mabuti (Nora Aunor) accidentally gets a stash of money that could bring an end to her family's financial problems. Is the solution that simple or it is loaded with complications?


Ang Huling Cha-Cha ni Anita by Sigrid Andrea Bernardo
Cast: Angel Aquino, Teri Malvar, Marcus Madrigal and Lui Manansala
A 12-year-old Anita (Teri Malvar) falls in love with the new woman in town, Pilar (Angel Aquino). Years later, a girlhood crush blossoms during the Fiesta of Santa Clara in Obando, Bulacan.


Puti by Mike Alcazaren
Cast: Ian Veneracion, Jasmine Curtis Smith, Lauren Young, Leo Rialp, and Bryan Pagala
A psychological thriller about a counterfeit painter who figures in a freak car accident that renders him color blind. While recuperating, strange things start to happen to him.


The Guerrilla is a Poet by siblings Sari and Kiri Dalena
Cast: Karl Medina, Angeli Bayani, Bong Cabrera, RK Bagatsing, Chanel La Torre, and Marcus Madrigal
The tale of an activist's journey during the turbulent years of Martial Law, until his capture in the mountains and the dark, nine years of imprisonment that followed, leading to his birth as a poet. Karl, the eldest son of Ping Medina, is cast as Jose Maria Sison while Angeli plays Julie de Lima, wife of the activist/revolutionary.


Ang Turkey Man ay Pabo Rin by Randolph Longjas
Cast: Tuesday Vargas, Travis Kraft, Julia Clarete, Cai Cortez and JM de Guzman
A cross-cultural comedy about a Filipino-American couple who celebrates life with karaoke music, superstitious in-laws, immigration laws, unexpected pregnancies, brownouts, Thanksgiving turkey, with some love on the side.


The Muses by Janice Perez
Cast: Kitchie Nadal, Janelle Jamer, Ranz Andri Medina, Chicoy Romualdez, and Josh Manning
The Muses' vocalist Marthe and her guitarist younger sister Marie discover hidden truths about fame, music, family and their own selves on the night of an all-important music competition.


Bingoleras by Ron Bryant
Cast: Max Eigenmann, Charee Pineda, Eula Valdes, Liza Diño, Mercedes Cabral, and Hazel Orencio
A surprise-filled comedy about six single women and a priest, whose lives intersect when a bingo marathon is launched in their church for the barangay fiesta, turning expectations and relationships upside down and inside out.


Mga Alaala ng Tag-ulan by Ato Bautista
Cast: Akihiro Blanco, Mocha Uson, Mon Confiado, Issa Litton, and Lance Raymundo
A coming-of-age love story about a young man's first encounter with love, romance, and heartbreak, told in bits and pieces of poetic and melancholic memories that began on one rainy night.
The short films in the 1st CineFilipino are as follows:
Ligaw by Pamela Reyes
Logaritmo by Kim Ocariza
Sangandaan by Jose Ibarra Guballa at Bienvenido Ferrer III
Alkansiya by Joan Cajes
Kathang Isip by Jops Madarang
Last Call by Khalil Joseph Banares
Mabuhay Ang Pilipinas by Bor Ocampo
Onang by JE Tiglao
Princess Urduja by Tiffanie Ang
World Ipis by Kristin Parreno Barrameda at Joana Carla Martinez


The entries of the 1st CineFilipino Film Fest are being screened at Megaworld Lifestyle Malls, Newport Cinemas, Resorts World Manila, Lucky Chinatown Cinemas, Gateway Cinemas, and Shangri-la Plaza Cinemas until September 24.


(To learn more about the CineFilipino entries, CLICK HERE)