Based on the award-winning screenplay by Frank G. Rivera, former actor Carlo Maceda directs a movie on the life of the Philippines' Joan of Arc, Gabriela Silang.
Gabriela is the first movie of Christine "Tin" Patrimonio, former Pinoy Big Brother Unlimited housemate. Carlo Aquino plays Diego Silang, Gabriela's husband. BJ Forbes, no longer a child star, plays a pivotal role as Lukas, a young boy who witnesses the heroism of the couple and lives to tell their story.
Gabriela Silang lived more than two centuries ago, yet her life remains significant to this day. She was a faithful companion to her husband Diego, as they launched heroic resistance against Spanish control in the Ilocos. Wielding her trusty bolo, she fought valiantly alongside Diego. Even after his death, she continued the struggle until she was captured and executed.

The movie depicting the Ilocano rebellion is timely as this year marks the 250th death anniversary of Gabriela Silang.


Not only do we see the oppression that spurred the revolutionaries to action, but also the story of Gabriela's childhood and the motivations of the characters involved. It is an eye-opener on the opposition of Filipinos against the Spanish colonizers. Viewers will also see the unity of Ilocos lowlanders with tribes in Abra to fight their common foreign enemy.
This is Maceda's first full-length film and he shows special skill in directing action scenes. Sonia Roco, widow of Senator Raul Roco, agreed to produce the film because, as she says "Education is an advocacy that I share with Carlo [Maceda]."


Gabriela seeks to make history more relevant to the younger generation; thus, the youth would heed the lessons of history and learn more about our Filipino heritage and culture.
Carlo Aquino proves worthy to play the dashing and daring Diego. Tin Patrimonio delivers deadly determination that shows her acting potential. BJ Forbes is a revelation as he goes through a wide range of emotions. Ricky Davao, Jeffrey Santos, and Bon Vibar deliver their sinister performances, as always.
The movie co-stars Chris Michelena, Rob Sy, Arthur Solinap, Johnron Tañada, Nene Tamayo, Iris Lapid, Yen Abuid-Paderanga, Lars Svanberg, Justin Piñon, and Archi Adamos.
Though the movie will not have a regular run in theaters, educators are encouraged to contact On Cam Productions and Megapixel Marketing and Events Services to arrange for screenings in their schools and universities. In this way, more students and young people may be inspired by the heroism of this young, extraordinary Filipina.
Gabriela will have a special screening on September 29 (Sunday), 6:30 pm at Cinema 1 of SM North EDSA The Block. For ticket inquiries, text or call: 0915-3392514.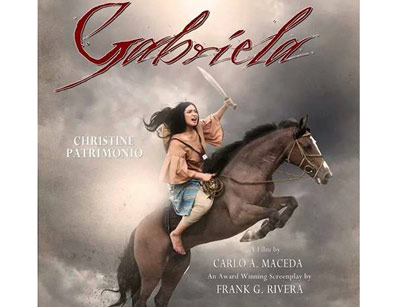 Ed's Note: The "PEP Review" section carries the views of individual reviewers, and does not necessarily reflect the views of the PEP editorial staff.