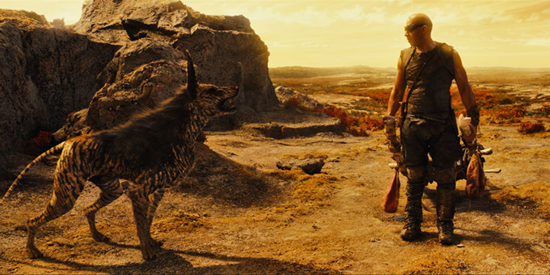 ---
Vin Diesel reprises his role as Riddick for the latest chapter of the groundbreaking action-horror saga that started from Pitch Black (2004) and The Chronicles of Riddick (2004). After nine years, the wanted convict is now back on the big screen with Riddick (2013).
The opening scenes of Riddick are interconnected with events from the Chronicles of Riddick. The first part of the movie depicts how Riddick survived in an unknown planet. Riddick was betrayed by some officials and was left almost dead just to get him out of their way.
Back stories explain how Riddick ended up in this unfortunate situation. Fortunately, moviegoers won't have to revisit the first two films to fully understand the plot of this third installment. While the movie made many references to the previous films, understanding the plot will not be that hard.
The plot is rather simple and straightfoward. However, the first part of the movie lacked interesting action scenes, which is unusual for Vin Diesel. Even his action sequences with the scorpion-like alien predator felt lacking.
Just like the first film Pitch Black, there are gruesome scenes to be expected. Fans will be delighted know that the movie tries to stick to its roots while maintaining a balance of having relatable characters.
For the second part of the movie, there is a noticeable change in perspective as two teams of mercenaries start hunting for Riddick's head for bounty. The lone survivor suddenly becomes this mysterious and dark character. Henceforth, the film presents the struggles of the two teams of bounty hunters as they try to kill Riddick.
Moviegoers get to see a new side to Riddick as he uses a different tactic.
He could easily kill the mercenaries since he possesses strong combat skills, as proven during the first part of the film. However, he simply waited for the mercenaries to act before making his move.
ADVERTISEMENT - CONTINUE READING BELOW
The support characters provide some of the more interesting scenes in the movie. Santana (Jordi Mollà), one of mercenary leaders, and Luna (Nolan Gerard Funk), a devout Christian and a member of Santana's team, stand out for their hilarious moments in the movie.
One of the strengths of the film is the computer graphics. The CGI used in this movie is at par with big-budgeted films. The hyena-wolf hybrid creatures and the water scorpions look very realistic.
While fighting these alien predators, Riddick has to acquire energy blocks from the mercenaries to fuel the ship that will allow him to leave the planet.
The first thirty minutes of the movie might be underwhelming for some but in the end, Riddick offers a complete action-horror experience.



Ed's Note: The "PEP Review" section carries the views of individual reviewers, and does not necessarily reflect the views of the PEP editorial staff.