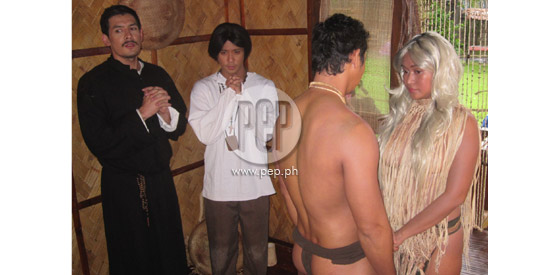 ---
The combined forces of typhoon Odette and the southwest monsoon (habagat) brought heavy rains last September 22.
However, this did not hinder stars of Pedro Calungsod: Batang Martir from proceeding to Lobo, Batangas to shoot scenes for their Metro Manila Film Festival entry. Written and directed by Francis Villacorta, this movie is produced by HUBO Productions.
PEP.ph (Philippine Entertainment Portal) was able to witness how production battled the elements just to keep on shooting despite the stormy weather.
This period film tells the story of Pedro Calungsod, a young man who became a martyr while spreading the Catholic faith.
During the 1600s, he assisted Fr. Diego de San Vitores in baptizing the Chamorro natives in the Marianas Islands, now called Guam.
In October 2012, Pedro Calungsod became the second Filipino to be declared a saint by the Roman Catholic Church after San Lorenzo Ruiz.
This December, Pinoy moviegoers will be able to watch Rocco Nacino as he brings life to Pedro Calungsod in this film.
SET VISIT. A small community is set up in Lobo, Batangas to simulate the Marianas. Near the beach, there are nipa huts and palm trees. The male population of the natives wear g-strings while the women use their hair to cover their breasts.

Another huge structure is being built to serve as a chapel. Production even created a temple that is adorned with a huge Buddha and Chinese furnishing. There is even another hut dubbed as the "house of pleasure" because of the provocative acts being done there.

However, before we can reach the main location, we are forced to stop because of the flood in the area.
ADVERTISEMENT - CONTINUE READING BELOW
To maximize time, the cast and crew shot some scenes in the nearby Honey Beach Resort.
Rocco Nacino mingles casually with his co-stars while waiting for his turn to act in front of the cameras. He laughs heartily when he sees the stand where the makeup department plan to put his wig, which is part of his costume.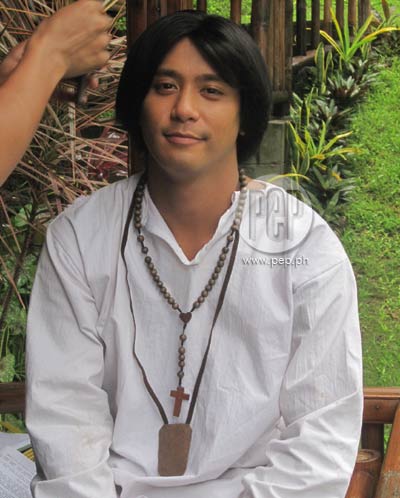 He accepts a souvenir from Israel from his co-star, Mercedes Cabral. While shooting scenes for the Cinemalaya entry Transit, Mercedes bought a very tiny bottle containing a scroll that bears Hebrew characters.

Upon learning that Transit was chosen as the Philippine entry to the Oscars, Rocco congratulates Mercedes.

Minutes later, we can hear voices of men chanting. It turns out that the actors playing Spanish soldiers are rehearsing the songs and prayers to be used during the Mass scene.

Rocco and Christian Vasquez (who plays Jesuit Father Diego Luis de San Vitores) sit down with a language coach so they can rehearse their lines.

They have to learn Spanish and Latin (for the Latin masses common during that time). Rocco also has to be familiar with the Visayan dialect since Pedro Calungsod hails from Cebu.
ADVERTISEMENT - CONTINUE READING BELOW

TEMPTATION. One of the huts is decorated with shell dividers to serve as the location for the first sequence of the day.

Mercedes Cabral and Johnron Tañada are tasked to wear their costumes as native Chamorros.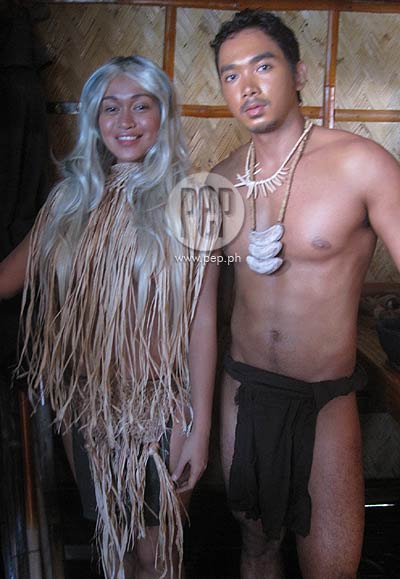 For this scene, Father Diego (Christian) is trying to convince Johnron's character to give up his mistress (played by Mercedes).

Since the eyesight of Father Diego is already failing, a rope is tied around his waist and the other end is tied around Pedro, who serves as the guide of the priest.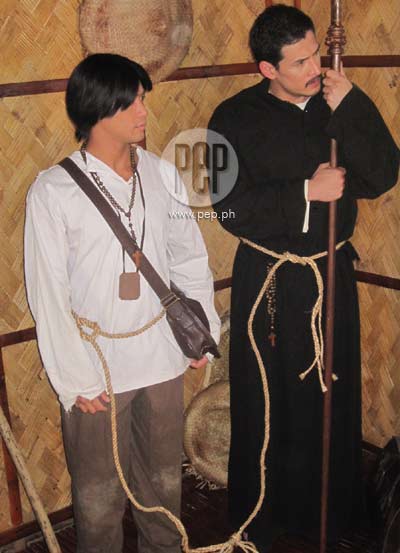 ADVERTISEMENT - CONTINUE READING BELOW

Johnron argues with the priest that he cannot give up his mistress. Mercedes then enters the hut to "kiss" Johnron passionately.
During the first take, Rocco and Christian giggle at the sight of Mercedes and Johnron "kissing" right in front of them.

Mercedes instructs Johnron not to move his head around too much so that it would appear as if they are actually kissing.

It takes a few more takes before they can finally shoot the scene without laughing.

Later on, Rocco admits that he was laughing because he has known Mercedes for a long time and he was not used to seeing her act like that.

Throughout the film, there will be various forms of temptations that will be depicted.

Pedro Calungsod: Batang Martir will open on Christmas Day, December 25.