Manila is a city that bursts with energy and danger, but it's also a city that is full of hope, dreams, and stories. People from all over the Philippines flock to this bustling metropolis in hopes of securing a better life for their family, to make it big, and to say goodbye to poverty.
Oscar Ramirez (Jake Macapagal), the protagonist of Metro Manila, has the same story. A struggling farmer in Banaue, he and his wife Mai (Althea Vega) leave behind the rice terraces to try their luck in the city, after barely making ends meet. The grit and grim proverty of Metro Manila welcome them with open arms, but after being deceived by swindlers, the couple realizes that a life in the city is no bed of roses.

Jake Macapagal as Oscar

Oscar finds a job as a driver for an armored truck company, while his wife ends up as a GRO at a local bar just so they'd be able to feed their two children.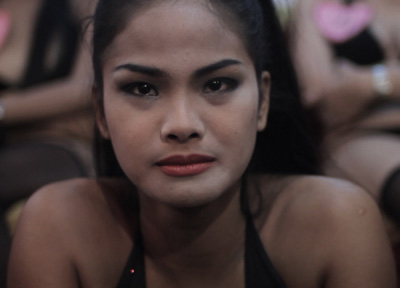 Althea Vega as Mai
Just when things seem to start looking up for the downtrodden couple, Oscar's manipulative partner Ong (John Arcilla) takes advantage of him, putting the morally upright Oscar in a bind. Being in one of Manila's most dangerous professions, Oscar faces the dilemma of either upholding his integrity or succumbing to temptation.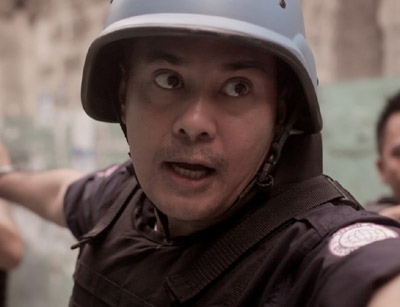 John Arcilla as Ong

Should he go along with his colleague's plans and end up like the many city scum Oscar has grown to despise, or should he take the high road and risk his—and his family's life—in the process?

At this point, the story departs from the usual "poverty porn" that a lot of Filipino viewers have grown accustomed to. Just like primetime telenovelas that have captivated Pinoy households for decades, the film ends on a bittersweet note but leaves room for hope.

A family man through and through, Oscar is able to give his family a ticket out of poverty in the end.
At the heart of Metro Manila is a simple, solid story that is realistic and quietly explosive in the end.
While the movie goes off to a slow start and may initially look like just any other film about a poor family struggling to survive in Manila, the fact that it ends on a promising note sets it apart from most movies that pay homage to the country's capital. After all, a lot of films simply focus on the city's poverty and the grim desperation of its people, eschewing the positive aspects of Metro Manila in the process.

Metro Manila, on the other hand, is a film built around the promise of hope, on solid family ties (that could sometimes be too close to a fault, but nevertheless a characteristic that any Filipino could easily relate to), and on a person's unrelenting dream to deliver his family out of poverty.
The film also works because of its solid cast. Jake Macapagal (as the naïve ex-soldier Oscar), Althea Vega (as the sympathetic Mai), and John Arcilla (as the exploitative Ong) did a great job in fleshing out realistic characters who are equally both endearing and tragic at the same time. What happens when people are pushed to the edge? The actors depict how people resort to desperate measures, when they're threatened to lose everything that they have.
The film features stunning images of the metropolis. Viewers are afforded a view of not only flashing lights and dark alleyways but also of skylines at sunrise. These images, interspersed with the plot, seem to act as chapters that help progress the story further. When Oscar first arrives at the city with his family, an early morning fog envelopes the metropolis, casting a somewhat otherworldly sheen on the city's dirty streets. Soon, the morning sun casts an imposing light on the city, and when things start to get desperate, we see the skyline covered in the harsh red glow of sunset.

The movie also intersperses flashbacks to another character's story (that ends up as a sort of driving force and moral lesson to Oscar's plot), which could be of interest to moviegoers.

This subplot is based on the true story of Reginald Chua. Driven by a pressing need to deliver his family out of poverty, Reginald ends up hijacking a plane, and his fate presents a strong parallelism to Oscar's own story.

Helmed by British director Sean Ellis, Metro Manila won the Audience Choice Award in the World Cinema-Dramatic category of the 2013 Sundance Film Festival.
While it is worthy to note that Metro Manila is the official entry of the United Kingdom to the 86th Academy Awards (under the Best Foreign Language Film category), there is more to this movie than meets the eye. Watch the film and see Metro Manila in a new light.

You'll never look at armored truck drivers the same way again.

Metro Manila will be screened in Philippine cinemas starting October 9, 2013.


(Related: Metro Manila being considered for Hollywood remake)