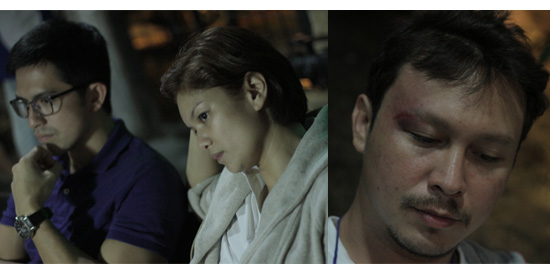 ---
I am not a fan of horror movies. I don't like being scared out of my wits with blood and gore and being made to jump by mindless surprises at every turn.
That being said, Brillante Mendoza's first film of the genre is not your typical horror movie.
Helmed by Cannes award-winning director Brillante Mendoza, Sapi attempts to examine the very nature of evil in all of its forms.
Sapi is set at the height of the rainy season in the Philippines. In fact, it was shot during the destructive monsoon rains or habagat in 2012.
Several footage show people and vehicles braving the flooded streets of Manila. For good measure, lightning flashes across dark, cloudy skies.
As the movie reveals, this kind of weather is apparently conducive to supernatural activity.
Through documentary-style filmmaking that uses unusual camera angles as well as "slice-of-life" editing, Sapi captures Metro Manila when the monsoon attacks.
It starts slowly at first, making us comfortable with the captured reality. Then, slowly, little supernatural occurrences come at unexpected times in a few scenes. Finally, the tension in the film builds up and climaxes with a mind-blowing image.
There are at least three issues that are discussed in the movie Sapi.
Foremost, of course, is the common occurrence of spirit possession, called "sapi" in the vernacular, and from which the movie title derives.
You would be hard-pressed to find a Filipino who does not know someone who has allegedly been possessed by a spirit at one point or another. From the countryside to the city, there is a fascination with the strong presence of supernatural forces in this tropical country of ours.
ADVERTISEMENT - CONTINUE READING BELOW
The cut-throat competition in the media industry is also examined here.
Dennis Trillo plays a neophyte reporter for SBN (Sarimanok Broadcasting Network) working with Meryll Soriano, who is cast as a TV producer.
Meryll and Dennis are pressured by network management to bring up their show's TV ratings. The two hope that documenting an actual spirit possession could help them slay the competition.
Baron Geisler is a cameraman from rival network PBC (Philippine Broadcasting Channel) who defies journalistic ethics by selling video footage to the competition. This sets off, to borrow a book title, a series of very unfortunate events.
Thirdly, the movie touches on the disjointed personal relationships in our modern world.
The characters are alone and lonely, with their professional lives bearing the big chunk of their real life. Outside of work, they are lost, quiet, disoriented, and, ultimately, deeply disturbed.
Sapi is replete with several recurring themes, like the presence of cold-blooded reptiles, otherworldly beings appearing and disappearing, and supernatural occurrences.
From witnessing events to becoming part of the bigger picture, the media practitioners in the movie realize what it means to be the subject of a story, rather than to be a mere spectator.
Sapi veers away from the usual screamfests offered by most locally produced horror films. This being a Brillante Mendoza film, social commentary and introspection are required of the audience.
Baron Geisler has his sleazy cameraman character down pat, especially when his character gets involved in a near brawl.
Meryll Soriano delivers a measured performance that never seems to overact nor overreact. For instance, when her character undergoes a traumatic experience one night, she wakes up the next day as if nothing happened, which, however, makes for very unnatural behavior.
ADVERTISEMENT - CONTINUE READING BELOW
Dennis Trillo brings a subtle vulnerability to his role as a novice on-air talent. Even when his character is revealed to have a gay benefactor, the actor keeps his performance under the radar.
In supporting roles, Ruby Ruiz and Flor Salanga shine in their "everywoman" experiences. Ruby gives a very realistic portrayal of the demonic possession of a high school teacher,. while Flor effectively rouses sympathy for her friend.
I once met a young man who was writing his thesis paper on the influence of Buddhism on Thai horror movies. It can be said that the thesis of the film Sapi is the unique situation, in the Philippines, created by the intersection of folk belief with Catholic religiosity.
Indeed, we purport to be "Westernized," yet still cling to many practices from centuries past and age-old wisdom passed down from our ancestors.
Through Sapi, foreign moviegoers (and even Pinoys) will appreciate a more in-depth examination of the Filipino psyche.
The film had its world premiere at the Toronto International Film Festival, and to date, it has been exhibited in Busan (South Korea), Rio de Janeiro (Brazil), and Sitges (Spain).
It will also be exhibited in Brisbane (Australia), Taiwan, and Switzerland.
Considering recent national events surrounding the misuse of public funds, the film Sapi may also be said to be relevant to all Filipinos.
In a sense, Brillante becomes a "whistleblower," as his film reveals the greedy behavior and under-the-table deals made in the name of the network war.
And, knowing that these events do happen in real life makes Sapi even more chilling.
ADVERTISEMENT - CONTINUE READING BELOW
Sapi is rated R13 by the Movie and Television Review and Classification Board.
A co-production between Solar Films and Centerstage Productions, this horror-drama is currently being screened in Philippine cinemas.
(Read related article: Dennis Trillo, Meryll Soriano, and Baron Geisler witness spirit possessions and exorcisms for Brillante Mendoza's Sapi)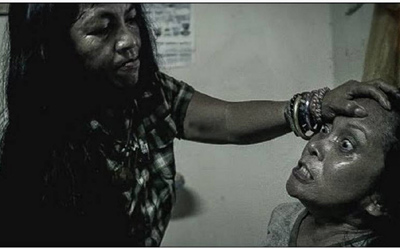 Ruby Ruiz (right) plays a teacher who is possessed in Sapi