The period drama Angustia, starring Alex Medina, received an initial X rating from the Movie and Television Review and Classification Board (MTRCB).

At press time, Kristian Cordero, the director of Angustia, is in a meeting with the MTRCB regarding the possibility of reclassifying his film.

Angustia is one of the films competing in the 9th Cinema One Originals Festival, which is ongoing now at Trinoma, Robinsons Galleria, and Trinoma.

As a result, the premiere of Angustia scheduled for tonight, November 12, has been cancelled.

In its place, the Vivian Velez-starrer Bendor will be screened at Robinsons Galleria tonight at 7:30 p.m.

Bendor, directed by Ralston Jover, is about a candle vendor named Blondie (played by Vivian Velez).

She sells candles near Quiapo Church. On the side, she also sells illegal pills of Cytotec (an abortifacient) to desperate pregnant clients.

Ronald Arguelles, Cinema One channel head and festival director, assured the public that the film Angustia will still be shown before the film fest ends on November 19.

In his Facebook account, Mr. Arguelles announced:

"ANGUSTIA will not premiere tonight at Robinsons Galleria because of its initial X rating from MTRCB. It will be replaced by BENDOR at 7:30 pm. Angustia will still be shown in the festival after its reclassification."

The film Angustia is scheduled to have its new premiere on November 13 (Wednesday) at 7:30 p.m.



CONTROVERSIAL FILM. Directed by Kristian Cordero, Angustia is set during 19th century Bicolandia where a friar finds himself falling for a woman of indigenous origins.

Alex Medina plays Don Victorino Fernandez, a secular priest who is also an avid collector of plants.

He is assigned to Bicol to convert the Agta (natives who reside in the forests surrounding the towns) to Catholicism. While completing his mission, the priest gets entangled in forbidden passions.

During the November 5 press conference for Cinema One entries, Alex revealed that he shot a love scene with his co-star Mitch Smith (who plays a native Agta) for this film.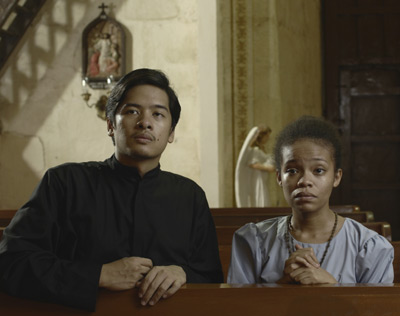 Alex Medina with Angustia co-star Mitch Smith


The film also stars Maria Isabel Lopez, who is cast as a babaylan (native priestess).

During the said press con, Maria Isabel said about her role, "Ako si Natividad, caretaker siya ng kapilya kunsaan nagse-service si Padre Fernandez, played by Alex Medina.

"At the same time, nagtatrabaho ako bilang babaylan at nagri-ritual ako."

Through her Facebook account, Maria Isabel lamented the fact that Angustia received an X rating.

The actress also pointed out that Direk Kristian is currently in the process of "re-editing" scenes of the movie.

Here is her Facebook post, published as is:

"I am so saddened with the cancellation of our premiere tonight, Kelan pa mangyayari sa Pilipinas ang "Free the Artist Movement?" I've had this problem with my films during the 80s.. It's already 2013... After 3 decades in the industry... ganito kami noon.. Ganito pa rin ngayon.

"Instead it will have its premiere tomorrow Wed 7pm at the same venue Robinsons Galleria cinema8. MTRCB X rating as the reason. My director is 'sanitizing' the film and re editing scenes appropriate to the Catholic Church and the Movie Tv Review & Classification Board."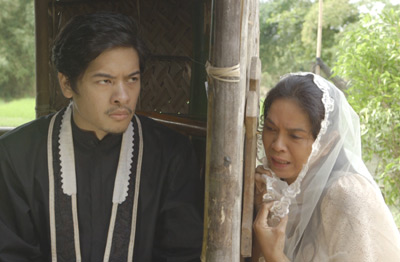 Alex Medina and Maria Isabel Lopez in one of the scenes of Angustia