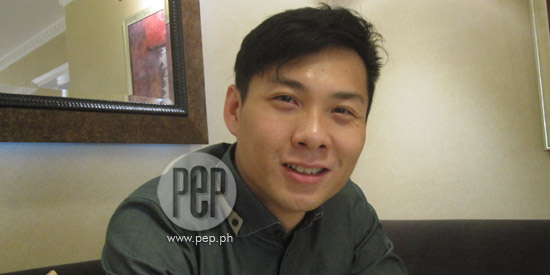 ---
Singaporean director Anthony Chen is in Manila for the Philippine premiere of his Cannes award-winning film Ilo Ilo.
Chen is accompanied by Filipina actress Angeli Bayani during the film's screening of Ilo Ilo tonight, November 13, at Robinsons Galleria.
Angeli plays a major role in the film as the Filipina nanny who works for a Singaporean family. Her character is initially bullied by her ward (played by young actor Koh Jia Ler).
Singaporean actor Chen Tianwen and Malaysian actress Yeo Yann Yann are cast as her employers.
The family drama won the Camera d'Or award at the 66th Cannes Film Festival.
The jury citation for Ilo Ilo read: "The director's intelligence and sensitivity bring forth very important issues—childhood, immigration, class struggles and the economic crisis."
Ilo Ilo will also represent Singapore in the Best Foreign Language Film category of the 86th Academy Awards.
PEP.ph (Philippine Entertainment Portal) had the chance to have a sit-down interview with Chen earlier today at the Maxim's Hotel, Resorts World Manila.
ADVERTISEMENT - CONTINUE READING BELOW
The 29-year-old filmmaker broke into a smile when asked to recall a particular moment in his life that prompted him to write the screenplay of Ilo Ilo.
"I started working on the script of the film in June 2010.
"A lot of childhood memories came flooding into my head, I don't know why.
"At one time, childhood comes back to haunt you," he said with a boyish grin.
In another interview with Angeli Bayani, the actress hinted about about the differences between Singaporeans and Filipinos.
(Read: PEP EXCLUSIVE: Angeli Bayani develops close bond with Singaporean boy in the film Ilo Ilo)
Angeli's character is inspired by Auntie Terry or Teresita Sajonia, the real-life Pinay nanny who took care of Anthony Chen when he was growing up.
The director described his film as "loosely inspired by his memories from childhood."
During PEP's chat with Chen, he openly talked about how every Chinese family in Singapore would have a cane at home, a handy tool for disciplining children.
ADVERTISEMENT - CONTINUE READING BELOW
Singapore also uses caning as a form of legal punishment.
Here are excerpts from PEP.ph's interview with Anthony Chen:
What inspired you to make a movie about Auntie Terry?
Chen: "I remember this Filipino nanny that we had in our home for eight years. She came when I was four and she left when I was twelve.
"It's quite a long time and I thought, there was something complex about this relationship. There was something I couldn't quite understand so I went about to investigate."
What was Auntie Terry's reaction to the film?
Chen: "She saw the film during the gala in Singapore. The venue had 1,600 seats. Cebu Pacific actually sponsored a flight to bring her to Singapore. She said something like, 'You made me laugh, you made me cry.'"
Is everything shown in the film faithful to what happened to your family in real life?
Chen: "No, I don't think you can take real life and make it into a film.
ADVERTISEMENT - CONTINUE READING BELOW
"Because real life doesn't fit into a narrative structure. My real life as a child is much more boring."
Is caning a normal practice among Singaporeans?
Chen: "Every Chinese family in Singapore would have a cane at home.
"It will happen. There's no way a Chinese family in Singapore would not have a cane.
"In the film, when the mother hits Jia, it's very common."
Was young actor Koh Jia Ler really caned for the movie?
Chen: "We really hit him but he had protective pads.
"I wanted the scene to be as true to life as possible. Everything for me, is very naturalistic and I wanted it to be as authentic as possible."
What is your reaction to the fact that your film is being considered for the Best Foreign Language Film category of the Oscars?
Chen: "I am very grateful for this fantastic journey of our film. One year ago, I was still in the editing room, I didn't think I was expecting this.
ADVERTISEMENT - CONTINUE READING BELOW
"It's incredible...
"It is very tough for a Southeast Asian film to make its mark on the world.
"This film has done very well in the box-office in France. It got 6,000 Euros in France."
ON ANGELI BAYANI. According to Chen, he was able find connections in the Philippines through his friend, Filipino filmmaker Sheron Dayoc.
How did you conduct auditions for the role of Terry?
Chen: "We didn't have a lot of money so me and my producer bought budget airline tickets to Manila. I rang up a good friend of mine who is an independent filmmaker, Sheron Dayoc.
"I told him to help me look for actresses and he lined up 30-40 actresses to meet.
"We didn't have money to find an audition space so we stayed in a cheap hotel...
"I remember that during that weekend, we had women walking in and out of my hotel room. It's like so dodgy!
ADVERTISEMENT - CONTINUE READING BELOW
"Angeli was the last one I met here in the Philippines, very late at night on Sunday and I had to fly out of the Philippines by Monday morning.
"She almost didn't make it since she was in a theater play at that time. She was very tired but eventually she came.
"She was very tired so she was very relaxed and natural.
"I didn't make a decision right away. I went back home and watched the audition videos and eventually, I decided upon Angeli."
What did you see in Angeli?
Chen: "I like the fact that there's this glamourous side to her but there is also this very ordinary side to her.
"If you look at the film, she looks so ordinary. She really looks like an OFW and I appreciate that.
"She also told me about her background: that she's a single mother with a young child.
"I was thinking, 'That is similar to the character of the film that I wrote. If I were to pull her away from the Philippines and put her in Singapore for a month, she would miss her home and her child and that's very good for the kind of performance that I want."
ADVERTISEMENT - CONTINUE READING BELOW
The province in the Philippines is spelled out as Iloilo but he chose to use Ilo Ilo in the title. Why is that?
Chen: "I deliberately split it because it was an aesthetic decision...
"It was more of a creative decision since when you type it out, you can't tell which is the L and which is the I.
"For overseas foreigners, at least they can now read it properly."
Do you always have to explain why Ilo Ilo is the title of his movie?
Chen: "That is the first question I get all over the world. I have done at least 40 Q&A all over the world...
"It's great coz now you have one small film from Singapore that suddenly put Iloilo on the world map."