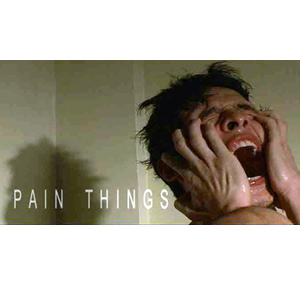 ---

The indie film Pain Things, written and directed byJon Red, will have its regular screening on November 14 to 20 at the IndieSineof Robinsons Galleria, Ortigas Center, Quezon City. It was one of the five entries to this year's DigitalLokal of the 9th Cinemanila International Film Festival.
This 60-minute digital film is the seventh full-length workof Jon Red, who studied painting at the Philippine High School for the Arts andthe University of the Philippines. He attended film workshops at the MowelfundFilm Institute. Jon is known for writing the screenplay of Ilusyon(2005) and for directing the surreal film Cut (2005).
SYNOPSIS. Color-blind: Frank (Christian Vasquez) struggles to finish hisdocumentary on the painter Benjie, whom he looks up to. He wants to becomeBenjie (Michael de Mesa).
Love is blind: Frank is seduced by Julia, who lives withBenjie. But in reality, he misses Jenny, who just left him.
Heart-wrenching. Mind-boggling. What is essential isvisible.
Written and directed by: Jon Red
Production: Filipino Pictures and Pelipula
Produced by: Bernice Ilagan, Manie Magbanua, Jr., Francis Magalona & Carol Bunuan Red
Cinematography by: Ogi Sugatan
Production design by: Danny Red
Sound & editingby: Manie Magbanua, Jr.
Music by: Bong Rosario, Otto Hernandez
Cast: Christian Vazquez, Che Ramos, DianaMalahay, Paolo Villaluna, and Michael de Mesa