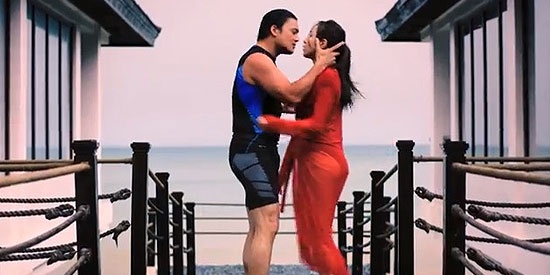 ---
It seems like the trend these days in drama films is to tackle extramarital affairs.
This topic is the subject of When The Love Is Gone, which opens in cinemas this Wednesday, November 27.
Although a lot of movies released recently depict illicit affairs, When The Love Is Gone can hardly be accused of simply riding on the bandwagon because it is a remake of the 1983 Filipino movie Nagalit ang Buwan sa Haba ng Gabi, which starred Gloria Diaz, Dindo Fernando, Laurice Guillen, and Eddie Garcia.
The original version was written and directed by multi-awarded director Danny Zialcita, who passed away last March 10, 2013, at 73 years old.

The 2013 version is directed by Andoy Ranay and produced by Viva Films.



THE PLOT. When The Love Is Gone stars Gabby Concepcion, Cristine Reyes, Jake Cuenca, Andi Eigenmann, and Alice Dixson.

It is the story of Emman (Gabby) and Audrey (Alice), a loving couple whose marriage turns cold because Audrey becomes so engrossed with her business. She eventually fails to give quality time for her husband and their daughter Jenny (Andi).
This prompts Emman to seek his need for intimacy and affection from a much younger and equally beautiful woman, Cassandra (Cristine). Cassie (Cassandra's nickname) has just ended her marriage with Yuri (Jake), an aspiring politician with a dark secret.

Things get out of hand when Audrey discovers Emman's illicit affair with Cassie.

Things become even more complicated when Audrey tolerates her husband's infidelity, on the condition that the couple pretend that they are still together for the sake of their daughter.

Jenny eventually finds out and rebels against her parents.
ADVERTISEMENT - CONTINUE READING BELOW
This difficult set-up takes its toll on everyone involved. Reality bites as the result of each character's different choices unfold and directly affect the web of relationships and commitments of the characters.
ASSESSMENT OF CAST. Gabby and Alice, who play the married couple, are able to make their onscreen chemistry work.
They previously played love interests in the 1988 film Nagbabagang Luha, together with Lorna Tolentino.
Gabby's youthful appearance belies his age. At 49 years old, the former matinee idol remains confident (and he should be!) during his topless scenes and scenes requiring him to don revealing underwear.
The camera still loves Alice, 44, as evident in her scenes and has succeeded in establishing the transformation of her character.
However in certain scenes, it seemed obvious that Gabby and Alice were "acting" and their movements did not appear natural.
There were also scenes when their emotions seem lacking such as in some of Alice's crying scenes.
Cristine is able to pull off the demands of her character: desirable, fierce, and seductive. It is as if her role is second nature to her.
Andi, who plays the rebellious daughter, is impressive with her performance, although this is not the first time that she played this kind of role.
She portrayed characters of the same nature in the teleserye Kahit Puso'y Masugatan (2012) and in the movie A Secret Affair (2012).
Newcomer Anton Revilla—daughter of former actress Princess Revilla and nephew of Senator Ramon "Bong" Revilla Jr.—who is cast as Andi's love interest is able to deliver the emotions needed for his role.
ADVERTISEMENT - CONTINUE READING BELOW
However, for me, the most convincing performance in the film is that from Jake Cuenca.
He may have fewer scenes in the film compared to other stars, but he gave justice to his role: a budding politician who tries to hide his homosexuality by marrying Cassie.

After appearing in the gay-themed movie Lihis, Jake has mastered the nuances of giving a convincing portrayal of a homosexual.
The twists in the story are definitely something to watch for and these separate When The Love is Gone from other drama movies also tackling the same theme.
The fast pacing of the movie is also commendable, and even the dramatic moments do not feel dragging.
Featuring a good cast, a good script, and smooth pacing, When The Love is Gone is worth watching despite the proliferation of movies about extramarital affairs nowadays.