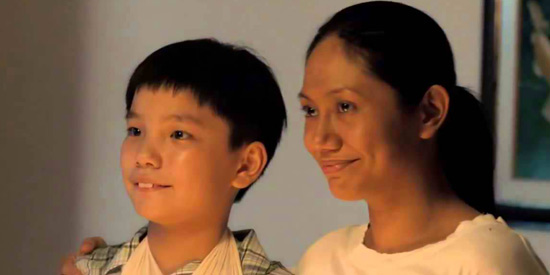 ---
Overseas Filipino Workers are an everyday reality for us.
They are an important part of our society for many reasons: economically, they keep our country afloat; socially, the situation created by their migration has affected many children and spouses and extended families, changing the landscape of our relationships.
After all, who among us does not know at least one OFW? Many of us are, in fact, directly related to them.
This phenomenon has been the subject of a number of Filipino films, among them: Caregiver starring Sharon Cuneta, May Nagmamahal Sa Iyo starring Lorna Tolentino, and The Flor Contemplacion Story starring Nora Aunor.
Then, there are characters that have figured in other movies as secondary or supporting cast members.
The OFW is part and parcel of the Filipino experience.
Not so in Singapore, the home country of Ilo Ilo director Anthony Chen.
He has revealed that this is the first movie of its kind to come from his motherland.
Set during the Asian financial crisis of 1997, Ilo Ilo revolves around a middle-class Singaporean family that employs a Filipina domestic helper.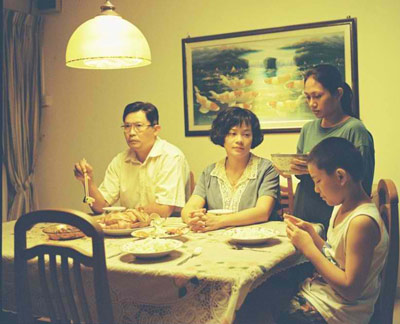 (L-R) Chen Tianwen, Yeo Yann Yann, Angeli Bayani, and Koh Jia Ler
ADVERTISEMENT - CONTINUE READING BELOW
Angeli Bayani shines as Teresa/Auntie Terry, the typical Filipina domestic helper, who leaves her child among relatives so that she can work abroad to earn more money to support her family.
But Angeli avoids making a caricature of the "bagong bayani" archetype.
She breathes life into the character. Her Auntie Terry jokes around with her ward, she smokes, she shows attitude when necessary.
She is not reduced to tears by the bullying of her ward, nor does she remain the compliant outsider in that family's inner circle.
Ilo Ilo provides balance by showing both perspectives: that of the Singaporean family encountering personal and professional problems, as well as that of the Filipina nanny who agrees to be separated from her family for the promise of a better life.
The writing, also by Anthony Chen, is tight, with everything coming together at the end.
It is an impressive first full-length feature from the 29-year-old director, who shows a nostalgic yet fully-informed portrayal of life with a nanny.
After all, it was inspired by Anthony's own Pinay nanny who hails from Iloilo, hence the title of the movie.
Koh Jia Ler plays Jiale, the boy dealing with puberty and the lack of time of his parents for him, among many other changes around him.
Koh exhibits immense depth. He displays rage, sadness, and happiness without overacting. His acting is natural and flawless.
Viewers will be frustrated by him in the early part of the movie, then feel empathy for him in the latter part.
ADVERTISEMENT - CONTINUE READING BELOW
As Terry's surrogate son, he receives the love and care that she is unable to give her own child; in turn, he receives it wholeheartedly, as his parents are too caught up trying to stay afloat in a threatened economy.
Chen Tianwen, who is cast as the father, also resists being a one-dimensional character. At first, he seems to be coasting as the dominant male, but eventually, as the layers of his character are peeled, his raw emotions are revealed.
Yeo Yann Yann is cast as the pregnant mother who is feeling the burden of the financial crisis. She portrays her role as the stern mother very well.
She communicates frustration and desperation with just the right amount of emotion on her face. She also delivers her lines deliberately and precisely.
Through the use of props and through the overall set design, viewers are brought back to the time when the Asian financial crisis gutted Singapore.
Anthony's attention to detail—from the appliances used in scenes to the relevant fashion and to the Tamagotchi toy that figures in an important scene—is impressive.
As Filipinos, we watch this movie with particular empathy for Terry. I am very curious as to how Singaporean viewers appreciated this movie that depicts the struggles of nannies: a very important, albeit ignored, figure in society.
According to Anthony, Ilo Ilo broke records in his native land as the most successful arthouse movie.
In some ways, we welcome Ilo Ilo to our shores because it is also our own. The title already refers to a spot in our country, even if it is a spot that is never once shown in the movie.
ADVERTISEMENT - CONTINUE READING BELOW
For another, the most outstanding actor in the movie is our own kababayan.
Angeli has proven her acting mettle many times, but perhaps what makes this performance stand out is her genuine portrayal of a mother separated from her son.
In real life, Angeli is a mother of a young boy, and her working in Singapore for a month, without him nearby, had a huge impact on her performance.
She was vocal in saying that she had feelings of melancholia and loneliness, as she acted in the film as a foreigner, in a foreign land, working with a foreign production crew.
This may be considered another factor to explain why she was able to portray a lonely DH so well.
Many of our countrymen live and work as domestic helpers in Singapore. It is heartening to hear Anthony say that many Singaporeans came out to watch the film. So much so that the movie played on an extended run.
Perhaps it gives Singaporeans a better understanding of the similarities, rather than the differences, in our motivations: to work for the benefit of our families.
It is also a credit to Anthony that he sidesteps the pitfalls of melodrama, and makes this movie a moving portrayal of life in a family with an outsider who, although a part of their life for only a while, has a lasting impact on their lives.
Ilo Ilo will open in Philippine cinemas starting December 4, 2013.