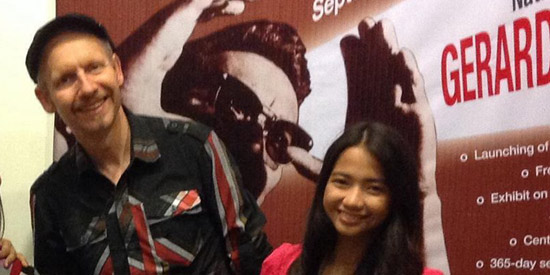 ---
"He fucked me! He fucked me hard!"

This is one of the most shocking lines delivered by Sandy Talag's character in the Dutch film Lilet Never Happened.

At a very tender age, former StarStruck Kids contestant Sandy has portrayed a very daring role: that of a child prostitute.

Sandy was 11 years old when she auditioned but she was very hesitant to do the movie because of its mature content and the graphic language used.

Still, when she finally bagged the role, Sandy committed herself fully to the project that would take three years to complete.


(Read: PEP EXCLUSIVE: Dutch director explains why he chose Sandy Talag to portray child prostitute in Lilet Never Happened)


In a press conference held at the Cultural Center of the Philippines last November 28, Dutch film director Jacco Groen admitted that he saw something in Sandy's eyes that made him choose her among the 400 girls who tried out for the part.
According to Groen, "When Sandy came for audition, we had so many girls, about 400. We auditioned street children…When I saw Sandy, [she] was for me not just a pretty girl…there was something behind her eyes…When Sandy did a scene, there's drama behind it that makes her a good actress for this role."
The film director was proven right when Sandy won the Best Actress award at the 2013 Oaxaca International Film Fest at the young age of 15.
When Sandy is asked where she draws the emotions required for her role, she describes the experience that pushed her to look at life with a mature perspective.
"Siguro po sa napagdaanan ko po sa buhay. Kasi, namatay po Dad ko when I was 8 years old. Nung namatay po si Dad, parang nagbukas po isip ko sa totoong buhay na `di lagi fantasy nangyayari, even though `di mo gusto talagang mangyayari.
ADVERTISEMENT - CONTINUE READING BELOW
"Tulad po sa Lilet, yung movie na ito, `di naman ginusto ni Lilet na ganito mangyari sa buhay niya. Kaya po ako naging mature.

"Nakita ko mommy ko na nahihirapan, tapos ang bata pa po namin magkapatid...na parang walang tutulong sa kanya, dapat kami lang. Simula po nun, naging mature na po ako sa buhay."
Sandy also admits that at the time of her auditions for Lilet Never Happened, she didn't feel confident about her acting skills.
"To be honest, when I auditioned for this part, for this kind of film, I was frightened, terrified, I wasn't confident about myself.

"I started acting since I was 4 [years old], and since I was 4, all the genre I was playing on TV was always drama, always crying.
"To be given an opportunity to play a hard role like this, child prostitute at 11 years old is just insane!
"I don't know what a child prostitute does. What should I do? What should I say? When I accepted this role, I was not confident about myself. [I felt] I'm not that versatile. But it challenged me. Everyday I was shooting a hard scene for this film, I was really challenged.

"When this film got finished and I saw [the final film, I realized], wow, I'm versatile. I'm really, really honored that...the audience was giving me positive feedback about my acting. I feel honored and so blessed."
Sandy describes the difficulties of shooting this Dutch film, specifically her scene with a police officer.
"I think every scene on that film was the hardest…the most hardest (sic) was when I was wearing a gown made by Alice [Marife Necessito's character] and a police officer was forcing me to do something.

"That's the most hardest for me. I can't do research, I can't ask questions. Every time I'm on the taping set, I'm confused. If I say something and the crew will be laughing, I was like, `What happened?' When I ask them, they were like, `We can't say it to you. You should be innocent.' It was really confusing."
ADVERTISEMENT - CONTINUE READING BELOW
After shooting Lilet Never Happened, Sandy wants to share the lessons while working on this film. She advocates for kids to become more aware of current social issues, especially about child prostitution.
"I think as youth I need to stand up for [kids pushed to child prostitution]. That is the lesson I learned from this film.
"Yung kasabihan natin na kabataan pag-asa ng bayan. I think that's really true. If you're [part of the] youth, you shouldn't be sitting pretty and doing nothing. You need to help [your] fellow countrymen & government.."
Sandy recommends kids to watch the film Lilet Never Happened.

If given an opportunity, she would also like to give President Noynoy Aquino a copy of the film to help raise awareness about the situation.
"This film was made to be an eye opener for everyone not just the government. If I'm given an opportunity to say something to President Noynoy, I think I will say to him, 'you should watch this film.' I'll give him the DVD.

"If I'm given the opportunity to say to him face to face after watching the film, I'll say, he has the power. He is the leader of our country. If he has that kind of power, he should use it…As far as I know, [prostitution] is one of the oldest profession. He really needs to do something…sooner or later. If this gets worse, this will be a nightmare to everyone."
TARGETING THE YOUTH. Director Jacco Groen intentionally made the film as a warning for young girls not to enter prostitution.

He has received positive feedback from kids who have seen the film but he feels disappointed when the movie is not allowed to be seen by kids younger than 16 years old.
"I made it for a young audience to make it accessible. The young people really I saw many times being totally moved by the film. Sandy saw it as well.
ADVERTISEMENT - CONTINUE READING BELOW
"There was one Youth Film Fest that picked up the film. The film won for the youth jury and the youth jury was between 14-18 years old. In Holland, the film was for 12 years old.
"We had several discussions in classrooms. I was a little bit disappointed…when you see a rating [of] 16+ when you know these kids already see worse things in [the] internet when this film is supposed to be a warning."
Lilet Never Happened was chosen as Best Youth Film in the 2013 Kristiansand Norway Youth Film Festival; it won the Audience award for Best Film in the International Youth Film Festival in Auburn, Australia. It was also declared Best Youth Film in the Buster Youth Film Festival in Copenhagen.
Sandy has been to numerous international film festivals in Amsterdam, Netherlands, Warsaw, Poland, Denmark. She also attended classroom discussions and school screenings in Holland to create awareness of the film and its anti-child-prostitution message.
She points out that the most memorable moments in international film festivals are the times when she makes friends with people from other nationalities. She also relishes the opportunity for her to hear how viewers appreciate her work.
What is the best compliment she received so far?
"Ako daw po in real life parang innocent na bata, pero yung [acting ko] parang totoo daw. Akala nila parang documentary daw ginagawa ko…"
Aside from acting opposite Filipino stars John Arcilla and Marife Necesito, , Sandy also worked with award-winning Dutch actress Johanna ter Steege who gave her valuable acting lessons on set.
"[I learned from Johanna] Paano um-acting [na gamit lang ang] mata."
With Sandy Talag's early success, how does she see herself in the future?
"Ambitious po ako. Nakikita ko sarili ko maging international singer-actress."