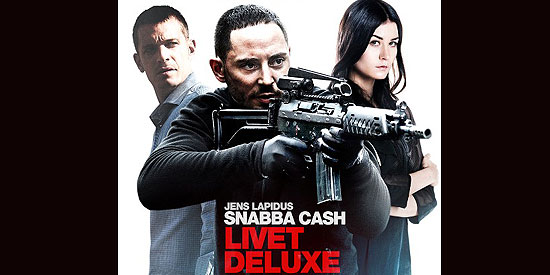 ---
A special screening of the film Life Deluxe was sponsored by cable channel CinemaWorld at Teatrino, Greenhills, San Juan, last Tuesday, December 3.
The said event also served as the movie channel's way of unveiling its lineup of highly acclaimed films from Europe this December 2013.
Known for offering a diverse selection of movies from different parts of the globe, CinemaWorld has come up with a number of well-received and multi-awarded movies to cap off 2013.
The special screening of Life Deluxe last Tuesday is a prelude to the movie channel's offerings for the last month of the year: movies that have won favour among critics as well as flicks that are known for being award-winning and box-office hits.
Life Deluxe is the final instalment in the Easy Money trilogy, which is based on Jens Lapidus' best-selling novels.
This Swedish thriller features different characters whose lives are interconnected due to a series of events.
The story opens with Johan Westlund or JW (Joel Kinnaman)—a promising student at the Stockholm School of Economics, in Sweden—who lives in exile and is determined to find out what happened to his missing sister, Camilla.
Clues lead him to the world of organized crime in Stockholm.
Meanwhile, a petty crook named Jorge (Matias Varela) is about to make the largest robbery in Swedish history.
But his mission becomes complicated when he falls in love with a woman from his past.
Martin Hägerström (Martin Wallström) is an undercover agent who aims to penetrate the Serbian mafia and put its leader, Radovan Krajnic (Dejan Cukic), behind bars.
However, an affair ensues between him and Radovan's daughter, Natalie (Malin Buska), which could interfere with his mission.
Here are the other films to be shown on CinemaWorld this December 2013:
Black Diamonds – Moussa and Amadou leave their country in Africa for Madrid, Spain, to fulfill their dream to play football. However, their dream turns into a nightmare when they find themselves in a seedy business of the game.
ADVERTISEMENT - CONTINUE READING BELOW
The movie—which depicts how African children are trafficked to Europe to play football—is the winner of the Special Audience Award at the Malaga Spanish Film Festival this year. The film premiered on December 1, at 9:00 pm.
Imagine - Ian, a special instructor, practices unconventional means to help visually impaired students in a school in Lisbon to gain confidence and become self-reliant. But the students begin to doubt Ian as two of the students leave their safe place for the busy metropolis.
Imagine is the winner of the 2012 Warsaw International Film Festival's Best Director and Best Fiction Feature Film awards.
It starts airing on December 15 (Sunday) at 9:00 pm.
The Children of Diyarbakir - When 10-year-old girl Gulistan, her younger brother Firat, and their baby sister become orphans because their parents were shot in front of them by paramilitary men, their happy lives in Diyarbakir, Turkey, take a 180-degree turn.


Their young aunt, who is also politically active, tries to find a way for them to settle in Sweden, but suddenly disappears without a trace.
Soon, the three children find themselves on the streets with no one to take care of them but themselves. Will they find justice for what happened to them?
The film begins airing on the cable channel by December 22 (Sunday) at 9:00 pm.
Sources of Life - A veteran soldier, Erich, feels like a stranger in his own hometown after being away. Through him, his children and grandchildren experience the milestones in the history of the Federal Republic of Germany.
The film was nominated at the recent German Film Awards for Best Makeup, Best Performance by a Supporting Actress and Outstanding Feature Film. It premieres on December 29 (Sunday) at 9:00 pm.
To know more about CinemaWorld, log on to www.facebook.com/CinemaWorldAsia, www.cinemaworld.asia or follow @CinemaWorldAsia.
ADVERTISEMENT - CONTINUE READING BELOW