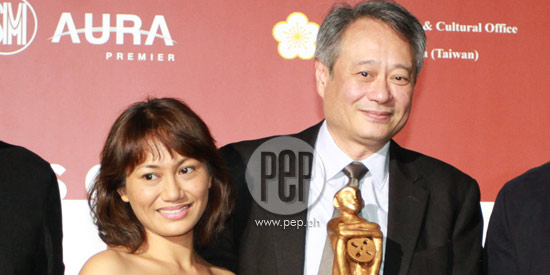 ---
Since Angeli Bayani starred in the Singaporean film Ilo Ilo, she has been nominated for the Best Actress award in the 56th Asia Pacific Film Festival.

In fact, the Filipina actress is competing against Zhang Ziyi in the 56th Asia Pacific Film Fest.

In this film helmed by Singaporean director Anthony Chen, Angeli plays a Filipina nanny working for a Singaporean family. Her character is initially bullied by her ward (played by child actor Koh Jia Ler) but he eventually warms up to her. The closeness of the two eventually makes the real mother of the boy jealous of their bond.

Angeli was recently in the Middle East for the film's screening at the Dubai International Film Festival.

The film Ilo Ilo also competed in the 50th Golden Horse Awards where it won four awards, including Best Picture.

Oscar-winning director Ang Lee was the head of the jury of the Golden Horse Awards held in Taiwan. When Ang Lee came to the Philippines to receive the Lino Brocka Award, Angeli was present at the awarding ceremony held in SM Aura.

When Ang Lee received the trophy, he reached for a microphone to tell the Philippine media that Angeli was brilliant in Ilo Ilo and that she is "a national treasure."

In the press conference held in Resorts World Manila last December 2, Angeli explained how her life has changed since the release of the film Ilo Ilo.
"A lot has changed since all this happened. On the home front, everything is still pretty much the same. I do plan to go back and do theatre. I already began reading for a play. I hope to be able to do this new exciting play with Repertory Philippines. It's going to be my first time [with them].
"Strangely because of this film…medyo napansin tayo ng konti...ang naging projects na tumawag ay 'di pelikula kundi mga plays. Doon ako natutuwa kasi I've been looking forward to going back to theater for a long time. This is really exciting for me. That's what's next for me."
ADVERTISEMENT - CONTINUE READING BELOW
This 2013, Angeli Bayani was mostly seen in a string of independent films such as Lav Diaz's Norte: Hangganan ng Kasaysayan, Sari and Kiri Dalena's The Guerilla is a Poet, Mel Chionglo's Lauriana, and Adolfo Alix's Porno.
She compared the process of shooting films locally and how it was to work with an international crew. She describes her experience in the film Ilo Ilo as "enriching"
"I learned so much...You know you're all familiar with the way we do tapings and shoots. Iyong hanggang kaya, tatapusin yung mga sequences.

"With Anthony, we really tried to stick with the schedule of a six-day work week and we have a rest day. That kind of thing sinusunod namin mga oras para `di masyado pagod mga tao. Kung 12 hours lang, 12 hours lang. Dito `di ganun. Iyong mga ganun na-appreciate mo. Because you get to see what it could be like na pwede gawin dito, sana. I also appreciate work ethic nila."
Besides being described as a "national treasure" by Ang Lee, Angeli also had the rare opportunity to meet and personally thank the internationally-renowned director. She candidly recalls how she was rendered speechless upon meeting Lee.
"I have no words to describe what it was like. Honestly, I was so tired because of all the traffic and then I was running. I was trying to make it on time. All of a sudden, he was right in front of me and then I couldn't speak. I couldn't say a single thing.

"I just kept saying, `Thank you, thank you.' Oh my God! Lumipad utak ko!
"After a while I had some sense to say something, like I'm so honored to meet him. Parang kulang pa nga, e. For me, it's not enough to say I was honored to meet him. If there are more bigger words to say, I wish I can think of them now. It's such a blessing..I'm just so thankful. I don't know why it happened."
ADVERTISEMENT - CONTINUE READING BELOW
ALMOST NOMINEE. Singaporean director Anthony Chen revealed that Ang Lee liked Angeli Bayani's performance so much that the jury head wished she was nominated for the Golden Horse—considered as the Chinese version of the Oscars.
"In Cannes, we tried so hard to take a picture with [Ang Lee]. We managed to squeeze a picture with him. He said he really, really liked the film because he's the jury president of Golden Horse. He really liked [Angeli's] performance, even though he really hoped she's nominated for Best Actress in the Golden Horse. But on the nominations on jury panel, I think she missed out on the nomination by one vote. That's how close she was.
"I hope this opens up more opportunities for Angeli in the Philippines and possibly outside the Philippines.
"The great thing, now she's nominated for the 56th Asia Pacific Film Fest...she's up against notable Asian films. She's fighting against Zhang Ziyi in Wong Kar Wai's The Grandmaster. If [Angeli] wins—[she's] won the war."
Chen detailed how he was impressed by Angeli's audition and the reason that prompted him to choose her among all the actresses who tried out for the part.
"She impressed me with the audition I guess because she's so tired [she was the last to audition], she wasn't really processing the scenes we're trying to do. She just came in very raw. I was impressed by how raw the emotion was. I think it's great."


He also jokingly suggests a useful tip to actresses who want to bag a role in an international film.
"I think actresses, when they're going to audition—go very late at night when you're very, very tired—don't go in fresh."
ADVERTISEMENT - CONTINUE READING BELOW
Angeli adds in jest: "Run a block, twenty times."
Director Anthony adds: "So maybe when you don't try too hard, maybe you'll get the role."


How was it like working with Angeli?
"It was great. I treat all my actors the same. I torture all of them the same way. I push them really, really hard to their limits. The performance you see on the film is true. Doing takes and takes and basically stripping away whatever performance they try to put on. Basically, as I keep stripping that away, what you see is something that is very raw, very authentic that is almost back to basics. Whatever they're trying to create inside that doesn't come out, what you have is something very, very organic."
Angeli confirms Chen's directing style and appreciates his efforts to "torture" her and the crew, specifically in his insistence for her to learn Ilonggo.
"Ayoko kasing gawing stereotype, napakadali gawin ng stereotype. Ayoko mag-tunog nakakatawa. Gusto ko totoong portrayal. Sasabihin nila 'yan talaga buhay namin. Mahalaga sa amin research.

"Si Anthony, talagang pinukpok din mga tauhan niya, `Dalhin nyo si Angeli dito! Magtawag pa kayo ng kakausapin niya!' Kung `di niya ginawa yun, siguro ilan lang nakausap ko kasi dito lang ako nag-research. Nung inareglo niya mga interviews with OFWs, na-apreciate ko talaga."
When asked why hy thinks Ilo Ilo won Best Picture in the Golden Horse Awards, Chen explained:
"Ang Lee was saying, the reason why this film won film Best Film in Taiwan, beating big directors Wong Kar Wai, Johnny To because the film is so pure. There's none of the stylistic things the masters pull off. It's something of its own. It's not trying to show off in terms of cinematography, art direction, style or anything. I hope this purity connects with audiences."
ADVERTISEMENT - CONTINUE READING BELOW
When asked how he feels about Ang Lee's generous praise for the film Ilo Ilo, Chen considers it "a great honor."


"He's a filmmaker I respect a lot. Actually he's my biggest hero in terms of a film director. It's very humbling to hear something from him. I wish I wouldn't disappoint on my next film. It only means I have to work very, very hard on my next film. I hope I'll be able to make a film with equal heart and soul."


What's next in line for director Anthony Chen? Does he have a specific film project in mind?
"I don't know, I wish I knew. It's probably going to be an English language film with Western actors made out of the U.K. because I live in London right now."