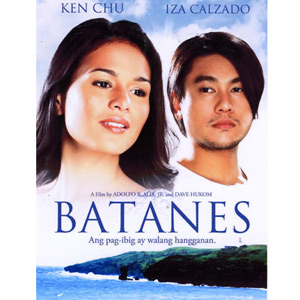 ---

At the farthest end of the archipelago, where the PacificOcean merges with the South China Sea, a Filipina develops a romance with aTaiwanese fisherman despite their language and cultural barrier—proving that,indeed, love knows no borders.
That is the premise of the Ignite Media and GMA Filmspresentation, Batanes, which will open in theaters nationwide startingDecember 5.
Directed by Adolf Alix Jr. and Dave Hukom, this 35mm filmshowcases the unique beauty of the island after which it is named. The Ivatanlimestone houses, the breathtaking rock formations, and the gorgeous lighthouseof Basco and Sabtang islands serve as the backdrop for a love story between theheadstrong Pam (Iza Calzado) and the gentle Kao (Ken Zhu).
When PEP asked Iza to describe the island of Batanes, shegushed, "It's so pure. Feeling ko yung beauty ng Batanes, yung innocence andsimplicity of the place. Yung untouched territory talaga siya, which I hoperemains like that. Hindi na-e-exploit. It's actually overwhelming kasi dun momakikita ang power ng nature against man. At any point in time, siya angpwedeng kumuha ng buhay mo—ang dagat, yung dilim, ang gabi, mga animals.
"Walang ilaw dun 'pag gabi. Walang street lights. Ang posteng ilaw dun lang sa Basco pero sa Sabtang [where we stayed], wala," explainsIza.
Although the F4 member was unable to attend the press con ofBatanes, which took place last November 13 at the GMA-7 compound, themedia was shown a taped interview wherein Ken shared his thoughts about theisland.
Ken was videotaped on a beach in Batanes and behind him wasa spectacular view of the sunset. "I didn't expect Batanes to be so beautiful,"said the F4 boy-band member. "You can call the place a paradise. And it's sonear to Taiwan. It's so relaxing."
ADVERTISEMENT - CONTINUE READING BELOW
During the press con it was revealed that the Taiwanesesuperstar was supposed to act opposite another young superstar, Judy AnnSantos. Director Adolf admitted that he even approached Judy Ann during thefirst shooting day of Ouija in order to show her the script of Batanes.She would have loved to do the project but prior commitments prevented her fromaccepting the offer. But Judy Ann recommended her Ouija co-star IzaCalzado to fill in her shoes.
The GMA-7 star felt flattered that Judy Ann herself recommendedher for the role. At the time, Iza was still waiting for confirmation whetheror not she would reprise her role in the Hollywood remake of Sigaw.Fortunately, she was chosen to play the role of Gina, the wife of a policeman(played by Kevin Durand) in The Echo.


Iza managed to fix her schedule so she was able to star in Batanes and The Echo.
MULTI-LINGUAL KEN. In Batanes, Ken's speakinglines are mostly in Mandarin but off-cam, he is fluent in English, which is whythe other cast and staff members had no problems communicating with him.
Regarding his role as Kao the fisherman, Ken says that itwas a very big challenge for him. "It's my first time to play a role thatrequires a lot of body language, more than lines."
Communicating with others is not a problem for theSingapore-educated actor since Ken speaks English, Cantonese, Singlish, and abit of Thai, Indonesian, and Japanese.
It was also revealed that the organizers originally didn't think of getting an F4 member to play a role in the movie. "We never planned toget Ken since we just wanted a Taiwanese actor. But Arleen [Cuevas, executiveproducer of the film] was able to get in touch with Ken and surprisingly, hereplied that he liked the material."
ADVERTISEMENT - CONTINUE READING BELOW
When asked why he chose Batanes for the setting of hismovie, Adolf pointed out that this is his second film to be shot in thenorthernmost province of the Philippines. "Mahilig akong mag-shoot sa lugar namahirap puntahan. The place is very unique to the Philippines. It's like goingto a different country. It can rival New Zealand [the setting of the epic movieLord of the Rings].
SYNOPSIS. It was a whirlwind romance when Pam (IzaCalzado) meets Ivatan Rico (Joem Bascon) in Manila. She decides to give up hermeaningless, stressful city life and follow him to Batanes to meet his parentsBoy and Lydia (Bembol Roco, Daria Ramirez) and marry him.
The sea immediately intimidates Pam and shows its power,telling her how, with the strong toss of its waves, it can end everything. Pamtries to adapt to the Ivatan way of life. Pam starts hating the sea that Ricoloves so much. Despite all these adjustments, Pam is happy with her new lifeand with Rico.
But everything changes when Rico does not return fromfishing. Pam is devastated. She blames no one but the sea. Realizing that shecannot continue living in Batanes without Rico, Pam decides to leave. Butbefore boarding the boat, she realizes that the sea is laughing at her defeat,so Pam decides to stay but she still cannot forget Rico.
On the anniversary of her husband's death, Pam sails to theIvujos Island. She gets stranded on the island by an angry storm. She then seesa man lying face down in the sand. For a moment, she thinks it is Rico. But itturns out to be a Taiwanese, Kao (Ken Zhu). She administers to his wounds andbrings down his fever. When the storm breaks, she drags Kao to her boat andtakes him back with her.
ADVERTISEMENT - CONTINUE READING BELOW
The villagers are reluctant to accept the Taiwanese,especially Manuel (Sid Lucero) and Boy (Bembol Roco) since most Taiwanesefishermen fish illegally in the waters of Batanes. As Pam takes care ofKao, she starts to be drawn towards him. She starts to feel that he is akindred soul. Language and cultural difference are no barriers as emotionsrise. Love surfaces anew.
Batanes provides the breathtaking backdrop to their poignantlove story. Will their love win over? Or will their past haunt them andeventually separate them?
Essentially a picturesque romance, Batanes alsoexplores the intimate portrait of a woman's relationship with the ocean.
On November 28-30, there will be a special screening of themovie Batanes on the island itself.Meanshile, Ken Zhu will come back to the Philippines next month to promote thefilm, which will open in theaters starting December 5.

Click MORE PICTURES to view behind-the-scenes photos.