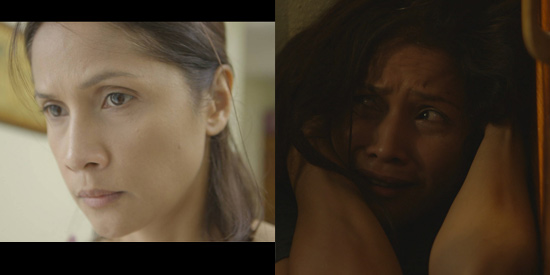 ---

PRESS STATEMENT, published as is:


Groups such as high school and college classes, college organizations, medical organizations and associations, NGOs, advocacy groups and the like are invited to watch the film Mga Anino ng Kahapon for free at Glorietta and SM Megamall, from December 18 to 24, 2013. The film is among the five entries in the Metro Manila Film Festival New Wave Section (full feature category).
A story about a family coping with the challenges of schizophrenia, it stars Agot Isidro and TJ Trinidad who play married couple Irene and Ed, both nurses. When Ed goes abroad to work, Irene's schizophrenia is triggered. The family's peace is affected. So, Ed, together with his mother Flor, brother Carlo and son Brian struggle to understand Irene's condition. In the process, Ed and Irene also discover the true meaning of love. The film is written and directed by Alvin Yapan (Ang Sayaw ng Dalawang Kaliwang Paa, Debosyon, Rapture of Fe) and produced by Vim Yapan/Alem Chua Productions in partnership with Janssen Philippines.
The free screenings are being offered in line with the film's objectives to: raise awareness about schizophrenia, reduce the stigma associated with mental illness, and promote compassion for individuals with this type of condition.
The film received a grade of "A" by the Cinema Evaluation Board (CEB). In the summative report given to producer Alemberg Ang, the CEB said that it found the movie enlightening. The report described the screenplay as "insightful" and "well-researched."
The CEB particularly cited the excellent performance of the cast. It said, "Agot in particular received uniformly rave reviews, not only due to her convincing depiction, but for imparting to the viewer a vicarious schizophrenia, like a mise-en-scene. Her partner TJ Trinidad was superb as usual, continuing to grow and mature as an actor. Both essayed their roles with quiet power and conviction."
ADVERTISEMENT - CONTINUE READING BELOW
Groups that are interested to watch Mga Anino ng Kahapon may contact mobile 0917-811017, 0999-8496000 or 0922-3313010, or simply approach the production team at the movie booth at the cinema lobbies of Glorietta 4 and Megamall. The offer for free screenings applies to groups of at least five or more. For details, please refer to the Mga Anino ng Kahapon Facebook page.