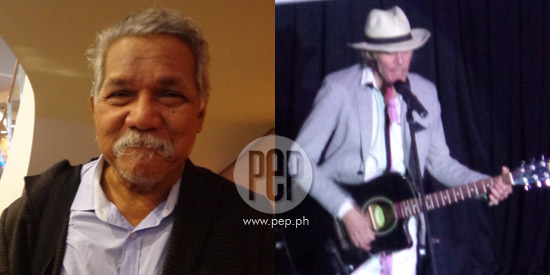 ---
Now on its 15th year, the Cinemanila International Film Festival continues to showcase critically acclaimed films from around the world.
This year's opening film was The Terror Live, a popular South Korean film about a demoted TV news anchor who attempts to make a comeback by scoring an exclusive interview with a mysterious terrorist.

Korean director Kim Byeong-woo graced the opening of Cinemanila last December 18 at SM Aura, Taguig.
Before the film screening, there was a press conference for director Kim Byeong-woo at Lugang Café, SM Aura. The down-to-earth director credited the film's mainstream success to the movie's concept and to its main actor, Korean superstar Ha Jung-woo.
Kim Byeong-woo took up Theater and Film at Hanyang University. Through a translator, he told select members of the Philippine media, "After graduation, I wondered how I could make an interesting movie, something different from others. I came up with…maybe if you mixed terror with a movie, it would be more interesting for the audience."
Director Kim Byeong-woo's previous works were art house films. The Terror Live was his first mainstream success. He said that when he made movies in college, a lot of experimentation took place in the moviemaking industry. Since graduating from college, there were changes in the industry so he just naturally followed suit.
Music inspires him. First, he chooses the scene he will shoot. While listening to the music, he thinks about the scene and how he will shoot it. For this film, he listened to electronic music. Incidentally, he is also a fan of Asia's Songbird, Regine Velasquez.
When asked about his advice for Pinoy directors, Kim Byeong-woo remarked that he was not really in a position to give advice because he is a first time filmmaker.
After the press conference, a cocktail party was held for guests invited to the opening night.

Cinemanila founding director Tikoy Aguiluz pointed out that this year, they selected films that were mostly Oscar contenders. This year's lineup includes Heli, a Mexican crime drama that won the Best Director award in the 66th Cannes Film Festival held earlier this year. This film will represent Mexico at the 86th Academy Awards for Best Foreign Language Film.

There's also Harmony Lessons from Kazakhstan, which depicts how a young bullied student exacts revenge on those who tormented him.

The Singaporean entry to the Oscars, Ilo Ilo, is also included in the lineup of Cinemanila. This family drama shows how a Filipina nanny (played by Angeli Bayani) dealt with a Singaporean family during the height of the Asian financial crisis of 1997.

(Read: MOVIE REVIEW: Ilo Ilo)


In all, Cinemanila will feature twelve Oscar hopefuls.
ADVERTISEMENT - CONTINUE READING BELOW
Direk Tikoy admitted that when they first started Cinemanila, they couldn't find a single Filipino entry for international competition. Now there are so many Filipino films and so many film festivals.

When asked if he believes that Filipino cinema can stand toe to toe with international films, Direk Tikoy said, "Of course. And we've done it. Like Norte for example. The Lav Diaz film. It's not only standing toe to toe, it's really notches above the other international films…I mean, it won awards in several festivals. It did very well in Cannes. It got rave reviews. So I think he's really a director to reckon with."

Last April, Lav Diaz's Norte, Hangganan Ng Kasaysayan was included in the Un Certain Regard section of the 66th Cannes Film Festival.

(Read: Two Filipino films to be screened in Un Certain Regard section of 66th Cannes Film Fest)
Aside from Direk Lav Diaz' film, Norte, Raya Martin's How to Disappear Completely is another film that comes highly recommended. The film deconstructs the supernatural thriller by slowing down every moment to the point of pure abstraction.
Direk Tikoy believes that Filipino cinema is back on track. "Bumalik tayo sa radar ng world cinema. So I think that means we're heading sa right direction."

He pointed out that Filipino directors were able to gain global attention when digital filmmaking was introduced and embraced by Pinoy filmmakers.

"Bumalik na tayo sa groundbreaking films, mga films na wala masyadong commercial consideration," he observed. "Films na more personal expression. Siyempre parang kumakapa pa. But since 2005, we've matured. The young filmmakers started traveling around to different festivals…Kaya nga dinala namin yung Oscar entries dito para ma-expose naman tayo."
Regarding the ongoing debate about the difference between indie films and mainstream films, Direk Tikoy explained, "I think the distinction is really immature because at the end of the day it's all about making a good film or a bad film… I think the real indie, what we're talking about, is the independence of spirit. Yun talaga 'yonwhether it's mainstream or not. It can be done with a low budget. It can be done as co-production with different countries. As long as the director still retains the vision, and has an independence of mind and spirit, then it has the right to be called an indie film."
ADVERTISEMENT - CONTINUE READING BELOW
The opening ceremony held at SM Aura was hosted by Ilo Ilo star Angeli Bayani and Metro Manila lead actor Jake Macapagal.
Director Kim Byeong-woo said he was honored to be in the Philippines with his film The Terror Live as the opening film of Cinemanila.
Taguig Mayor Ferdinand Santos and Teddy Granados of the Film Development Council of the Philippines welcomed everyone as well.
Joey "Pepe" Smith, the front man of the legendary rock band Juan de la Cruz Band, entertained the crowd by performing two songs.

Incidentally, Pepe Smith is also the lead actor in Pepe Diokno's film, Above the Clouds.

For his first song, he performed "Himig Natin" while clips from the movie Above the Clouds were projected on screen. The veteran singer dedicated this song to Yolanda victims in Tacloban.

For his second song, he performed "Ihip ng Hangin."

Last November 28, Direk Tikoy presented the Lino Brocka award to Oscar-winning director Ang Lee.
This December, the Lifetime Achievement Award was given to Conrado "Dencar" Baltazar, a cinematographer who frequently worked with the late National Artist for Film Lino Brocka. Baltazar served as the director of photography in the iconic Brocka films Insiang (1976) and the Jaguar (1979).

The award for Baltazar was presented by Mike Sandejas, the director of Tulad ng Dati.
Direk Tikoy gave a speech to express his gratitude for everyone's support. The veteran filmmaker stressed, "I think it's been a very lucky year in spite of all these things that have happened to our country. It's time to move on. Make better films and next year, we'll kick ass."
A toast was given, and Cinemanila 2013 officially opened with a screening of The Terror Live.
Set within the narrow confines of a radio booth, The Terror Live is a riveting 90-minute thriller about a terrorist negotiating with a broadcaster in real time.

The closing film will be Lav Diaz's Norte, Hangganan ng Kasaysayan, which will be screened on December 22 (Sunday) at SM Aura Premier, Taguig.
ADVERTISEMENT - CONTINUE READING BELOW
For movie schedules, visit Cinemanila's Facebook page.
https://www.facebook.com/cinemanila